Aiptek MobileCinema D10
Looks like a toy, performs like one too
But perhaps we're missing the point. The MobileCinema D10 is not intended for your living room but for a child's bedroom, or for the occasional mucking about for a laugh. It provides a microphone socket in case you want to play a karaoke DVD, for example, and it will play a slideshow from any CD containing JPG images.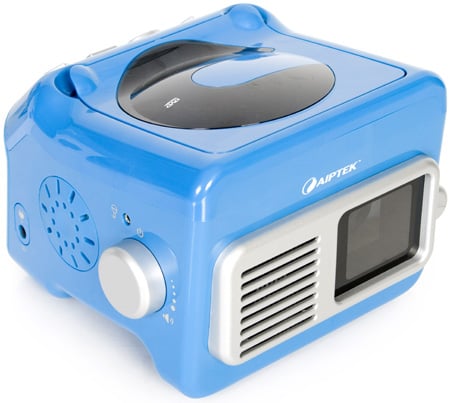 Child's play? Certainly a pricey toy
We actually tried it out as background entertainment, showing snowboarding DVDs on the wall during a pre-ski-holiday party. The only challenge was keeping the room lights dim enough not to blank out the projected image: the LED lamp is rated at a mere 13 lumens. Yes, 13. The lamp does not appear to be user-replaceable but we expect LED lamps to last a very long time: probably much longer than the 10,000 hours quoted by the manufacturer.
Verdict
As long as you understand that it is just a toy rather than a serious challenger to low-cost home cinema projectors, the Aiptek MobileCinema D10 makes a fine novelty gift. It would be great for youngsters watching cartoons in a bedroom during a sleepover, and its cool operation makes it safe for them too. But for anyone wanting an audio-visual treat, stick with your telly instead. ®
More Portable Projector Reviews...

BenQ Joybee GP1
mini projector

Hitachi CP-RX80

LG HS102
Ultra Mobile projector

Acer K10
Sponsored: Quit your addiction to storage

Aiptek MobileCinema D10
Self-contained home DVD projector in a 7in plastic cube.