At the back of the case – that is, the side facing you – four childishly chunky buttons let you Play/Pause, Stop, Rewind and Fast Forward. Obviously, these controls alone are not enough to operate most commercial DVDs, so they also double-up as buttons for navigating menu screens, enabling subtitles and switching language. This dual purpose is a bit fiddly, not least because the projector barely weighs a kilo and there are no rubber feet to prevent it from sliding across the table whenever you push a button.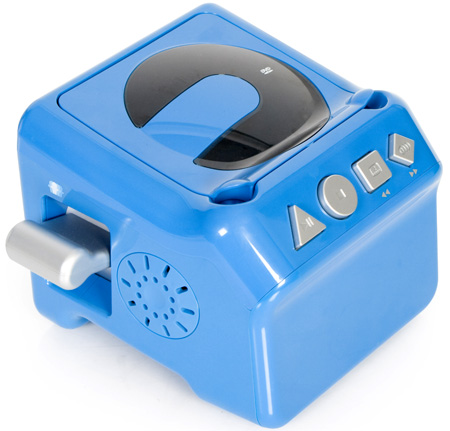 Adjust focus by lifting or lowering this childishly huge lever
Your DVD is placed directly onto a spindle under a hinged protective cover on the top. Then comes the disappointment: the quality of the projected image is woeful. It is not just a matter of the low resolution, though at 480 x 240 pixels it has 25 per cent fewer 'lines' than an Apple iPod Touch. Rather, the image is not so much blurry as granular, made up of large, distinct beads of colour. While other projector manufacturers are busting a gut to support HD, Aiptek is happy to provide resolution only marginally better than that of a kaleidoscope.
It was mildly amusing that although the unit allows you to change languages on the DVD, the on-screen notification of the language you have chosen is too small to be readable on the granular projection image. Subtitles are perfectly legible, however.
Another annoyance is that the lens points directly ahead, so you cannot really sit the projector on a coffee table unless you want to watch a movie at skirting-board height. Should you choose to tilt the unit upwards, note that there is no keystone adjustment function.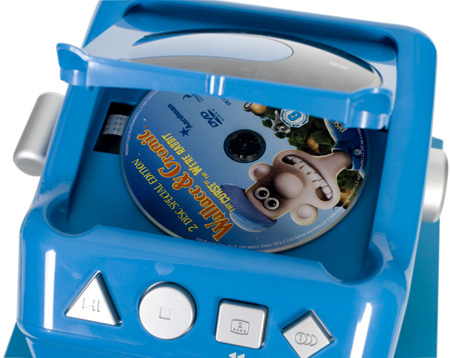 Only four buttons for simplicity, each doubled-up with other features for complexity
The pair of 1W built-in stereo speakers is adequate but the quality is inevitably a scratchy mass of mid-range frequencies. Unfortunately, you cannot attach external speakers nor even plug in a set of earphones. We should also mention the 1.7m power cable, which barely reaches from the floor to the projector in the centre of a tabletop, let alone across a room.
Sponsored: Practical tips for Office 365 tenant-to-tenant migration