Verbatim 500GB desktop external hard drive
In case of a crash, just locate this little black box
Review The modern model of day-to-day computer use typically consists of a laptop operated in the office, at home and on the move - constantly increasing the need for reliable back-up drives.
Measuring 20 x 11.3 x 3.5cm and cased in a featureless matte black finish, the Verbatim 500GB external hard drive looks more like the black box from a commercial airliner when compared to some of the more extravagant external HDDs around, like the LaCie Golden Disk or the Iomega eGo hip-flask hard drive. Yet, this simple, understated, monochrome monolith retains a mysterious appeal.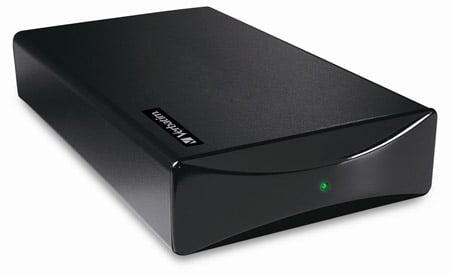 Verbatim's 500GB external HDD: caters for all your back-up needs
Weighing 890g, the drive feels like it has pretty solid build. It comes bundled with a USB 2.0 cable and an AC adaptor which thankfully is not a brick, more a... power pebble, with interchangeable plug points - in this instance, for the UK and for the rest of Europe.
Incidentally, Verbatim also has a version with a Firewire port as well as USB. This variation is also compatible with Mac OS X Leopard's Time Machine automatic back-up feature.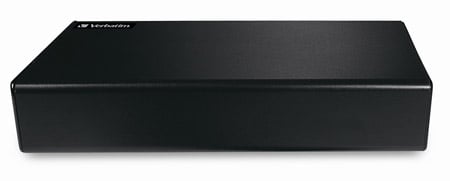 Minimalist
When it's plugged in and powered up, the drive takes a few seconds for everything to sort itself out and then up pops the little icon on your desktop without any worries whatsoever.
To assess its performance, we used Register Hardware's standard drive test: we copied a 1GB folder containing 100 10MB files to the drive. We then duplicated the folder on the drive itself before copying it back to the host computer, in this case a 2GHz Core Duo-based MacBook. All the tests were conducted half a dozen times and the timings used to calculate an average.
Drive Test Results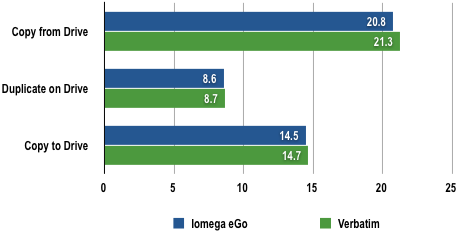 Data transfer rates in MB/s
Longer bars are better
The Verbatim might not be able to take a beating like some of the other, more rugged external hard drive available. We didn't really want to drop this one on the floor and kick it around a bit... as we have done with others.
Verdict
For this price, this amount of storage is a bargain. For the serious, no-nonsense user who really isn't drawn to designer hard drives or gravitates towards gimmicks, this is perfect. And it's minimalist style will work against any backdrop: let's face it, black goes with everything. Performance is pretty respectable too.
Sponsored: Detecting cyber attacks as a small to medium business

Verbatim 500GB desktop external hard drive
This little black box will record everything - handy in the event of a crash
Price:
£70 / $137 (500GB), £110 / $215 (750GB), £150 / $293 (1TB) RRP