Sonnet Tempo SATA Express 34 ExpressCard eSATA adaptor
Add-in eSATA ports for laptop Macs
Review The External Serial ATA (eSATA) add-on interconnection standard is becoming more common on systems as users seek greater data transfer speeds. Macs are often among the first to get new technologies like these, but eSATA ports remain absent. For ExpressCard 34-equipped laptops at least, here's one answer.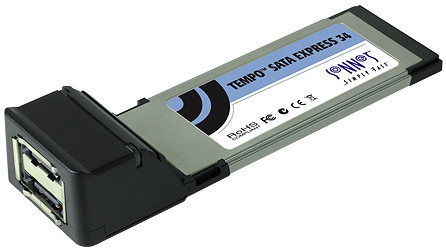 Sonnet's Tempo SATA Express 34 comes without any eSATA cables - it's the same thing as a SATA II link - so you'll need to spend an extra eight quid on one of those if your hard drive doesn't have one either. None of the drives we tested with the Tempo did.
The card has two ports, so you can hook up at minimum two drives. Want more? Then hook up a drive enclosure that contains a port multiplier - such as Sonnet's own Fusion series - and you can connect up to ten drives. Initially, we only had access to a single drive, a 750GB Seagate FreeAgent Pro, so our first tests are based on that, more basic configuration.
After completing the run, we asked Seagate for a second drive, but it was unable to supply one. However, Western Digital came to the rescue with one of its MyBook Premium ES Edition drives, a 500GB model with the requisite eSATA port - and, we'd add, a much nicer design.
But back to the Tempo. The business end of the card sites the eSATA ports one above the other. There are two activity LEDs built into the unit on the upper surface, one on the left, the other on the right. So there's no visual link between LED and drive, which might present issues if you're debugging a problem with a two-drive set-up, but didn't make much of a difference with either of our one-drive or two-drive rigs.
New to... eSATA?
External SATA - aka eSATA - is an alternative to Firewire and USB as a way of connecting high-speed peripherals to a computer. In modern machines, internal hard drives already use SATA, which has a maximum throughput of 2400Mbps to Firewire's 800Mbps and 400Mbps, and USB's 480Mbps. It's a serial connection, so data is sent bit by bit rather than in groups arranged in parallel. Internal SATA controllers have a maximum throughput of 3Gbps, and this is how many eSATA products are labelled because they use the higher speed controllers. However, don't expect this kind of speed in the real world.