Sonnet Tempo SATA Express 34 ExpressCard eSATA adaptor
Add-in eSATA ports for laptop Macs
Installation is a doddle: just slot the card in and install the driver software from the accompanying CD. Mac OS X immediately recognises there a card present, even before the drivers are installed, and pops up the following menu in the menu bar - something we haven't seen with either of the other two ExpressCards we also use.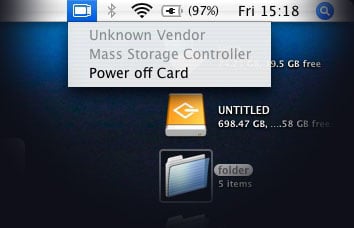 Installing the drivers leaves the menu unchanged, but now connected drives can be seen by the host, appearing on the desktop and under Mac OS X's System Profiler and on the desktop as SCSI peripherals - a blast from the past if you're an older Mac user.
Incidentally, the Tempo does come with Windows XP drivers, but we weren't able to test these as our test PC is too long in the tooth to possess an ExpressCard slot.
Using the single-drive configuration, we copied a folder containing 100 10MB files over to the drive. We then duplicated it on the drive before copying it back again. Each operation was performed a handful of times and the average times recorded.
Single-drive multi-connector tests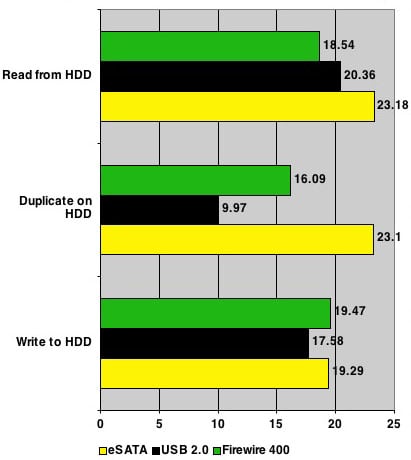 Results in MBps - longer bars are better
You can see from the chart that the eSATA connection was faster than the others in all cases but one: copying data to the drive, where it was just pipped by the Firewire link, though there's not much in it.
Sponsored: Minds Mastering Machines - Call for papers now open