Samsung YP-T9 MP3 player
Come in, iPod - your time is up
Review Apple must really be feeling the heat by now. While the innovative design and user interface of the iPod will go down in history, they can also split public opinion like a Mac vs PC argument or an open source versus proprietary software flame war. You know, the sort of heated discussions you hear in pubs... and at trade shows just before someone gets glassed.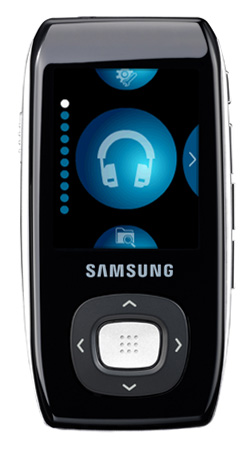 Of all the pretenders to the iPod crown, Samsung has perhaps the best credentials, and its T9 media player will do its reputation as heir apparent no harm at all. In fact, it outperforms and outcools the iPod Nano in several areas. The YP-T9JAB, to give it its full name, is a bit of a looker, perhaps not as sleek and elegant as its cousin the K3, but you still wouldn't say no. It's smooth and shiny - depending on how greasy your fingers are - and it's got a much larger screen - 1.8in - than the Nano. The display only has a 176 x 144 resolution, but image quality is good - very bright and detailed. Although it's slightly thicker than the Nano - 8.3 x 4.2 1cm - the T9 is still barely noticeable inside your pocket and feels like a small mobile phone in the hand - not bulky and durable.
The central five-way control pad on the front of the device is ergonomically perfect, although the four side buttons can be fiddly, especially those which you end up using quite often, like the Back and Menu keys. It would have been better to find a way of incorporating them on the front, for improved usability, but that said, we still found it generally easier to use than the K9's touchscreen design.
The main menu itself is a stylish interface, presented in a choice of five different colours and featuring various icons describing each function, which change into a description of that function as you look at it. OK, sounds a bit geeky, but these minor stylistic touches are what can make the difference between a great product and an also-ran, and Samsung has learned wisely. By and large the menus are fairly easy to navigate around: music can be searched for by artist, album, genres and so on, and the context menu makes it easy to set-up EQs, speed up playback - useful for audio books - and set the screen background to display album artwork or your own pictures or graphics.
You can expect to get lots of playback features with Samsung, and the T9 doesn't disappoint. As well as the regular shuffle and repeat, there are 12 EQ presets and a nine-band user-customisable EQ.
Sponsored: How to get more from MicroStrategy by optimising your data stack