Original URL: https://www.theregister.co.uk/2012/08/31/game_review_counter_strike_global_offensive/
Counter-Strike: Global Offensive
Gang bang
Posted in Personal Tech, 31st August 2012 07:00 GMT
Review Take a good close look at your favourite multiplayer first-person shooter and chances are it owes much of its weapon balancing, map structure and pacing to Counter-Strike. A tactical, team-based Half-Life mod which first saw light of day in 1999 – having itself been influenced by the brilliant but glitchier Action Quake 2 – which was subsequently honed to perfection as various updates were applied.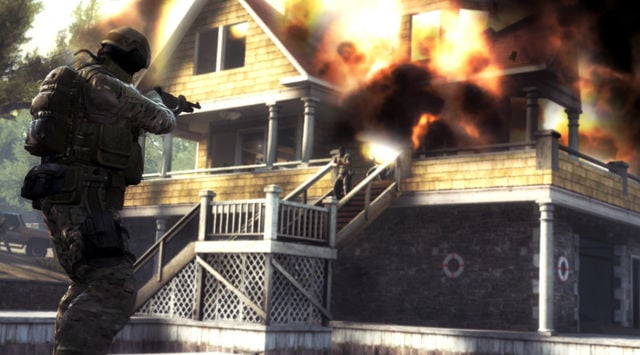 Huff and I puff and I...
One thing that Counter-Strike's development team never meddled with, however, was how the action flowed. Indeed, true to its predecessors, CS:GO eschews such modern FPS staples as sticky cover, iron sight aiming and predictable gun pick-up points. Instead, it continues with the magic ingredient which made it so different in the first place – an ingredient that few have dared to copy – that once you die you're dead... for a few minutes at least.
So is born the eternal dilemma: do I rush the enemy, so possibly gaining an advantageous position, perhaps even getting the drop on their flank or rear? Or will I be risking running into a wall of instant death in the shape of a well-organised opposing team? Or do I choose to keep away from any initial conflicts, perhaps meaning I stay alive for longer but at the expense of John McClane type moments where everything falls into place and I get to play hero? Decisions, decisions.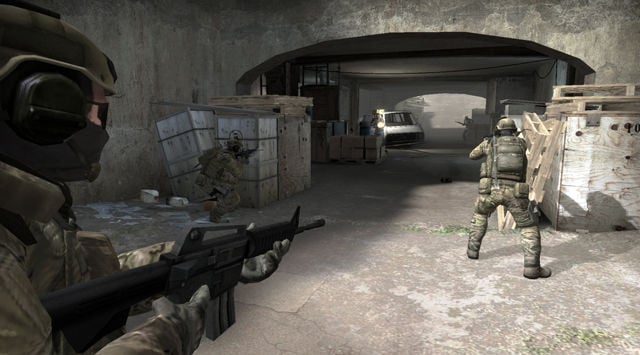 Tin hat alley
Before I get too lost in whimsy, introductions are in order. Counter-Strike, which even those with no experience of the game should have grasped by now, is a FPS. It is one which pits terrorists against counter-terrorists in some of the most perfectly planned maps ever to be created. At the beginning of rounds, weapons are bought – limited to knife, pistol and one larger gun – with money earned from kills and objective completion.
In the mode
Victory happens for either side upon eradication of the other, but can also be decided depending on mission goals. The newly labelled Classic Casual and Classic Competitive modes maintain CS's traditional play types, with victory therefore also achievable by detonating bombs as the terrorists, or defusing said bombs or rescuing hostages as the CTs.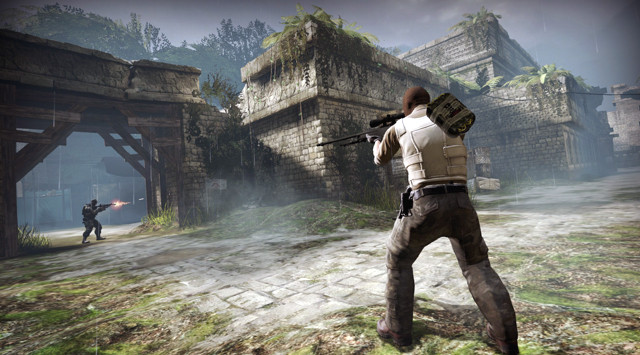 Wrong way street
These modes also reprise the time-honoured classic maps – Dust, Nuke, Inferno, Train, and the like – albeit with a few freshly added nooks and crannies to discover – the difference between Casual and Competitive being whether friendly fire is activated, what kit you get as standard and so on.
Demolition and Arms Race modes introduce all new modes of play. The former acting almost as a bite-size chunk of the more traditional modes, but featuring all-new maps which have been purposely downsized to create frenetic clashes, offering scant time to think.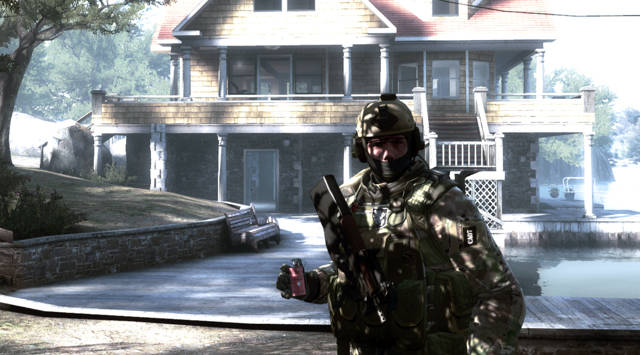 Our house in the middle of the beef
In these modes, however, weapons – anything from sub-machine guns, through to rifles and shotguns – are auto-selected depending on how well you're doing. Yet, in a nod toward the sadistic, good play results in the game providing sequentially worse weaponry, thus evening up the playing field.
Taking that same auto-progression of weapons still further comes Arms Race. This is CS:GO's answer to standard deathmatches where each kill triggers the materialisation of a brand new weapon in your hands. Working through each gun is a clever way of introducing players to weapons they might otherwise never use, with the winner being the player who can score a kill with the final instrument of death: the golden knife.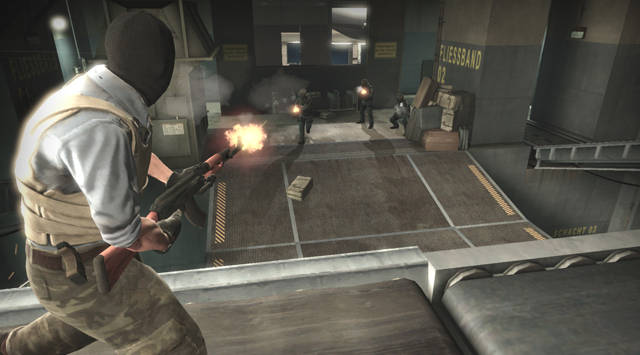 Firing squad
To be fair, it's likely going to be the more traditional modes which see you while away the most hours, and CS was (and still is) a game able to steal whole chunks of your life. My eyes may be red, my skin clammy and my hands gnarled as the sun dawns on the early hours of a new day, yet still there's time for just one more go.
Domination
Just to compound the addiction comes a newly added and constant update of stats which will state that one team wiped out the other without suffering a casualty, Player "X" knifed an opponent, Player "Y" won a game despite his teammates having been long since terminated and so on. My, how you'll envy these skilful souls and sit chomping at the bit until the next round begins and provides another chance to get your own name up in lights.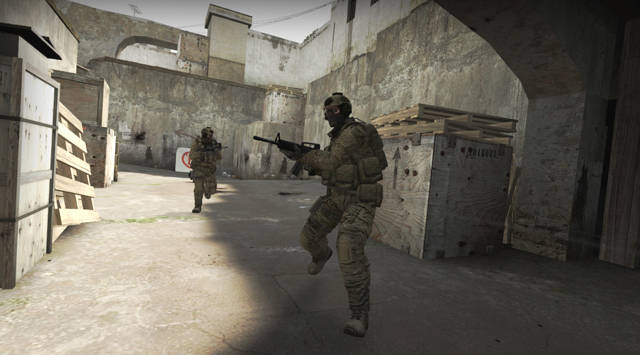 Chasing status
At this point, a word of warning to new players: don't expect to be dominating servers overnight. CS has been around a long time, many of its players are battle-hardened veterans and, despite being something of a player myself, back in the day, I found the going tough (and with rock solid net code in place I can't even blame lag). That said, victory is no longer judged solely on kills, which supports those who choose to play for the team, while the game's built-in weapons and cash balancing should help newcomers to settle-in too.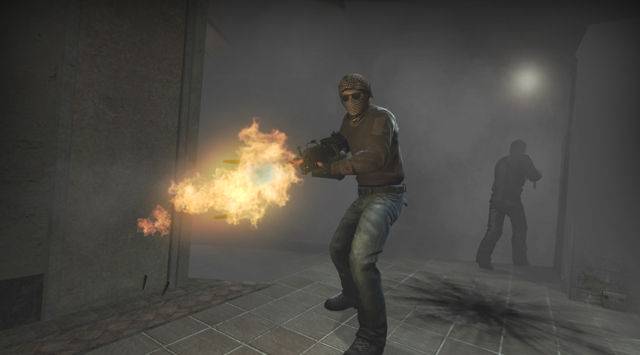 Flaming hell
Verdict
In an odd sort of way, it feels strange to see CS return in a guise which is so comfortingly familiar. I'm left with nagging doubts that Valve should have upped the ante a little as far as the visuals go, perhaps made CT and Terrorist outfits a little more distinct, and added in a few extra maps. Surely, these will come in time if CS's post-release support is anything like fellow Valve title Team Fortress 2. Ultimately Counter-Strike remains at the forefront of the world of online shooters and CS:GO is its best iteration so far.
 ®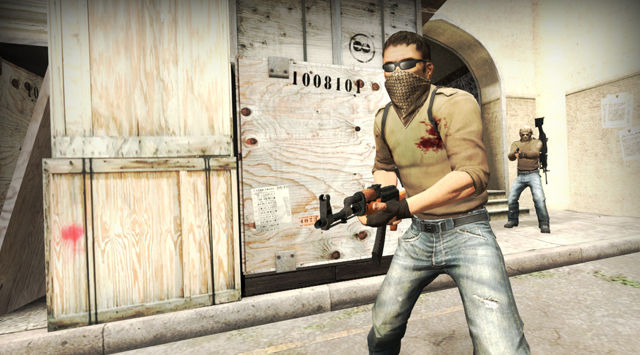 Got your back?
More Games Reviews

Darksiders 2
Lollipop
Chainsaw
Ghost Recon:
Future Soldier
Max Payne
3
Diablo III