Counter-Strike: Global Offensive
Gang bang
Review Take a good close look at your favourite multiplayer first-person shooter and chances are it owes much of its weapon balancing, map structure and pacing to Counter-Strike. A tactical, team-based Half-Life mod which first saw light of day in 1999 – having itself been influenced by the brilliant but glitchier Action Quake 2 – which was subsequently honed to perfection as various updates were applied.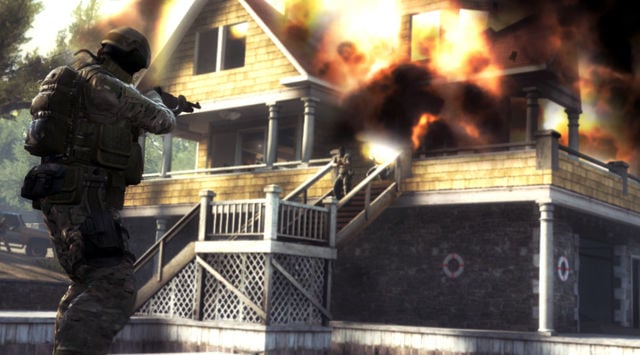 Huff and I puff and I...
One thing that Counter-Strike's development team never meddled with, however, was how the action flowed. Indeed, true to its predecessors, CS:GO eschews such modern FPS staples as sticky cover, iron sight aiming and predictable gun pick-up points. Instead, it continues with the magic ingredient which made it so different in the first place – an ingredient that few have dared to copy – that once you die you're dead... for a few minutes at least.
So is born the eternal dilemma: do I rush the enemy, so possibly gaining an advantageous position, perhaps even getting the drop on their flank or rear? Or will I be risking running into a wall of instant death in the shape of a well-organised opposing team? Or do I choose to keep away from any initial conflicts, perhaps meaning I stay alive for longer but at the expense of John McClane type moments where everything falls into place and I get to play hero? Decisions, decisions.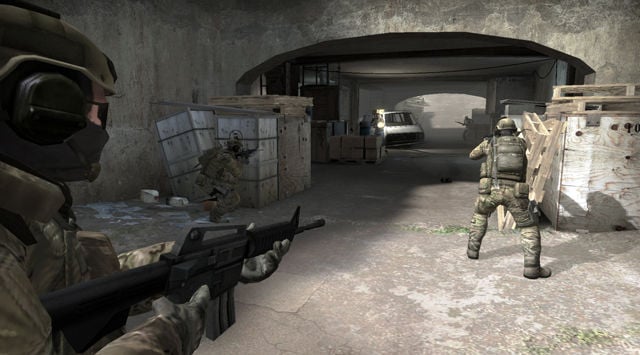 Tin hat alley
Before I get too lost in whimsy, introductions are in order. Counter-Strike, which even those with no experience of the game should have grasped by now, is a FPS. It is one which pits terrorists against counter-terrorists in some of the most perfectly planned maps ever to be created. At the beginning of rounds, weapons are bought – limited to knife, pistol and one larger gun – with money earned from kills and objective completion.
COMMENTS
Just as long as
...it doesn't follow TF2 and become the worlds leading Hat Simulator
gang bang
i've lost count of the number of times I've clicked on a link like that to find it's not as good as I was expecting...
I thought it was only our US friends who confused beating people up with group shagging....
Re: Cool, but...
Hell yeah. The betas were so much better.
Of course the last time I tried to play an FPS online my wrists felt like broken crockery after an hour.
Welcome to the public Internet, where your opinion counts for nothing against seven billion kids.
You want to play a different map? Make your own server where map voting is disabled for everyone else. That's how it was on CS 1.6, how it has been on every game since, and how it will be in the future too. Same for vote-kicking, "Go away, I only want to play with my friends", timewasters, AFK's, TK'ers and everything else.
And there are tons of maps, all being converted over to CS:GO. The problem is that there are too many and most of them are rubbish because it's HARD to make a good, balanced, fun map. The ones that are those things are being converted now and/or are already in place. There may even also be copyright issues (i.e. if someone ELSE made the map, surely you need their permission to convert it to CS:GO unless you want to try to recreate it from scratch?). And 99.9% of the map is actually making it look acceptable - there are a ton of texturing and other problems that would make even the simplest of map conversions look ugly without the original artists going back and retexturing the whole thing in greater detail.
Personally, I don't care about the maps. They are mere details. The maps I know, I've remembered in intricate detail already and they play little part in the game because they are so well balanced and you can just ignore them. Switching to new maps, I lose half my rounds just because I didn't realise you *could* hide up there, or come from behind, or snipe through that gap, or whatever else.
There is one, cast-iron, guaranteed way to solve both your problems. Run your own server. It costs hardly anything (I've never been in a clan but I've *ALWAYS* had my own server for CS 1.6 and CS:CZ), you can stop people voting the map changes and ruining your game, and you can have whatever maps you like on there. And there's nothing more satisfying, when that random idiot joins your server, than just booting them out - no questions asked, no votes required, no other-user participation necessary.
Rule #1 - if random users are annoying you, stop them getting in. Works for spam, port-scans, and idiots on game servers.
CS:GO is definitely way better than the shitpile that was CS:S. It looks better, plays better, and is much closer to 1.6. But it's all the same maps AGAIN. Seriously, can we knock this crap off? I know there are some new ones in there, but you'll never see them, mainly because of my other, much bigger problem with the game:
The players.
First game I played of CS:GO, I connected to a map running Italy....which was immediately changed to Dust. So I switched servers to one playing a different map....which was immediately changed to Dust. Several votes for other maps were launched, which were all immediately overridden by the admin for Dust 2.
I am so. Fucking. Sick. Of the sight. Of Dust.