Original URL: https://www.theregister.co.uk/2012/02/03/review_orange_san_francisco_2_android_smartphone/
Orange San Francisco 2
More hails of the city
Posted in Personal Tech, 3rd February 2012 07:00 GMT
Review The Orange San Francisco was the smartphone bargain of 2011. For £99 you got a solid little handset with a 3.5in 480 x 800 screen, Android 2.1 and a 3.2Mp camera. The fact it was falling-off-a-wet-log easy to root and change ROMs – even I managed it – was the icing on the cake.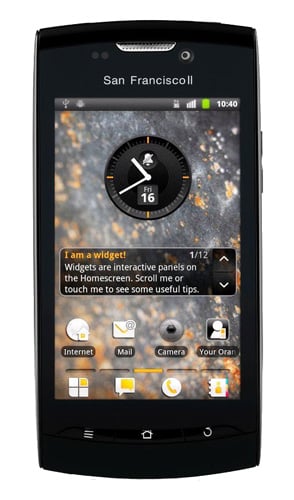 All Crescent and correct: Orange's San Francisco 2
Twelve months later Orange has gone back to the SF's maker and asked for more of the same. Dutifully, ZTE has ended up slapping a San Francisco II sticker on its new Crescent handset. While the price remains the same, much else is new and improved. Slide the SF2 out of it's box and you will be pleasantly surprised. The styling is both cleaner and smarter thanks to the new gloss finish along with the removal of the SF1's faux chrome appliqué and fiddly detailing.
The SF2 is fractionally longer and wider than the SF1 but nearly a full millimetre thinner. The weight has gone up by 10g to 120g but you wouldn't notice. It's all still made of plastic but there's not a trace of creak or groan no matter how much torque or pressure you apply to the body. The buttons – three on the front, an on/off switch at the top and volume rocker on the right hand side – all have a more pleasant action to them though the last is a bit small. In short the SF2 feels even less like a budget handset than the SF1 and that's quite a compliment.

Slimmer with a makeover too
Screen size is the same - anything larger than 3.5in and it would step on the Monte Carlo's toes – but with a dpi count of 267 and plenty of brightness and colour on offer the LCD panel doesn't let the side down. Running the show is the T-for-turbo version of Qualcomm's 7227 ARMv6 chip clocked at 800MHz, 200 up from the old San Fran. With 512MB of RAM it's enough to keep the SF2 moving at a decent clip and makes for a noticeably smoother user experience than the Mk. 1 SF.
It's also a high enough spec to play Angry Birds fluidly and run the YouTube app at full screen without hiccoughs, but the Adobe Flash video player doesn't work and so by association nor does the iPlayer app. Also out of the question is any sort of HD video playback.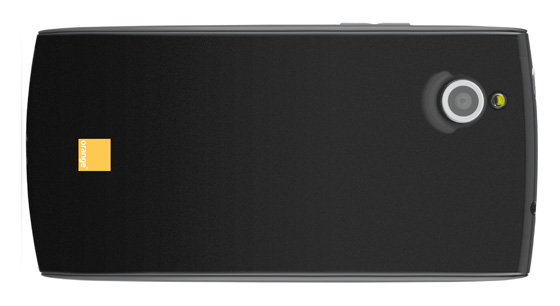 5Mp snapper but no HD video, however, there is a front-facing cam for video calling, but there's no Skype support as yet
Like many cheaper Android phones the SF2 only has 512MB of ROM so system storage for apps is a very meagre 150MB. An extra 512MB or even 1GB would surely have little impact on the manufacturing cost and would make the SF2 much more attractive.
All mod cons?
Keeping all the hardware in step is Android 2.3.5, which is fair enough at this price point, given that Ice Cream Sandwich is still a rarity away from Nexus-branded handsets. I suspect it's rather unlikely that the SF2 will ever get an official ICS upgrade but the folks over at Cyanogen Mod will no doubt have an ICS-based ROM working on the SF2 in the not too distant future. Rooting instructions and stock ROMs are already easy to find.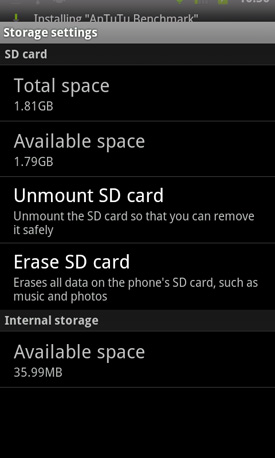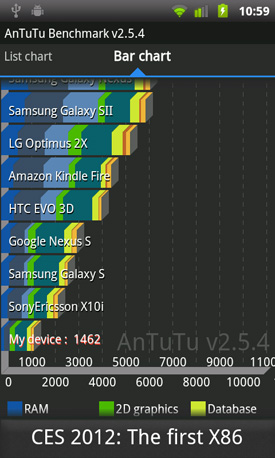 512MB of system storage vanishes quickly – the AnTuTu score reflects the 800MHz CPU and £99 price tag
Of course, if you do re-ROM your phone you will loose Orange's HD Voice and Signal Boost tech. Losing the former is only a problem if you talk to other HD Voice users, but the latter – which uses the phone's Wi-Fi connection to hook up to Orange's cellular network in areas of poor or no reception – is rather handy.
As with other Orange own-brand Android handsets there is a fair amount of bloat and the launcher is as pleasant to look at as one of Hieronymous Bosch's more disturbing canvases but you can fix that with a third party launcher.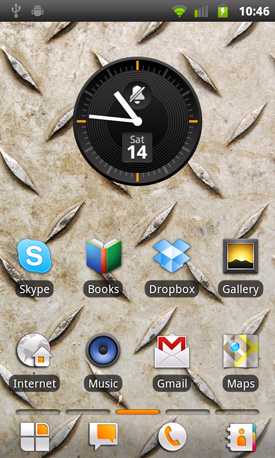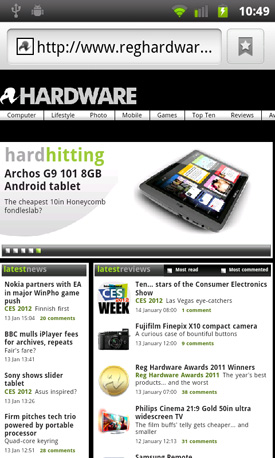 Homescreen horror and web browsing
Two hardware improvements do stand out on the SF2 – the 5MP camera and flash combination (up from 3.2MP and no flash) and the forward-facing VGA web cam. Sadly, the latter doesn't currently work with Skype video calling which is a missed opportunity.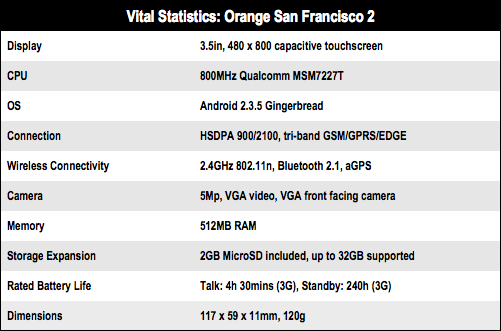 Good call
The main camera won't keep the engineers at Sony Ericsson awake at night but it does its job well enough. The auto-focus is quick and accurate and pictures don't look like they have been taken under some weird alien sun. Video can only be recorded up to 640 x 480, which is rather poor.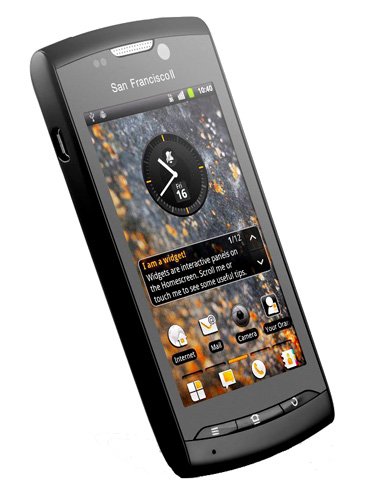 No Flash support, but at this price it's hardly a deal breaker
The SF2's battery is 150mAh larger than the SF1's at 1400mAh but you will still need to recharge every 36-odd hours as with every other Android smartphone under the sun. No problems to report with call quality or wireless connectivity, all of which worked a treat. The speaker is a bit boomy when turned up to 11 but there's no want of raw volume.
As well as being available for £99 PAYG the SF2 is also available on contract as a single item and in a bundle with the new Orange Tahiti (Huawei MediaPad) 3G 7in Honeycomb tablet for £41 per month. That includes 2GB of cellular data to share between the two devices which seems a fair offer if you want to use the tablet to pick up the SF2's Flash and Skype shortcomings.
Verdict
All in all the SF2 is not a bad reheat of a deservedly popular phone. The faster chip, more modern version of Android, better camera(s) and a body that looks and feels more expensive than the original but which costs the same are all welcome. On the down side there is too much bloat, too little system storage and no support for Flash or Skype video. ®
More Android Phone Reviews

HTC
Explorer
Motorola
Razr
Ten… Androids
to outshine
the iPhone 4S
Samsung
Galaxy
Nexus
HTC
Sensation XL