Orange San Francisco 2
More hails of the city
Review The Orange San Francisco was the smartphone bargain of 2011. For £99 you got a solid little handset with a 3.5in 480 x 800 screen, Android 2.1 and a 3.2Mp camera. The fact it was falling-off-a-wet-log easy to root and change ROMs – even I managed it – was the icing on the cake.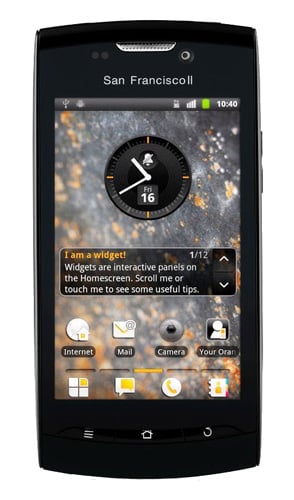 All Crescent and correct: Orange's San Francisco 2
Twelve months later Orange has gone back to the SF's maker and asked for more of the same. Dutifully, ZTE has ended up slapping a San Francisco II sticker on its new Crescent handset. While the price remains the same, much else is new and improved. Slide the SF2 out of it's box and you will be pleasantly surprised. The styling is both cleaner and smarter thanks to the new gloss finish along with the removal of the SF1's faux chrome appliqué and fiddly detailing.
The SF2 is fractionally longer and wider than the SF1 but nearly a full millimetre thinner. The weight has gone up by 10g to 120g but you wouldn't notice. It's all still made of plastic but there's not a trace of creak or groan no matter how much torque or pressure you apply to the body. The buttons – three on the front, an on/off switch at the top and volume rocker on the right hand side – all have a more pleasant action to them though the last is a bit small. In short the SF2 feels even less like a budget handset than the SF1 and that's quite a compliment.

Slimmer with a makeover too
Screen size is the same - anything larger than 3.5in and it would step on the Monte Carlo's toes – but with a dpi count of 267 and plenty of brightness and colour on offer the LCD panel doesn't let the side down. Running the show is the T-for-turbo version of Qualcomm's 7227 ARMv6 chip clocked at 800MHz, 200 up from the old San Fran. With 512MB of RAM it's enough to keep the SF2 moving at a decent clip and makes for a noticeably smoother user experience than the Mk. 1 SF.
It's also a high enough spec to play Angry Birds fluidly and run the YouTube app at full screen without hiccoughs, but the Adobe Flash video player doesn't work and so by association nor does the iPlayer app. Also out of the question is any sort of HD video playback.
5Mp snapper but no HD video, however, there is a front-facing cam for video calling, but there's no Skype support as yet
Like many cheaper Android phones the SF2 only has 512MB of ROM so system storage for apps is a very meagre 150MB. An extra 512MB or even 1GB would surely have little impact on the manufacturing cost and would make the SF2 much more attractive.
COMMENTS
Orange could have had the armv7 version of the same phone (With the same case even). They just chose not to for whatever reason. (Softbank Japan has that phone for sale already). You can swap out the msm7227(or MSM7227T) for MSM7227A with 100% software and pin compatibility. (Even extending to support of the legacy arm abi).
I am almost certain the choice was Orange's not ZTE's
Loose? Loose?!
"Lose", you cretinous oaf!
head over to modaco for unlock info
http://android.modaco.com/forum/578-zte-crescent-crescentmodacocom/
I flashed a new ROM onto mine on day 1 & repartitioned it to allow for more app space.
I'm happily running an ARMv6 version of flash also, can't remember where I got it from now but likely on the modaco forum somewhere.
Oh but for an ARM7
Has ZTE bought the worlds stock of ARM6 processors? Would it be too much to ask for a 1GHz ARM7 then it really would be a cracking upgrade of the SF1.
iPlayer does 'work' on ARM6
iPlayer is filtered from the Market for ARM6 devices but it will happily sideload if you can find the APK. It works (for certain values of 'works') on our OSF so it should on OSF2 or any other ARM6 device.
...after trying it you may decide it was right to filter it from the Market. Even on minimum bandwidth it's struggling on the OSF and OSF2 is only a little faster.
A 1GHz ARM7 performance much better than 800Mhz ARM6+25%. A year ago the OSF was a good deal, times change, prices fall, specs improve and OSF2 now looks like a distinctly average phone for its price.