Original URL: http://www.theregister.co.uk/2011/10/24/review_htc_radar_winpho_7_5_mango_smartphone/
HTC Radar WinPho 7.5 smartphone
You've been Mangoed...
Posted in Personal Tech, 24th October 2011 06:00 GMT
Review It's been a year since Microsoft revamped its mobile offering with Windows Mobile 7, which was greeted with cautious enthusiasm by critics and punters alike. It's taken a while, but we're now seeing the first major update with version 7.5 (aka Mango) appearing on the solidly built HTC Radar, which also includes a 5Mp camera.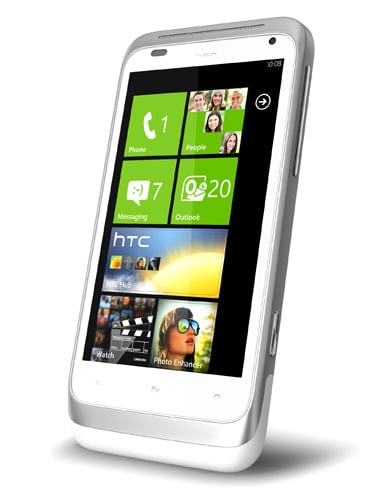 HTC Radar Windows Phone 7.5 'Mango' smartphone
While it's had quite a few welcome tweaks and updates – Microsoft claims it's made 500 changes – Mango is hardly a great leap forward. It looks lovely though on the Radar's 3.8in , 480 x 800 touch display, with screen candy enhancements such as active tiles, animations and background pictures.
Gratuitous graphics aside, multi-tasking is now more advanced – a long press on the back button displays a carousel of the various apps you've got running, and you can keep adding them until the processor gives up. Usefully, there's now a battery saving feature that switches off Wi-Fi, push e-mail and background apps when your power's getting low to help squeeze a bit more juice out of it.

Alas, no micro SD expansion – storage is limited to the 8GB on-board
Those tiles on the start page can soon build up, but Windows Phone 7.5 manages the problem of ever-increasing lists of apps on your phone by making it easier to search for them – start typing the name of an app and it will instantly suggest potential candidates as you type.
More of the tiles that you can pin to your start page are now active, in a similar way to the widgets available for Android handset. So if you instal a travel app from an airline, for instance, it may include a live tile that you can pin to your start page to offer you flight updates.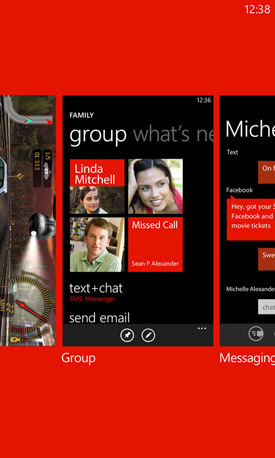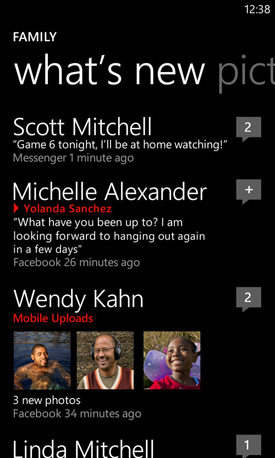 Multitasking apps carousel and networking updates
You can also sort your contacts into different groups then pin each group as a tile to your start screen. That tile is then active, and will keep you posted on incoming e-mail or social networking updates from those people. You can also create tiles for individual e-mail services and even individual folders, making it very easy to keep up with the important stuff at a glance.
Talking point
There's also a slew of updates that probably should have been on the original incarnation. Among them is the ability to display messages as conversations, voice search (which was included in the US version of WinPho 7) and create your own ringtones from MP3 and WMA files – still, better late than never.
The 5Mp camera turns out some fairly decent snaps
Mango now includes speech-to-text too. It's more basic than Apple's Siri featured on the iPhone 4S, but you can search the web as well as searching for local amenities and images, and it will let you dictate and send texts too. As ever with speech recognition, it's not perfect, but it did a pretty good job of recognising my transplanted Irish accent.
The 1GHz Snapdragon processor backed by 512MB RAM certainly isn't the most powerful you'll find on a high-end smart phone, but it does a bang up job in general use. It's not magic though, and it does start to struggle a bit when you start to take full advantage of the multitasking capabilities.
Sample Shots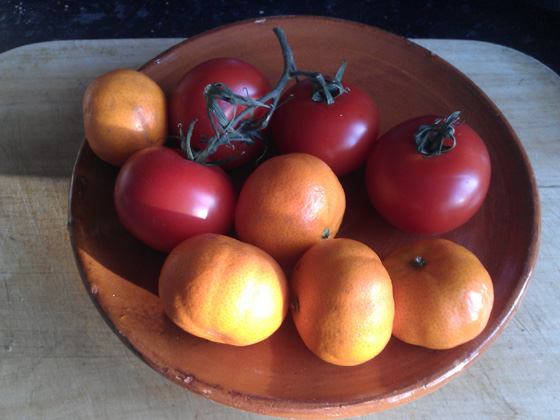 Click for a full-resolution image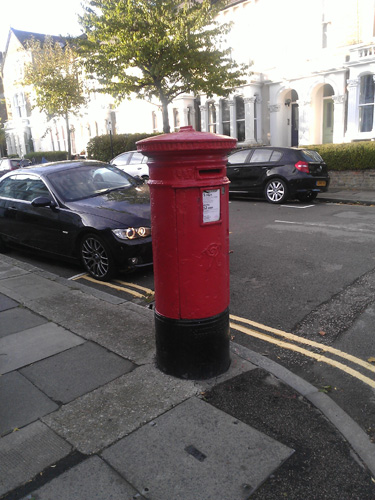 Click for a full-resolution image
The 5Mp camera (the minimum Microsoft says a Windows phone can have) has autofocus and flash and a maximum resolution of 2592 x 1944 pixels, along with macro and burst settings. As HTC cameras go it's one of the better ones, producing some fairly crisp images, so long as you're mindful to have adequate lighting. It includes 720p HD video recording too, which is always welcome, and there's a VGA quality camera on the front for video calling.
While not a new feature for Windows Phone 7.5, Microsoft Office hub is on board. This suite of apps allows you to create Word and Excel docs, yet with PowerPoint you can only edit, rather than create these files. Besides SharePoint and Office 365, it now integrates with Windows SkyDrive, so you can access your cloud-based documents from anywhere.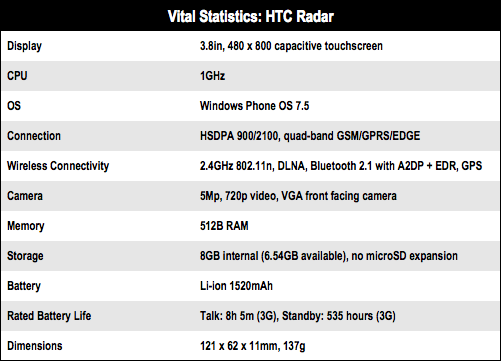 Browsing history
Currently, Microsoft's Marketplace is still lagging well behind Apple's App Store and the Android Market and shows no real sign of taking off. It's getting better though. More metadata is now shown when you search for apps, like the provider, price and user star rating. You can search through applications, music and games separately now – rather than seeing results all lumped together – and there's also support for Podcasts which you can download using Microsoft's Zune syncing software.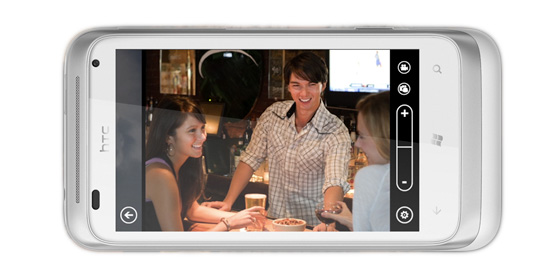 The handset also offers 720p video recording
Explorer 9 is the default browser that's bolstered by hardware acceleration, but doesn't too stretched as there's still no support for Flash so you can't watch BBC iPlayer. HTC has its own YouTube app offering in its Hub though. The browser is generally fairly slick in use, rendering pages well for the most part but if you don't like it, you're pretty much stuck with it, since there are no alternatives such as Opera available yet from the Marketplace.
The Radar's classy aluminium shell measures a hefty 121 x 62 x 11mm yet movies look great on its large screen and you can stream films, music and pics to a networked TV using DLNA and HTC's handy Connected Media function. The HTC Watch download service is also on board, offering films to buy or rent.
The music player includes SRS Surround Sound music enhancement, which gives the impression of broadening the sound stage and the supplied headphones are unexpectedly good. However, the 8GB of memory on-board seems a little light, especially since there's no option to expand it with a microSD card and this does rather affect its overall rating.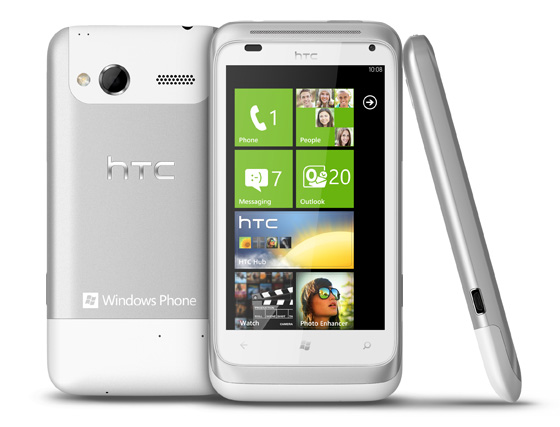 A step in the right direction, but the platform needs more apps
Call quality is fine, with the on-board speaker delivering voices with a well rounded and far from tinny tone. The 1520mAh battery is fine too, if unremarkable, delivering a little over a day's worth of fairly heavy use.
Verdict
Windows 7.5 Mango certainly offers a lot of useful improvements on its predecessor but it's no game changer. It remains to be seen if developers will embrace it and begin populating the Marketplace in the kind of numbers it will need to compete with Apple and Android. That said, the HTC Radar is a perfectly fine, if unspectacular vehicle for it – more pocket-friendly than the HTC Titan, and with a solid list of features. ®
More Smartphone Reviews

Apple
iPhone 4S
Sony Ericsson
Xperia Arc
Ten… Androids
to outshine
the iPhone 4S
RIM
BlackBerry
Torch 9810
HTC
Sensation