HTC Radar WinPho 7.5 smartphone
You've been Mangoed...
Review It's been a year since Microsoft revamped its mobile offering with Windows Mobile 7, which was greeted with cautious enthusiasm by critics and punters alike. It's taken a while, but we're now seeing the first major update with version 7.5 (aka Mango) appearing on the solidly built HTC Radar, which also includes a 5Mp camera.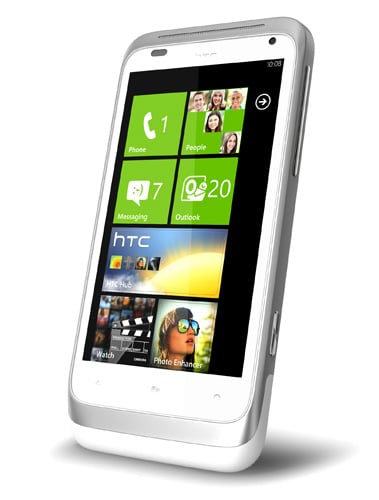 HTC Radar Windows Phone 7.5 'Mango' smartphone
While it's had quite a few welcome tweaks and updates – Microsoft claims it's made 500 changes – Mango is hardly a great leap forward. It looks lovely though on the Radar's 3.8in , 480 x 800 touch display, with screen candy enhancements such as active tiles, animations and background pictures.
Gratuitous graphics aside, multi-tasking is now more advanced – a long press on the back button displays a carousel of the various apps you've got running, and you can keep adding them until the processor gives up. Usefully, there's now a battery saving feature that switches off Wi-Fi, push e-mail and background apps when your power's getting low to help squeeze a bit more juice out of it.

Alas, no micro SD expansion – storage is limited to the 8GB on-board
Those tiles on the start page can soon build up, but Windows Phone 7.5 manages the problem of ever-increasing lists of apps on your phone by making it easier to search for them – start typing the name of an app and it will instantly suggest potential candidates as you type.
More of the tiles that you can pin to your start page are now active, in a similar way to the widgets available for Android handset. So if you instal a travel app from an airline, for instance, it may include a live tile that you can pin to your start page to offer you flight updates.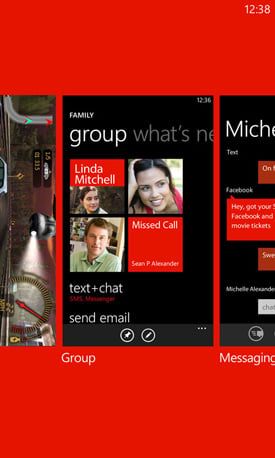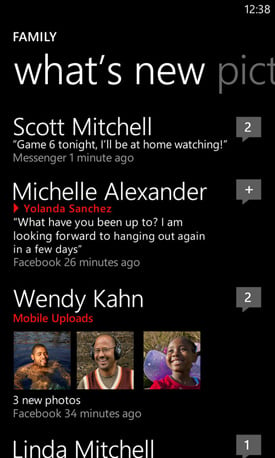 Multitasking apps carousel and networking updates
You can also sort your contacts into different groups then pin each group as a tile to your start screen. That tile is then active, and will keep you posted on incoming e-mail or social networking updates from those people. You can also create tiles for individual e-mail services and even individual folders, making it very easy to keep up with the important stuff at a glance.
COMMENTS
daft storage decision
The asinine decision to provide so little storage while denying memory card expansion rightly cost this device a slew of customers. Seeing as most smartphones today need to be tethered to the power grid just about every day, it appears deranged to force customers into the cloud for their media files, too - wasting expensive bandwidth and precious mAhs on 3G. Not to mention potential customers living in areas with patchy wireless coverage.
For a phone that is supposed to increase WP7's market penetration, MS's business decisions remain rather unfathomable.
if by "greeted with cautious optimism" you mean:
"eeeugh, does it bluescreen?"
"eeeugh what a bunch of loosers, they don't have a fully populated app store yet"
"eeeugh what an unpopular choice; less than 30% market share? I don't want to know"
"eeeugh blah, blah, source code, Micro$oft, blah blah"
I'm not in the market for a phone, so I've no particular axe to grind; but it seems that if it were any other player coming to the market they'd be welcomed for introducing some competition....
The most ironic thing is the mobile o/s which most like the old XP experience of registry settings, dodgy drivers, programs that could hang the o/s, the occasional need for a reboot isn't the windows one! Yes, I'm sure *your* particular droid behaves impeccably...
Oh, and if we're going to take marks off for lack of memory card slot... lets do it universally :)
Multitasking
Being able to show a list of apps currently in a suspended state in the background isn't multitasking. It's app switching. It might ease flitting between various apps but it's not the same at all as multitasking which would imply multiple applications running at the same time with preemptive, or cooperative multitasking.
Instead WinPho 7.5 has things called background agents which are for running stuff in the background which might be regarded as lightweight non-interactive asynchronous job, usually scheduled, but nothing comparable to true multi tasking. It would poll or do something in the background and notify the foreground to update a tile or the app its associated with. It's analog in Android might be a service class which is there for a similar purpose.
Gordon 10 tell me if you think so after reading this
Multitasking is pretty well understood even amongst non technical types - stuff happens while you're doing other stuff. The only thing WinPho 7.5 supports that way is streaming audio, e.g. you can run Spotify in 7.5 and it streams audio while you do something else.
But what about other types of multitasking? e.g. Voip, GPS trackers / navigation, instant messengers, download clients etc.? Do background agents cater for that? Not really.
There are two kinds of agent. Periodic agents are lightweight agents which are allowed to run for 25 seconds tops before they're terminated and may run only once every 30 minutes. Even that granularity is not guaranteed. So they might be useful for periodically checking your mail but tough if you want to poll any faster or use it for for instant messages.
Resource intensive agents (i.e. those that crunch numbers, background download a file) are allowed to run for 10 minutes tops and will not run unless the phone is charging (!). Oh and the screen has to be locked (i.e. not running while any other app is in the foreground).
You can have up to 6 periodic agents and only 1 resource intensive agent running at any one time. The restrictions are so severe IMO that they're worse than useless you may as well ignore the feature altogether and write some tiles and apps and hope users don't notice. BTW I'm not making any of this up, see for yourself:
http://msdn.microsoft.com/en-us/library/hh202942(v=vs.92).aspx
Flagship?!
Is this supposed to be an MS flagship or are they just testing the water? I hope the latter but it would seem strange to slide your OS upgrade out a side door. The spec is underwhelming, not even on a par with the Desire S once you factor in internal memory and the lack of storage expansion. Mind you, Google's Galaxy Nexus (while superior) doesn't exactly break any HW boundaries either.
I'm conflicted. I always enjoy watching MS fail but the smartphone market needs healthy competition. Most folks seem stuck on the idea of MS either getting burnt or conquering the market but it's quite possible mid-table mediocrity will be their niche, e.g. the punters who currently still have Nokia phones.