Original URL: http://www.theregister.co.uk/2011/05/25/review_virgin_media_tv_tivo/
Virgin Media TV Powered by TiVo
Sky+ killer in the making?
Posted in Personal Tech, 25th May 2011 06:00 GMT
Review TiVo is synonymous with hard disk video recording, at least in its native US. To date, its profile was lower in the UK, though a few thousand models of the original UK model were sold about ten years ago, winning it a loyal if small fanbase.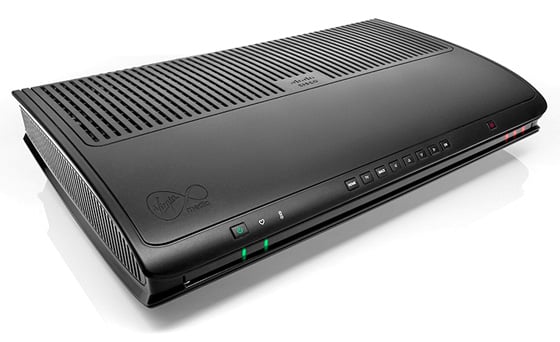 Cisco's Virgin's TiVo box: PlayStation 3-like curves and minimalist styling
That recorder is now superseded by the Cisco-produced CT8685 or to give it its official, unwieldy name, Virgin Media TV Powered by TiVo. Announced back in November 2009, the result of this exclusive UK venture with Virgin Media's cable TV network is finally available.
The old Virgin Media V+HD recorder has a clunky user interface compared to rival platforms, although the underlying cable service of pay-TV channels, catch-up and on-demand is strong. The TiVo software rearranges that content into something more coherent, user friendly and versatile.
For example, if a catch-up programme from the main broadcasters is available from last week, you'll see an icon for it if you 'time travel' backwards in the programme guide. However, this doesn't yet take you directly to programme playback and, currently, BBC content only works through the dedicated red button app – two issues that need addressing.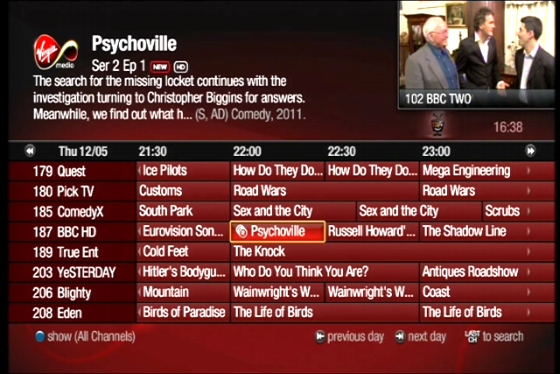 Tivo EPG
TiVo enhances the personal aspect of digital video recorders, leaving others such as Sky+ looking like relatively dumb machines. It's no surprise that Sky has been throwing money at a big ad campaign for its (fairly limited) Anytime+ on-demand facility. TiVo sifts through 14 days of TV schedules, filtering out repeats if needed, learning your preferences – aided by 'thumbs up or down' ratings and making (optional) automatic suggested recordings.
Customisable WishLists are also worth setting up because TiVo can constantly scour listings for shows that match chosen keywords, genres, cast, directors or combinations of the above.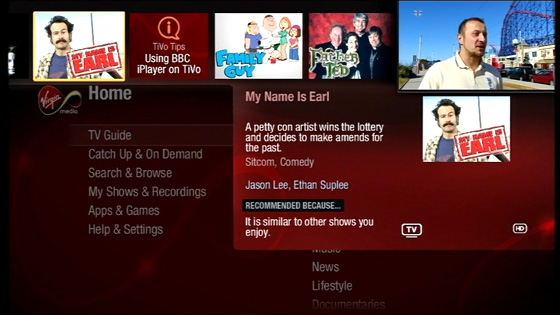 The Home screen's Discovery Bar is one of the places where TiVo suggests other shows
It has three active tuners, so it can record up to three overlapping programmes, or two if you're watching live TV as well. It buffers live TV on all available tuners, enabling you to pause or rewind up to three current channels and hop to and fro between them, which is pretty mind boggling at first.
The sleek, tapered box has no front panel display, just basic controls and status LEDs. Each tuner has an indicator that lights when one, two or three programmes are recording. There's even a fourth tuner LED here – could there be hidden hardware waiting to be enabled?
The Home page has a rather intrusive 'Discovery Bar' which Virgin uses to flag up shows, seasons or other content. You have some control over what's shown here and it alters as you make more recordings or rate programmes, but you can't remove it from this menu.
Series Links will also find upcoming alternative showings in case of overlaps or clashes. It remembers links when series are off-air to catch them on their return. However, if you want to track things that may move channel or haven't appeared yet, use WishLists. If a series you like changes channel, TiVo should also find it with its suggestions if it's doing its job.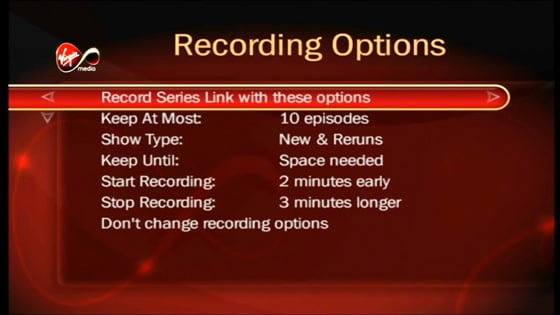 Fine control over how each series is recorded
Series Links and WishLists can be prioritised, so you can favour more essential broadcasts, especially if they have fewer (if any) repeat showings. TiVo can catch repeats later but you should check its planned recordings and fix any obvious oversights.
It relies on programme metadata being correct and it can occasionally get confused as to what is new or not. You can refine Series Links to ignore repeats and save disk space, though by doing so, the box could inadvertently miss a fresh episode.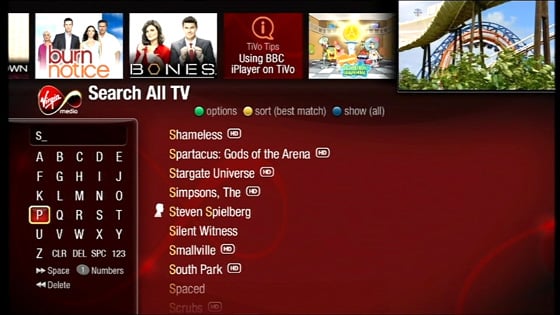 Keyword searches bring up popular titles and people first
The 1TB hard disk stores about 100 hours of HD or around 500 hours of standard-def TV and there's a Deleted Recordings bin in case you didn't actually mean to hit the erase button, though it won't stay there if the disk gets full.
A cheaper 500GB version is joining the line-up and effectively replacing the V+HD hardware. It is also available to low or middle-tier TV package subscribers – rather than just premium XL, which you need to have if you want the 1TB model – however, the £3 per month TiVo service charge goes up to £8.
Even simple name searches are intuitive, with results sorted by relevance rather than strict A-Z, so you're likely to find what you're looking for after entering two or three letters.
It takes about a day after installation for its suggested recordings to appear. The programme guide and main screens look crisp and informative but deeper menu screens – mostly relating to recording management – are less detailed and could do with being revamped in a software update.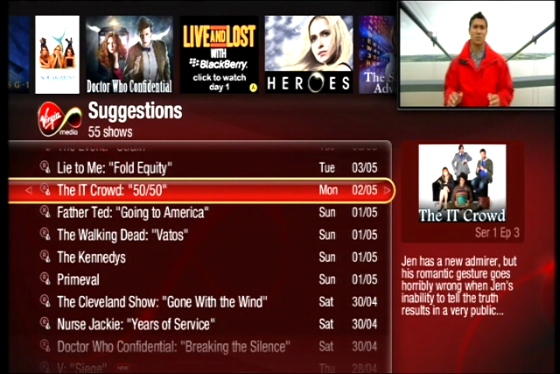 Programme suggestions
An 'apps' area is limited but due to grow. For now, it has a brisk standalone version of the iPlayer (including BBC radio), plus apps for YouTube (which can also link from programme searches), eBay, Twitter, weather and quiz games.
TiVo users can set one-off or regular recordings remotely using Virgin Media's on-line TV guide. It works like Sky's Remote Record, except there's no dedicated mobile app (that's promised soon).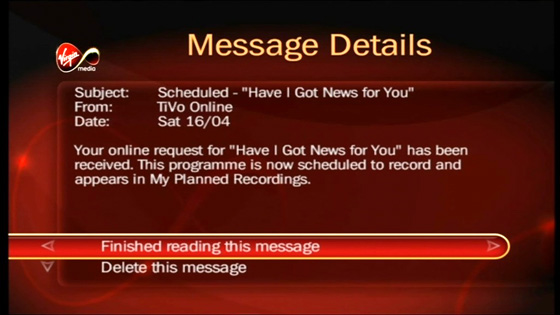 You can set recordings on-line, confirmed on the box by an alert message
The box has dormant USB and Ethernet connections, so there are various future options. The most imminent are probably media streaming from a DLNA server and playing recordings to a second-room receiver – but only if it's Virgin's Cisco-made V-HD zapper box.
An obvious downside is that this new UK TiVo is exclusive to Virgin and if you're not in a cabled area, there's little you can do except relocate or wait for the fibre-optic network to expand, which it might one day.
It's open to question whether TiVo can now truly offer something that you can't do with careful use of webtools such as Locate TV or Sky's Never Miss. Its suggested recordings can be interesting but you might find they range from the irrelevant – particularly in the early days – to the obvious (I set Doctor Who to record and got ITV's Primeval too). And if you have an eclectic taste or a large household, you could get all manner of things.
When it first appeared, TiVo was well ahead of its time. UK viewers can now have a TiVo suited for video-on-demand and HD, in addition to its many other assets, but there are rough edges that need sorting, such as the fragmented TV catch-up situation and the over zealous PIN protection that, at the time of writing, can't be deactivated.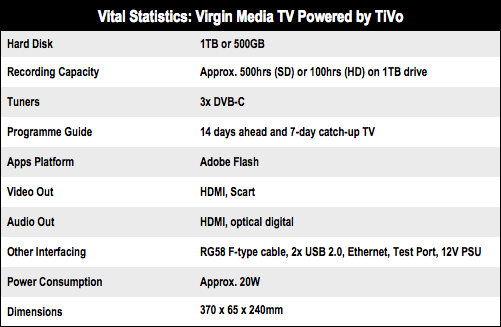 Virgin has a TiVo user's forum and the company seems to be taking note of feedback for its software updates over the coming months. Perhaps inevitably with a first-gen version, there are glitches.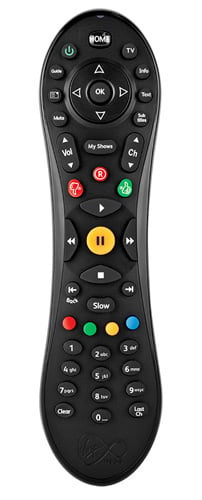 Pleasant 'peanut' shaped remote, worth one or two thumbs up
An early batch had reportedly faulty hardware and some people say the TiVo's SD quality looks too soft. This may also depend on the broadcast, the TV being used and the eye of the beholder. Compared to my Sky box, it's about the same; compared to the V+HD, the upscaling isn't quite as crisp, but to me this isn't a deal breaker given the increasing number of HD programmes and the 1TB storage.
Verdict
Overall, it's an impressive and promising (re)start. While some people may prefer the familiar simplicity of Sky+, others will welcome this smart recorder with open arms – and thumbs resoundingly up. ®
More DVR Reviews

TVonics
DTR-Z500HD
Icecrypt
T2400
TVonics
DTR-HD500
Humax
HDR-Fox
T2
BT vs
Sky vs
Virgin