Virgin Media TV Powered by TiVo
Sky+ killer in the making?
Review TiVo is synonymous with hard disk video recording, at least in its native US. To date, its profile was lower in the UK, though a few thousand models of the original UK model were sold about ten years ago, winning it a loyal if small fanbase.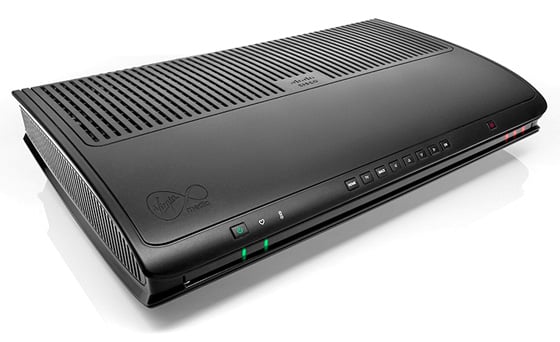 Cisco's Virgin's TiVo box: PlayStation 3-like curves and minimalist styling
That recorder is now superseded by the Cisco-produced CT8685 or to give it its official, unwieldy name, Virgin Media TV Powered by TiVo. Announced back in November 2009, the result of this exclusive UK venture with Virgin Media's cable TV network is finally available.
The old Virgin Media V+HD recorder has a clunky user interface compared to rival platforms, although the underlying cable service of pay-TV channels, catch-up and on-demand is strong. The TiVo software rearranges that content into something more coherent, user friendly and versatile.
For example, if a catch-up programme from the main broadcasters is available from last week, you'll see an icon for it if you 'time travel' backwards in the programme guide. However, this doesn't yet take you directly to programme playback and, currently, BBC content only works through the dedicated red button app – two issues that need addressing.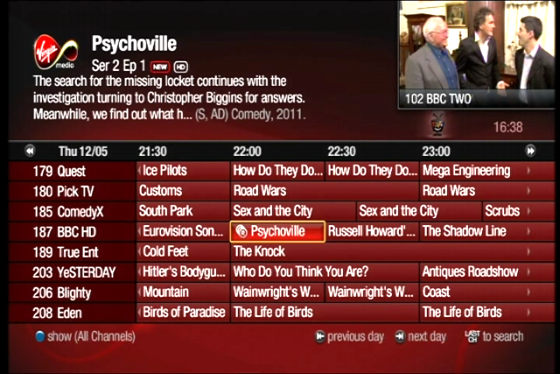 Tivo EPG
TiVo enhances the personal aspect of digital video recorders, leaving others such as Sky+ looking like relatively dumb machines. It's no surprise that Sky has been throwing money at a big ad campaign for its (fairly limited) Anytime+ on-demand facility. TiVo sifts through 14 days of TV schedules, filtering out repeats if needed, learning your preferences – aided by 'thumbs up or down' ratings and making (optional) automatic suggested recordings.
COMMENTS
When will these companies realise that they are now just another utility?
About the same time you realise that someone who thinks "I'd go get a small-ish, quite PC (something like a Fit-PC2, but maybe with more oomph) drop XBMC/Myth on it and stream from a common source " isn't the target demographic for this device?
This is for ordinary people, they don't want to do what you describe, they want someone to come round, install the magic box for them, then leave so they can watch tv...
Not bad...
... but not a patch on a custom MythTV build.
A custom build will definitely cost more - at least £300 for a reasonable rig.
It'll also more than likely take you an entire weekend to get up and running, assuming you've got the chops.
Built myself a MythTV box 18 months ago and it's still going strong - hooked up to Telly via HDMI.
I'm running Boxee and XBMC on it too, so it covers all the bases.
Copy stuff across the network, schedule TV recordings (remotely too), watch from any computer in the house (with mythtv frontend), or share folders via Samba and watch recordings on any device (android mobile for instance) - plus it's yours to hack away on and install whatever else your heart desires. I use mine as an SVN repository and home Apache dev server too.
Highly recommend this route if your geeky enough to be able to do so - and this being The Register, I'm sure most of the readers here are.
The fact that your not in any way locked down by the hardware or vendor, that you can add more storage space, more ram, run anything you want on the box - is awesome.
Never looked back.
Nothin' o
"Fifty-seven channels and nothin' on". Sums up their offer
cost?
More than happy with v+ but would like more disk space with more and more HD channels coming on line. Don't see any particular advantage in the TiVo other than disk space and I don't want to increase the monthly payment again (already xl with 2nd box)
Any chance of an unbundled version?
I'm a big fan of TiVo and loved my UK series 1 before it shuffled off this mortal coil. Sadly I don't live anywhere near a Virgin cable network so this won't work for me.
Does anyone know if Virgin have an exclusive deal with TiVo or is there any chance that other companies will be bringing out TiVo Freeview/sat boxes?