Original URL: https://www.theregister.co.uk/2010/06/28/plastic_logic_que/
Plastic Logic still ain't got a Que
Great PR, cool technology, but no e-reader
Posted in Personal Tech, 28th June 2010 14:47 GMT
The Que e-reader from Plastic Logic has been postponed, again, as the company struggles to get a product out while there's still a market for it.
Those who had pre-ordered the device, which was originally scheduled for April but had already slipped to June 24th, were sent an email (posted by Wired) explaining that shipments have been delayed until "sometime this summer", and the company won't be drawn further than that.
Plastic Logic got great PR for its device, which is aimed squarely at the document-or-newspaper-reading user who wants a touchscreen too, and is prepared to pay upwards of $650 for it. But despite demonstrating the device, and impressing journalists with its huge, flexible, screen and responsive performance, Plastic Logic has still not managed to ship anything.
The company had boasted a deal with Barnes & Noble as well as a shatter-proof screen which promised to differentiate its offering, but it was caught unprepared when Barnes & Noble launched the Nook (its own device) and came to understand that its deal with the retailer wasn't the exclusive for which one might hope.
Plastic Logic has been working to create a content catalogue, including magazines and books, and at the launch of the Que the company made much of its potential as a businessman's notepad rather than an e-reader, but it remains an expensive device in a world that now judges everything in comparison to the iPad.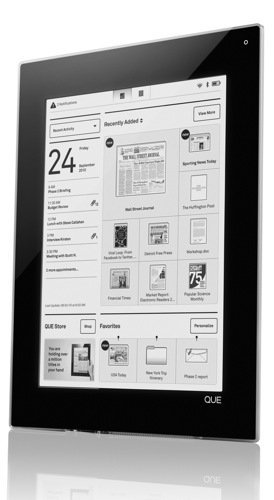 E-book readers using electronic ink have huge advantages in power consumption and daylight reading, but in every other aspect a tablet like the iPad is superior; which isn't what you want to hear when your device is still not shipping. We'd love to be optimistic about the future of the Que, but can't help feeling that it could end up joining the Readius and Skiff in the good-ideas-that-never-happened file. ®