Original URL: http://www.theregister.co.uk/2009/12/22/review_networking_powerline_devolo_dlan_avplus/
Devolo dLan AVplus
Now with mains power pass-through socketry
Posted in Broadband, 22nd December 2009 08:02 GMT
Review It has taken Devolo a while to come up with a set of powerline Ethernet adaptors with pass-through power sockets in them, but here, at last, they are.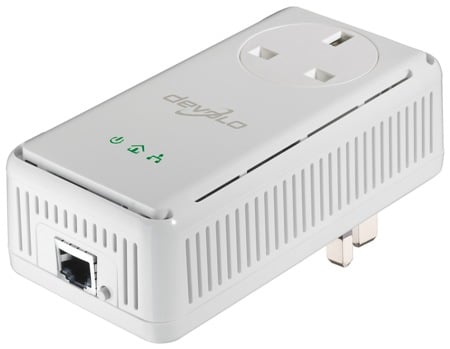 Devolo's dLan AVplus: powerline with pass-through power
The dLan 200 AVplus is essentially Devolo's dLan 200 AVeasy adaptor stretched to accommodate the power socket that's placed diametrically opposite the device's own power pins. The pins and socket are placed in the upper half of the adaptor, and the 10/100Mb/s Ethernet port is on the bottom of the unit.
The adaptor's value to you will depend, then, not only on whether you need that 'extra' power socket but also whether there's room for the 130mm top-to-bottom device to be plugged in. It's 65mm wide and 40mm front to back. Our test bench main sockets, for example, are placed too close to the top of the bench, so we couldn't plug the Devolos in there.
And don't forget that you'll need to allow 5cm or so below the adaptor to ensure there's sufficient room to plug an Ethernet cable in.
Assuming space is no problem, you're ready to use the AVplus adaptors. They're standard HomePlug AV units, so that's 200Mb/s maximum throughput, though this is way above what you'll get in real-world usage - hence the 100Mb/s Ethernet port.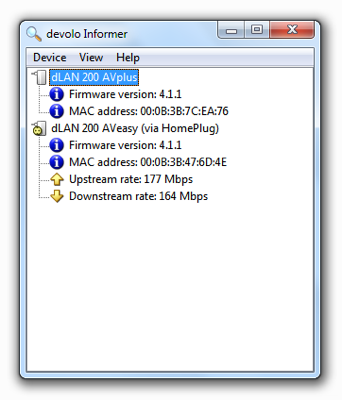 Bundled software lets you keep track of your powerline links
Like the AVeasy, the AVplus has a small button next to the Ethernet socket that can be used to automatically generate a 128-bit AES encryption key for adaptors on the network. Push and hold the button for more than a second on one adaptor and a new, random key is generated. You now have two minutes to press the button on each of the other adaptors - again, for at least a second - for them to share the key.
Adaptors sharing your mains wiring that don't have buttons pressed during this time can't share data with your ones, so this is one clear way to protect your network if you're concerned that other people in the building - you're in a block of flats, say - may be able to tap into the network because their power lines are linked to yours. Signals shouldn't get past the meter in any case, but if you fear they might, the 128-bit encryption gives some peace of mind.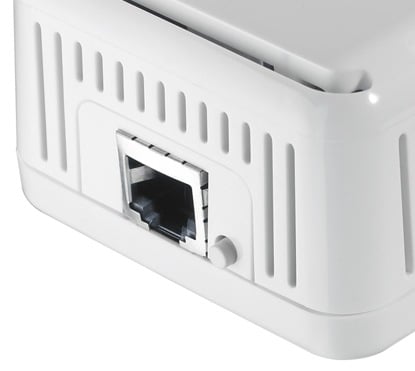 128-bit AES encryption at the push of a button...
To test the Devolo units, we lined them up alongside a set of AVeasy adaptors we use and Belkin's Powerline HD Gigabit units. We first plugged two of each unit into adjacent power sockets and connected one to a MacBook Pro and the other to an Acer Aspire 1810TZ - both gave Gigabit Ethernet ports.
We transferred a 1.4GB file by SMB from the Mac to the Windows 7 machine and timed the result. Unsurprisingly, the Belkin pair maintained the fastest transfer: 72 seconds, or 159.29Mb/s. Curiously, our old Devolo set came next, with a speed of 54.07Mb/s, followed closely by the AVplus units, at 48.62Mb/s.
We got essentially the same numbers when we copied two files simultaneously in each direction. And we also measured the transfer speed of the AVplus adaptors with the two laptops' power bricks slotted into the units' pass-through ports. There was no significant change in performance.
Nor was there any real change when we tried the same file transfer but this time using well-separated power sockets: one upstairs by the router, the other downstairs by the TV. The new Devolos yielded 48.74Mb/s, the old ones 49.22Mb/s and the Belkins 46.7Mb/s.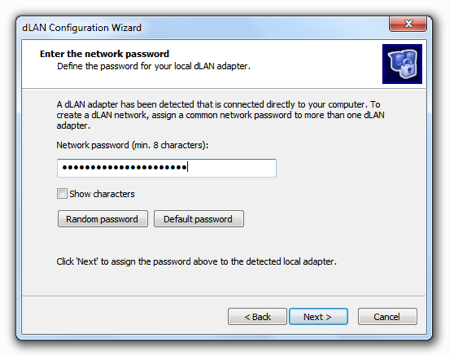 ...or set a password manually
As we noted in our review of the Belkin adaptors, these units drop back to standard 200Mb/s HomePlug AV when the powerline link isn't good enough to support higher but non-standard data rates, and that's clearly shown in the second test.
And, again, the AVeasy set yield a slightly better throughput than the AVplus, presumably a result of the extra circuitry the latter have to support the pass-through power socket.
The AVplus units are rated at 5.5W and 0.1A - each AVeasy is down as 5W and 0.09A. We plugged in a power meter and found the AVplus typically consumed 4W, rising to a peak of 7W when swapping data. The AVeasy stayed at 5W and peaked at 6W. The Belkin consumed 7W when not transferring data, rising to 8W when it was swapping packets.
When left alone for a while, so each adaptor drops into stand-by mode, the Belkin never dropped below 7W. The AVeasy stayed at 5W, but the AVplus fell to 3W. That isn't quite the 60 per cent power reduction Devolo claims - though it is 60 per cent of the standby power consumption of the AVeasy.
That's perhaps not enough to choose AVplus over AVeasy, which, in two-adaptor starter packs, cost on average £120 and £90, respectively. It's good to reduce energy consumption, but choosing AVeasy or AVplus is really about convenience. If you need the pass-through port, paying the £30 - £15 per unit - extra is a no-brainer. If not, you may as well go for the cheaper starter pack, or mix and match individual adaptors.
Verdict
Once again, Devolo's HomePlug AV-standard powerline adaptors deliver best-in-class performance, but now with reduced stand-by power consumption and the advantage of pass-through mains power. But if that's not an essential requirement, Devolo's equally well-performing AVeasy adaptors are cheaper. ®
More Powerline Networking Reviews...

Belkin
HD Gigabit

D-Link
DHP-303

Solwise
Piggy 6

Devolo
dLAN AVEasy
Wireless G