Devolo dLan AVplus
Now with mains power pass-through socketry
Review It has taken Devolo a while to come up with a set of powerline Ethernet adaptors with pass-through power sockets in them, but here, at last, they are.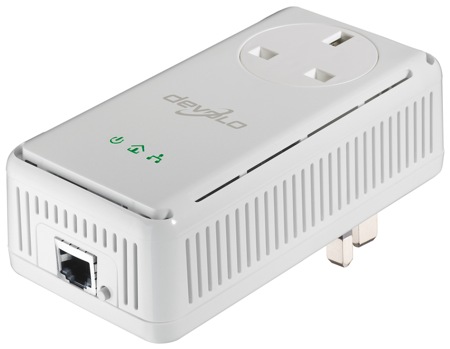 Devolo's dLan AVplus: powerline with pass-through power
The dLan 200 AVplus is essentially Devolo's dLan 200 AVeasy adaptor stretched to accommodate the power socket that's placed diametrically opposite the device's own power pins. The pins and socket are placed in the upper half of the adaptor, and the 10/100Mb/s Ethernet port is on the bottom of the unit.
The adaptor's value to you will depend, then, not only on whether you need that 'extra' power socket but also whether there's room for the 130mm top-to-bottom device to be plugged in. It's 65mm wide and 40mm front to back. Our test bench main sockets, for example, are placed too close to the top of the bench, so we couldn't plug the Devolos in there.
And don't forget that you'll need to allow 5cm or so below the adaptor to ensure there's sufficient room to plug an Ethernet cable in.
Assuming space is no problem, you're ready to use the AVplus adaptors. They're standard HomePlug AV units, so that's 200Mb/s maximum throughput, though this is way above what you'll get in real-world usage - hence the 100Mb/s Ethernet port.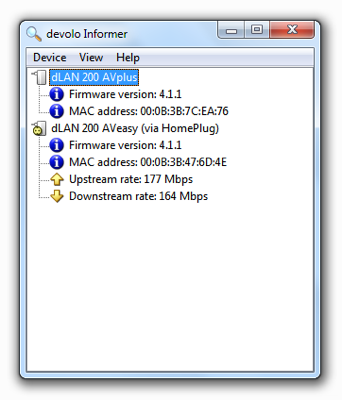 Bundled software lets you keep track of your powerline links
Like the AVeasy, the AVplus has a small button next to the Ethernet socket that can be used to automatically generate a 128-bit AES encryption key for adaptors on the network. Push and hold the button for more than a second on one adaptor and a new, random key is generated. You now have two minutes to press the button on each of the other adaptors - again, for at least a second - for them to share the key.