Original URL: https://www.theregister.co.uk/2009/07/31/review_hd_tv_philips_cinema_21_9_56pfl9954h/
Philips Cinema 21:9 56in LCD TV
The film buffs' widescreen TV
Posted in Personal Tech, 31st July 2009 08:02 GMT
Review Think of a widescreen TV. The widest one you've seen, you know, one with big, garish speakers stuck on the side. Well, whatever it is, it'll be nowhere near as wide as this new, premium-priced LCD TV from Philips.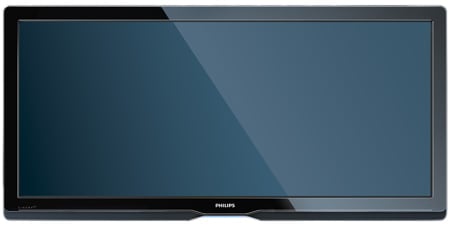 Philips' Cinema 21:9 56PFL9954H
Current widescreens have an aspect ratio of 16:9, so when viewing a movie on them, there are black bars along the top and bottom of the screen. Why? Because movies aren't actually produced in the 16:9 format. Most DVDs have movie aspect ratios of 2.35:1, or 21.15:9. Even this isn't the full picture, which is 2.39:1 (or 21.51:9) and viewable from the latest Blu-ray discs. It's this measurement which is matched perfectly by the Philips Cinema 21:9 56PFL9954H TV. Purists please note, it's the product name, not the shape of this 2560 x 1080 screen, that has been approximated to 21:9, for simplicity.
The idea behind this strange-looking television is to provide a screen that can present a film in near-perfect proportions. It's quite a stretch, but leads to further questions, namely, what do you do with standard 16:9 or 4:3 TV broadcasts? And if you're going for cinema purity, why add Ambilight to the back of the screen? It's the Philips system where changing coloured lights – which match the dominant onscreen colours – are thrown on to the wall behind. It's certainly strikingly different to the cinema experience.
Let's start with taking the TV out of the box. Boy, is it heavy! Although it has the height of a 42in telly, the width is much greater, with a diagonal screen measurement of 56 inches. It comes with a wall bracket, though our review sample had the optional extra of the glass stand. Expect to pay around £180 for the stand.
Turn on the TV and the screen leaps into life faster than most flatscreens, displaying a huge Philips logo, which so dominates the room it reminds you again that you're looking at a very wide picture. Set-up is straightforward, not least thanks to the new Philips remote. We've taken issue with remote controls from Philips in the past, mostly because of a navigation ring round the OK button that has been temperamental and hard to use precisely. There's no such problem with this new model, which is simple and very effective.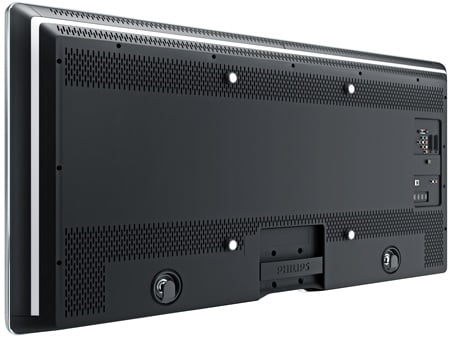 The inclusion of five HDMI sockets should satisfy most users
There are an impressive number of HDMI sockets: four on the back, plus a fifth on the side, so you shouldn't run out in a hurry. As you tune them in, the set prompts you to find out if the socket is for a Blu-ray player, HD recorder, games console and so on. Each socket has its own preset too, so peripherals can make the most of them.
Picture settings are simple and, on the whole, it's best to fiddle with them as little as possible. Not least because, on top of everything else, this is a 200Hz screen with a fast refresh rate aimed at reducing flicker and delivering smoother results, even with fast-moving images.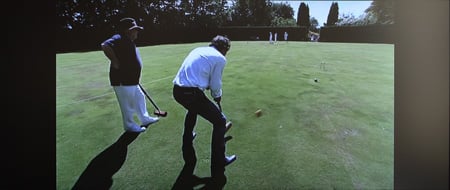 Standard definition proportions are preserved, filling the screen's extremities with huge black borders
One setting you'll to tinker with occasionally, is the aspect ratio of the display. There's a button dedicated to this in the middle of the remote, so it must be important. After all, you don't want the TV to automatically stretch the picture to fill the screen no matter what. A classic film shown in 4:3 format would suddenly be populated only by short, squat characters and – unless you're watching the Munchkins in The Wizard of Oz – that ain't a good thing.
The Auto setting is pretty clever and knows to leave black bars on the side of 4:3 content. Although this is obviously the right thing, it might leave you wondering why you paid so much for a TV with big expanses of blackness at the sides. Conventional 16:9 signals are moderately stretched and zoomed, most noticeably when you're tuned to a news channel with a tickertape across the bottom, which is partially cut off.
Still, you definitely want whatever you're watching to fill the screen because, at this width, it's immersive. It fills, obviously, a greater part of your natural field of vision. While the 21:9 Cinema 56PFL9954H looks a little weird when switched off, turn it on and you're quickly used to it. So much so, that you really miss this viewing experience when returning to regular widescreen.
And at this width, the extra-inviting appeal of Ambilight is even more effective. There are five backlighting panels on the top of the TV and four on each side – none at the bottom. Since each panel displays its own colour, it is by far the most effective Ambilight yet with a sophisticated and deeply impressive effect. Turn it off and it's like the screen has just shrunk. As for film purity, it's true no cinema screen has an Ambilight effect. However, it's always impressive, and never more so than on this scale.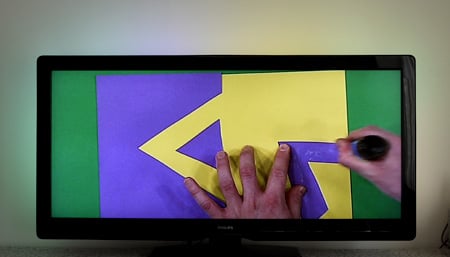 Ambilight effects colour the background wall to match picture hues
What of the picture itself? Actually, it's breathtaking. The Sky HD screening of Spider-Man 3 showed the 21:9 picture off beautifully. After 20 seconds of displaying the picture with black bars at top and bottom, it settled into a flawless full-screen presentation. In the early scene, when the pitch-black alien Venom crash-lands on Earth, the dark creature was still picked out in perfect clarity against the night time Central Park backdrop.
In the fast-moving action sequences, there was not a trace of motion blur as Harry, the Green Goblin's son, surfed his way at dizzying speed through Manhattan backstreets. Even the flash-bang effects of Flint Marko being transformed into sand, was pin-sharp, artefact-free and wholly absorbing. Take away the supreme HD sharpness and the SD transmission of the movie still looked good: vibrant colours and rich detail, all picked up by Ambilight.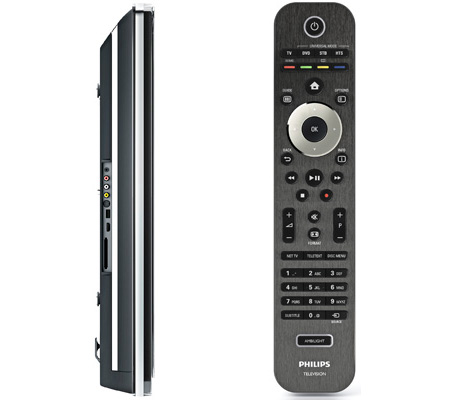 Side view and remote control
Full HD looked just great – the Blu-ray disc of I Am Legend shone with great levels of clarity, displaying accurate skin tones in this drabbed-down future world and pixel-perfect accuracy even in the fastest-moving moments.
Press the central OK button and the screen is overlaid with 20 boxes showing Freeview channel names. Scroll to the one you like and the TV tunes in, displaying the channel title and, across the top of the screen, the now and next information. Philips image processing is working overtime here, taking regular SD signals and blowing them up to fit this huge screen. It looks terrific, notably better than Freeview on regular widescreens we've seen measuring just 37 inches.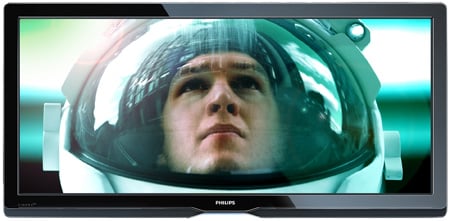 Wide screen, deep pockets
As for sound, well, flatscreen TVs are not known for great audio, whether from hidden speakers or ugly side-mounted ones. Although Philips has favoured hidden models before now, the speakers on this TV run along the bottom of the screen, marked with a discreet chrome line. The fact that the TV is so wide seems to help here, as there's plenty of room for speaker real estate without drawing too much attention to it. As a result, the sound is strong, wide and bassy. No need for a separate soundbar here.
Of course, there's a big fat price premium on this set: for this money you could buy a pair of top-of-the-range Sony 52-inchers and still have change or a 60-inch Pioneer plasma with a grand to spare. In fact, unless you were choosing a super-priced brand like B&O, you'd struggle to pay more. Even so, it's outstanding in every way.
Verdict
Film purists will love the Philips Cinema 21:9 56PFL9954H. The picture quality is exceptionally strong and the perfect proportions for film make it a dream buy. Of course, there's still some 4:3 content, which leaves black bands hanging around, and even 16:9 programming isn't perfectly configured here. But it all looks tremendous, much better than standard Freeview signals usually fare. One day, perhaps, all TVs will be this shape, but until then this is spectacular innovation – even if it comes at a high price. ®
More HD TV Reviews...

Panasonic
Viera TX-P42G10
Plasma Freesat TV

Toshiba Regza
37AV615DB

Pioneer
Kuro KRL-37V

LG 42LF7700
Freesat TV