Original URL: https://www.theregister.co.uk/2009/03/30/dhs_efficiency_program/
DHS battles Axis of Exorbitance with software overhaul
Department of Homeland Efficiency
Posted in Policy, 30th March 2009 20:31 GMT
The US Department of Homeland Security said on Friday it's seeking a "leaner, smarter" way to preserve our freedoms and fight the global war on terror by launching an agency-wide efficiency program to cut wasteful spending.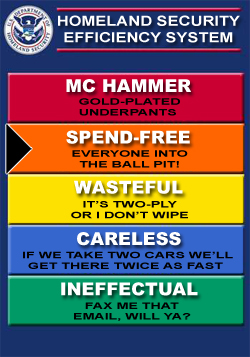 DHS Secretary Janet Napolitano announced her first hostilities against the axis of exorbitance will include consolidating the massive federal agency's software licensing purchases and eliminating non-essential travel.
Napolitano said the initiative will collectively save the DHS hundreds of millions of dollars.
Under the efficiency review, the agency will begin purchasing its "commonly used" software licenses department-wide. Each DHS department presently buys its software and negotiates contracts independently. The switch is expected to occur within the first 60 days of the program — likely bad news for smaller solution vendors that sell their wares to the government. Napolitano said the consolidation is expected to save over $47m per year, and $283m over the next six years.
Other immediate changes include jettisoning non-essential travel in favor of online meetings. The DHS also plans to stop printing documents that can be sent electronically or posted online as well as reducing the number of newspapers and professional publications it receives.
In a statement on the DHS website, Napolitano said, "I am committed to creating anew culture of efficiency at the Department of Homeland Security, and the Efficiency Review will allow us to cut costs while streamlining operations and decision-making."
Penny-pinching will hit six main categories, according to Napolitano: "acquisition management, asset management, real property management, employee vetting/credentialing, hiring/on-boarding, and information technology." ®