Original URL: http://www.theregister.co.uk/2009/02/26/review_storage_external_hdd_samsung_s1_mini/
Samsung S1 Mini 1.8in external hard drive
Very cute
Posted in Personal Tech, 26th February 2009 09:59 GMT
Review We've just received what has to be one of the cutest little external hard drives we've ever seen: Samsung's new S1 Mini.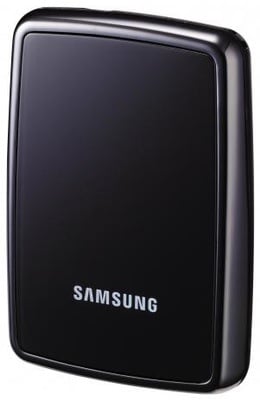 Samsung's S1 Mini: not much larger than this picture
The top of the S1 is all ultra-glossy black and smooth, but with a dotted texture under a clear plastic cover so it's not your average piano-black peripheral, despite Samsung quoting "piano black" as one of the drive's three colour choices. The activity light is a needle thin slash of bright blue LED, up at the top of the face.
The back of the drive is matte black plastic with a contoured "leather-look" texture that looks like it was taken off a 1980s car dashboard but makes for an interesting contrast with the shiny upper half.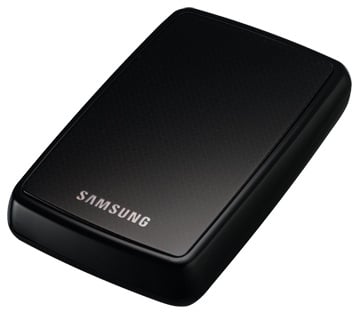 Textured design
Still, we think the S1 looks rather snazzy, but what really matters is the size: the S1's about the size of a packet of smokes - 87 x 62 x 15.5mm, according to Reg Hardware's handy ruler - making it eminently pocketable and portable.
Within the shiny casing sits a 1.8in hard drive of 120GB unformatted capacity. It connects up to a host computer by USB 2.0, which provides power as well as the data link. Samsung bundles two cables with the S1, both with a regular USB connector at one end and a mini USB jack at the other. One is 50cm long, but the other has a mere 4cm of cord between the plugs, ideal for a laptop link.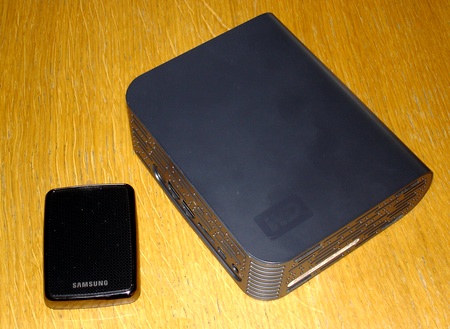 Much smaller than a WD MyBook
Samsung has pre-formatted the S1 Mini using the FAT32 file-system for cross-platform compatibility, but you're clearly free to reformat the drive to NTFS, HFS+ or EXT3, depending on the operating system you favour.
Alas, Samsung only favours Windows users with the two apps it bundles on the S1 - not on a CD, you'll note, so make sure you back them up before reformatting the drive. SecretZone allows you to create multiple virtual RAW, FAT, FAT32 or NTFS drives, all password-protected and stored as encrypted images on the S1.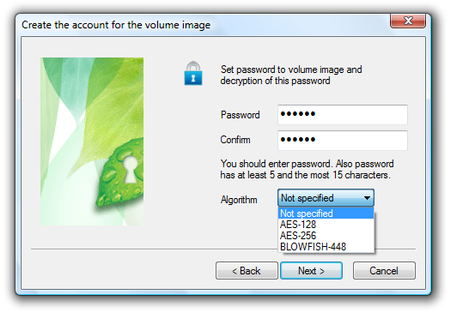 SecretZone supports Blowfish encryption
We've seen similar apps from SanDisk and others, but usually on Flash drives rather than HDDs. SecretZone isn't as user-friendly as some of the alternatives, but security wonks will surely be impressed with its encryption offerings: it offers a choice of 128- and 256-bit AES, and the less well known Blowfish 448.
SecretZone is required for mounting the virtual drives and for unmounting them too - Windows says it's unable to do so. SecretZone will let you delete virtual drives, but while it removes the from the list of available encrypted drives, it doesn't wipe them off the S1.
Auto Backup does exactly what it says: schedule backups to the S1 - or any other connected drive, including networked disks - and keep them updated with up to 999 generations of each file in the folders you tell the app to watch. It'll do a mass copy at the start, and then transfer files as and when they're created or modified on your computer. Backup archives can be password-protected and compressed or left at full size.
Data-restoration runs at the file and folder level. You can select individual documents or whole folders of them and copy them back to your computer, but you'll need a working OS to do so - this isn't an alternative to Norton Ghost or PING, which can replicate an entire drive, operating system and all, and then slap it back onto a bare disk, ready to run.
Again, it's not as user-friendly as it might be. Our first back-up run yielded "47 errors" and a "backup has failed" message, but no indication at all as to what the problem might be. Despite the alleged failure, a whole stack of files and folders were backed up.
Since the S1 has a 1.8in drive on board, you wouldn't expect it to be a speed demon. We've seen various websites state the S1 contains a 5000rpm or a 5400rpm HDD, but we checked with Samsung and were told it's a 4200rpm drive, of model number HS120JY. You can get all the details from Samsung's PDF, here.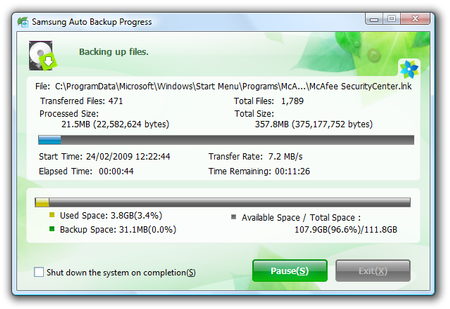 AutoBackup works - but it's no Time Machine
That's interesting, because not only does Samsung's website list it as an end-of-lfe (EOL) product - no harm in that, Samsung's just gearing up not to make any more that model number - but also has integrated USB controller.
We conducted a couple of tests with the S1 Mini, copying first a 3GB file to the drive then back to the fast solid-state drive on a Toshiba Portégé R600 - review to follow, folks. Next, we copied across a 14.7GB folder containing thousands of music files. We also carried out the same tests on a 250GB Iomega eGo, which is a 2.5in unit but, like the S1 Mini, aimed at laptop users.
3GB File Copy Results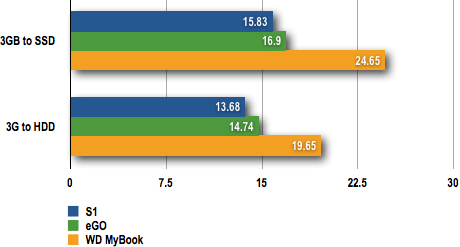 Copy speed in Megabytes per Second (MB/s)
Longer bars are better
We also chucked in some previously recorded figures for Western Digital's 1TB MyBook external HDD, which contains a 3.5in drive powered not by USB - as were the eGo and S1 - but by AC adaptor. The WD numbers were generated on a different computer, so they're not directly comparable, but they give you a broad indication of relative performance.
14.7GB Folder Copy Results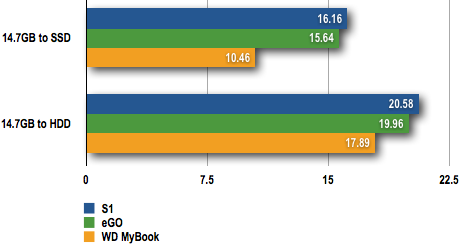 Time in Minutes
Shorter bars are better
You can see the eGo's fractionally quicker than the S1 Mini, but not so much so that if size was your prime buying consideration, you'd overrule it and go for the bigger but quicker product. In short, the S1's no poor performer.
That said, Samsung wants the best part of £130 for the S1 Mini, which puts it toward the top of the price range for compact external hard drives, and since they're all based on 1.8in disks, the S1 has no size advantage. It does look better than most of its rivals, and while the bargain hunter might be willing to put up with a less visually attractive product to save a tenner, plenty of folk won't mind paying extra.
Or you can pay less and get a 2.5in drive that's bigger but packs in much, much more storage capacity and will be quicker too. Cute though the S1 Mini is, it's doesn't seem so appealing when lined up against a typical 320GB, 2.5in offering. A WD MyPassport of that capacity will set you back around £75. That's 23.4p a gigabyte. By contrast, the S1 Mini is a 93.8p-a-gig product.
Verdict
So many storage options, so little time... Samsung's S1 is unutterably cute and with 120GB of storage space on board, it's reasonably capacious for file swapping or backing up key files from a laptop or netbook. Of course, it's not an enormo file bucket - nor is it a high-speed unit. But it offers a darn sight more capacity than other, Flash-based sneakernet storage offerings. ®
More Storage Reviews...
| | | | |
| --- | --- | --- | --- |
| OCZ Apex SSD | WD Caviar Green 2TB HDD | Clickfree Backup | Intel X-25M SSD |