Original URL: https://www.theregister.co.uk/2008/07/02/chinese_police_using_segways/
Chinese cops opt for Segways
Counter-terrorist taskforce gets mobile
Posted in Personal Tech, 2nd July 2008 16:09 GMT
Chinese authorities are going high-tech and have begun equipping elite crime fighting units with motorised Segway scooters.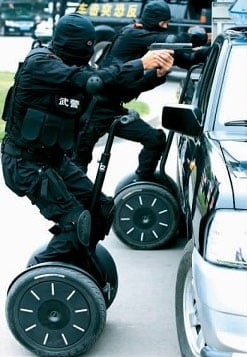 China's police are getting mobile
According to the front page of daily newspaper The First, Chinese armed forces were recently spotted using Segways during a counter-terrorist exercise called "Taishan 2008". The exercise is thought to have taken place in Jinan, Shandong Province.
It's not clear why Chinese authorities think Segways are the perfect technology for transporting crime-cutting troopers. But if they really want to ensure the country's cops can get there quickly and shoot on target, then perhaps they should consider strapping Mio's Knight Rider satnav onto each Segway and training their officers using Grand Theft Auto IV.
The second problem is that the standard speed setting on a Segway is only around 12mph, so Chinese police had better hope that criminals don't suddenly hop into a getaway car.
The idea might strike you as purely a publicity stunt, but Chinese cops could be taking a lead from police in Glen Falls, New York. Officers in the American state already use Segways whilst on duty and claim the machines help make cops more visible during patrols.