Tory proposes street-legal Segway legalisation
MP calls for 'personal transporters' to allowed on UK roads
The Segway personal transporter should be allowed to be ridden on UK roads, a Conservative transport spokesman has said.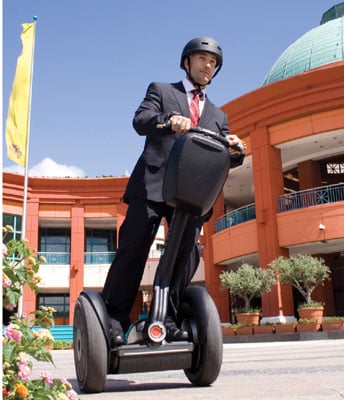 Should Segways be allowed onto UK roads?
According to a report by the BBC, Robert Goodwill, MP for Scarborough and Whitby, has urged ministers to rethink the vehicle's classification. Currently, the Segway is only permitted to be used on private land.
Not all members of the public appear to know this. Only yesterday, one of Register Hardware's roving reporters spotted one of the two-wheeled machines being 'driven' up London's Regent Street.
Goodwill said that a limited Segway trial should be run to "see what lessons can be learned". How not to get in the way of pedestrians, perhaps...
Initially, he is pushing for permission to use the two-wheelers in cycle lanes. But what do you do if a road's cycle lane suddenly ends? Get off and walk?
A Segway would definitely be a great way to zip through the rush-hour traffic, while eco-worriers would surely welcome its negligible carbon emissions. But, is the Segway just an indoor travel tool gone too far? Are they safe enough to use on UK roads?
It's worth remembering that, in 2006, Segway suffered an embarrassing set-back when the manufacturer had to ask customers to return their "personal transporters" for an essential software update. The reason? Well, it was discovered that the two wheeler could unexpectedly reverse the direction of the wheels and cause the rider to fall off.
Sponsored: Minds Mastering Machines - Call for papers now open