Original URL: https://www.theregister.co.uk/2007/09/28/the_bevy_ipod_shuffle/
iPod Shuffle keyring aids music fans, boozers
Bring a bottle
Posted in Personal Tech, 28th September 2007 10:27 GMT
Music and alcohol are like peas in a pod. The Bevy, from manufacturer Mophie, fuses both by combining an iPod Shuffle keyring-style carry case with a bottle opener, ensuring that the tunes and the drinks are always flowing.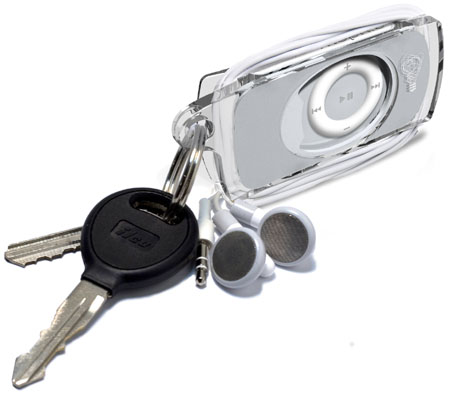 Mophie's Bevy: Shuffle carry case-cum-bottle opener
On the one hand, The Bevy's a protective plastic shell that clips around your second-generation Shuffle to prevent it from being damaged and which provides a handy place to keep your keys too.
Headphone cables wrap around the case's outer edge - there are grooves to keep them in place - to prevent that horrible tangled mess all iPod users are well aware of, and there's a hole to let you reach the Shuffle's controls.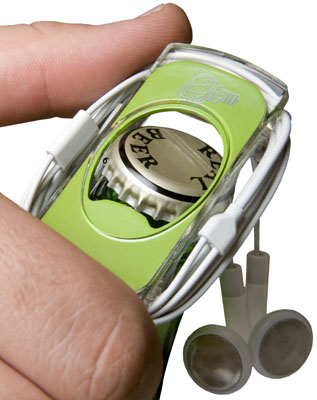 Mophie's Bevy: the Shuffle must be removed before you crack open the beers
The hole also doubles up as bottle opener. The Shuffle must be removed from the case first, of course, but the drinks will be flowing all night once this little baby is set free.
Just keep a watchful eye on the Bevy at parties, because it's likely to be borrowed to open your chum's drink and then you risk losing both your access to alcohol and your house keys – though, thankfully, not your Shuffle.
The Bevy is available now through online retailer Firebox for £10 (€15/$20). Sadly it's only offered in silver by Firebox, despite Mophie's own website showing a range of other colours.