Original URL: https://www.theregister.co.uk/2006/10/13/emerge_galaxy/
Hubble pictures an emerging super galaxy
Little galaxies trapped in the Spiderweb
Posted in Science, 13th October 2006 11:22 GMT
Hubble has sent back an image of the Spiderweb Galaxy sitting at the centre of what will become a huge galaxy. Hundreds of smaller galaxies are congregating around the Spiderweb Galaxy in what astronomers describe as "an emergent galaxy cluster".
The image, according to NASA and the European Space Agency (ESA), provides the best evidence yet that the truly huge galaxies are in fact created when hundreds of smaller ones merge together.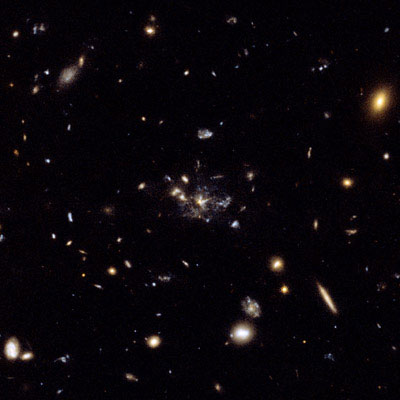 ESA says the image is a useful test of current models of galaxy formation. It notes that the complexity of Spiderweb is in line with expectations, but that there are also several small, faint, linear galaxies within the structure, not predicted by the models.
The galaxy is a massive 10.6bn light years away from Earth, so these images allow us to peer back into the very early universe.
The images sent back by Hubble show the central massive galaxy devouring the smaller galaxies as they fall under the influence of its gravity. The captured galaxies, from distances of up to 100,000 light years, are falling into the Spiderweb at several hundreds of kilometres per second.
Much of the matter is thought to fall into a massive black hole at Spiderweb's centre, which has been seen spewing out jets of highly energetic particles.
The research is published in this week's edition of Astrophysical Journal Letters. ®