Hubble snaps expanding light echo
Echo...echo...
Hubble's Advanced Camera for Surveys has captured another stunning image of an expanding light echo around the variable star V838 Monocerotis.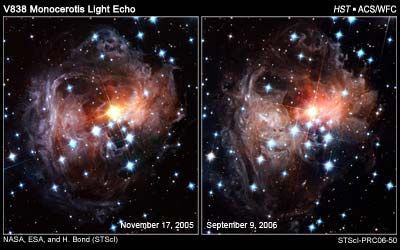 In 2002, for reasons no one is entirely certain of, the star temporarily became hugely bright, throwing out 600,000 times as much light as our own sun. The light from the eruption is travelling outwards from the star through clouds of dust that surround it.
A light echo, what we can see in the picture, is a reflection of the original light, bounced off the dust encircling the star.
Hubble's regular observations of the light echo provide scientists with a view of the layers of dust around the star. By piecing the observations together, astronomers can build up a picture of the dust's three dimensional structure.
NASA says one particularly notable feature in the pictures is the variety of whorls and eddies in the dust. Scientists speculate that these swirls are caused by the effects of magnetic fields. ®
Sponsored: Minds Mastering Machines - Call for papers now open