VMware counters containers with SaaSy VM disk swap
Patent-in-process offers new way to upgrade cloudy apps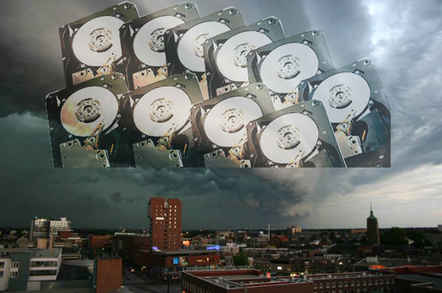 The rise and rise of Docker, plus news that Google does most everything using containers, has raised eyebrows for those who like to ponder virtualisation's future in large-scale deployments.
At issue is that while server virtualisation is universally agreed to be very powerful, very useful and tremendously useful, you still end up with a lot of operating systems to feed and groom. Which means complexity that no-one likes.
Containerisation offers the chance to parcel out applications into discrete units independent of hardware – just like virtualisation – but with one underlying OS. That's an approach held to make for a lot less sysadmin drudgery, and therefore to leave more time for IT folks to do cunning value-adding.
While organisations with sizable server fleets have happily virtualised, hyper-scale operators like big software-as-a-service players and the likes of Google often containerise instead. The low sysadmin:server ratios that have resulted have raised many an eyebrow among virtualised businesses, landing containerisation on technologists' "better keep an eye on this" lists.
VMware might also have been keeping an eye on containerisation for a while, if this newly-published patent is any guide.
"Techniques for performing virtual machine software upgrades using virtual disk swapping" explains that SaaS operators need to upgrade their apps from time to time but find it painful to do so because lots of VMs all seeking updates at once makes for horrid network conditions that can lead to failures.
The patent proposes a different way of handling mass updates for VMs and their OSes, by creating a virtual disk of the desired application updates and pointing a VM at that new version of the software.
El Reg's sysadmin blogger Trevor Pott says the patent reads an awful lot like the way VMware handles updates to client operating systems used for virtual desktops.
"It's not revolutionary, by any means, but it is a welcome way to manage and maintain legacy applications in an increasingly automated and orchestrated software-defined future," Pott said.
It's also notional, for now. VMware lodged the patent in 2013 and it was published a couple of weeks back. As you read, patent attorneys are probably poring over it and either laying down prior art caltrops or drafting licensing letters to nab VMware if it ever turns these ideas into products.
But if nothing else, the patent shows VMware knows it has a fight on its hands in some applications, and is doing something about it. Docker who? ®
Sponsored: Learn how to transform your data into a strategic asset for your business by using the cloud to accelerate innovation with NetApp