Xyratex tight-lipped over unimpressive first quarter
Loose lips sink ships, but sometimes they sink anyway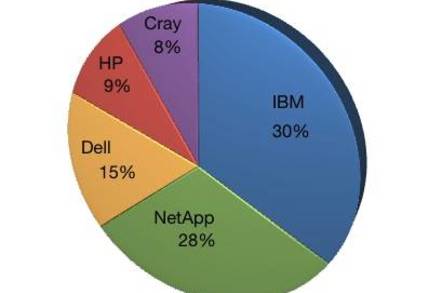 Comment As expected and following on from its board caving in to Baker Street Capital Management and ousting of CEO Steve Barber, Xyratex's quarterly revenues are down 34 per cent year-on-year.
Revenues for Q1 2013, ending 28 February 2013, were $195.6m, which contrasts badly with the $295.7m reported a year ago and the $265.4m reported in the previous quarter.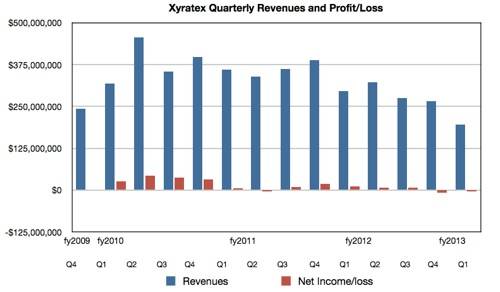 Click on the chart to see a bigger version
There was a net loss of $5.1m in Q1 2013, a big reversal from the $10.9m profit made a year ago. That was quite an achievement, as the previous quarter's revenues of $265.4m saw a loss of $7.9m. Yet this latest quarter, with revenues almost $70m lower, saw a $2.8m smaller net loss compared to Q4 2012.
Interim CEO Ernie Sampias was glum and said virtually nothing in the earnings statement:
We had a solid first quarter with revenues above our expectations. We are focused on being responsive to our customers' requirements and on improving operating efficiencies in both of our business units as we go forward in 2013.
Translation: it wasn't such a horrible quarter as we feared.
Hopefully he said more in the earnings call otherwise the analysts would have been baying for his blood.
Interim CEO's thinking
Sampias indicated the board's current thinking about the existing disk drive manufacturing process equipment:
Within our 2 core businesses, the OEM Storage Solutions business and the Capital Equipment business, we continue to develop and deliver compelling technology through our established customer base, as well as consistently identifying new customer and product opportunities. We see both of these businesses providing long-term contribution to the company.
Hello, hello; so ClusterStor, the HPC array business, does not. Speaking of which, he went on to say:
With our more recent strategic initiatives to address the High Performance Computing, Big Data and cloud markets, we are making encouraging progress.
Load of pish. Ernie, the only reason you are sat in the 'interim CEO' chair is because the existing core businesses are delivering substantially lower revenues and the newer business has yet to take off.
Regarding Xyratex's near-term future, Ernie said:
We will be looking to focus our investments within the areas where we have already had significant success and will carefully review our opportunities to expand into new markets, verticals and geographies.
Pish again, Ernie. Existing ClusterStor customers will be very worried that the product line is effectively a dead man walking. They will read those words and immediately fear you're looking to keep it alive until you can sell it, spending the minimum amount of cash on it you can get away with in the meantime.
Helpfully, Ernie then reinforced this perception:
My priorities will include a detailed cost analysis of development activities and being disciplined in our expenditures and investments while also making sure that our businesses deliver more consistent and reliable returns.
Later in the call, though, more details emerged about Xyratex's intentions for ClusterStor.
CFO Richard Pearce indicated where revenues declined in more detail:
Sales of our Enterprise Data Storage Solutions products in the first quarter were $176.5m, representing a decrease of $95.5m or 35 per cent compared to the first quarter of last year and down to 12 per cent compared with $200.1m in our prior fiscal quarter.
A large contributor to this decline was lower sales of NetApp, which accounted for 45 per cent of Xyratex's revenues in Q4 2012. Also:
Sales of our Capital Equipment products in the first quarter were $19.1m, down 19 per cent compared to the first quarter of last year and down 71 per cent compared with our prior fiscal quarter.
But the results reflect a seasonal pattern and outlook in this area is good:
We have experienced a good level of customer orders in the first quarter and expect to record significantly higher revenues in the remaining 3 quarters of fiscal 2013.
Gross margin had improved mostly due to higher-value ClusterStor sales; the very product line whose life is threatened by the changes to the board. There was some restructuring (aka job losses - 63 heads) in the quarter and more of the same is expected in the current quarter, "primarily in connection with our OEM Storage product lines."
Polish your CVs, people.
Sponsored: Minds Mastering Machines - Call for papers now open