Xyratex tight-lipped over unimpressive first quarter
Loose lips sink ships, but sometimes they sink anyway
Drive array business
The OEM customer shares of Xyratex business in the quarter were revealed:
- NetApp was around 28 per cent
IBM was 30 per cent
Dell was 15 per cent
HP was between 8 and 10 per cent
Cray was approximately 10 per cent.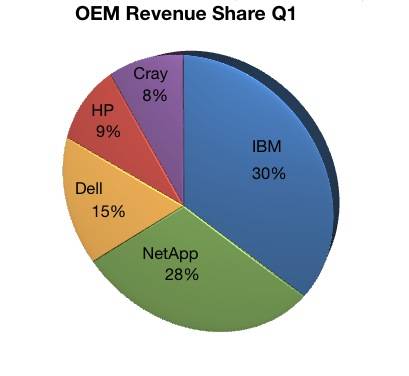 Nominal values for HP and Cray.
Pearce indicated the board's thinking about the storage disk array business:
We believe that there is pent-up demand for storage that could be released over the next several quarters as a result of the growing demand for Big Data solutions. In fact, long term, storage demand should continue to benefit from the growth in unstructured data as more digital content is moved online and needs to be secured.
He continued:
The core of the data centre is expected to remain on HDDs given their position of the cheapest and largest repository for exponentially growing data demands, while the edge of the network will increasingly shift to SSDs. Increased disk drive unit capacity results in increased manufacturing test times and increasing requirements for component associated capital products, both of which is positive for our Capital Equipment business.
ClusterStor
Then Pearce turned to ClusterStor, which uses Xyratex's high-density OneStor drive platform:
This platform has recently been qualified by Hitachi-LG and is in qualification with one of our current Tier 1 customers for their anticipated product launch in mid-year ... this product forms the core storage element of our ClusterStor high-performance storage product range. We entered this year with an established and growing business with IBM, 2 major new product programs ramping with HP 3PAR and with the yet to be named new Tier 1 customer, a new and growing relationship with Microsoft and a range of emerging customer partnerships. This business is well positioned to capture further market share as storage brands explore opportunities to outsource their platform designs and focus internal resources on software and applications.
There were 6 new ClusterStor customers in the quarter: one in Asia; 2 new customers within the US government; another large US academic customer; and 2 new large European research facilities.
And then came this gem:
We announced a strategic partnership with Pentaho, a leading provider of data analytics software, and we are working with them to integrate their technology into … ClusterStor … Embedding the Pentaho analytics engine would enable us to address the growing need of the Big Data market by delivering a high-performance data analytics platform later this year.
Which was followed by another pearl:
We will be expanding our ClusterStor portfolio with the release of an exciting new product specifically targeted at the departmental segments of the HPC and Big Data market. We have received very positive feedback from partner customers previews on this product … This new product will enable our ClusterStor business to address an incremental accessible market of approximately $1.6 billion and complements our existing product offerings.
El Reg's storage desk reckons Xyratex would be nuts to dispose of ClusterStor.
Pearce said the disk drive manufacturing process business had structural limitations:
Given the inherent capital spending nature of the HDD industry, it is unlikely that our Capital Equipment business will be profitable every quarter.
So why not sell it?
Xyratex is also moving some manufacturing to Asia and relocating other manufacturing operations from North California to Mexico to obtain cost efficiencies.
The future
A strategic board committee has been set up to examine Xyratex's future. No-one said who exactly is on the committee, although El Reg does know that both of the Baker Street directors are on it. Nobody knows what its thinking is either, although Pearce denied it was thinking about a company sale:
I can say quite openly that the primary objective of that committee is not to sell the company. I think, if you look at the share price today and somebody came in with an offer of $20 a share rather than $10 a share, then the company and the directors would have to look at that very seriously. But I can categorically say, again, that the primary objective of that committee is not selling the company.
Pearce said that the Baker Street position, laid out in a letter castigating the company's R&D focus, could change now it had board-level information access:
I wouldn't read too much into that original letter now that Baker Street are part of the company and, I would say, working with us in a, from my experience at one day with them, a cohesive and collaborative way.
In response to a question about working with Baker Street, Sampias said:
The one thing we agreed with Baker Street on when they were not on the board and just shareholders is the fact that we all believe Xyratex is undervalued. And we're going to do our best to improve the value for all of our shareholders. And that includes the - looking at how to improve the operational performance and more consistent profitability.
So sell the Capital Equipment business dog, Ernie. El Reg reckons Teradyne could buy it.
Xyratex's outlook is for its second quarter revenues to be between $190m and $220m. It doesn't expect to move into profit soon and is effectively in limbo with a distress flag flying over it until a permanent CEO comes in. ®
Sponsored: Minds Mastering Machines - Call for papers now open