Whatever happened to telepresence? From $2.5m deals to free iPad apps
It's the tech that made Microsoft feel the love for open standards
Vidyo killed the AVC star
Arguably, the biggest industry shake-up has been the appearance of Vidyo, which - unlike Cisco, Polycom, Radvision and the like - describes itself as a software company. Vidyo has a few tricks up its sleeve but the one that was the real game-changer was its codec development, culminating in the ITU ratification of its implementation of H.264 SVC (Scalable Video Coding). This codec extension was something that had been known in theory, but Vidyo was first to put it into practice.
Previously, corporate videoconferencing had relied on the H.264 AVC (Advanced Video Coding), which is still in use today. However, that coding technique, with its roots in Blu-ray, was never really designed for an IP network. Yet in a telepresence scenario it assumes you have a fixed bandwidth and a fairly stable connection, typically on a leased line or an ISDN network. Fraser Dean, Vidyo sales director, explains the problem the company worked to overcome.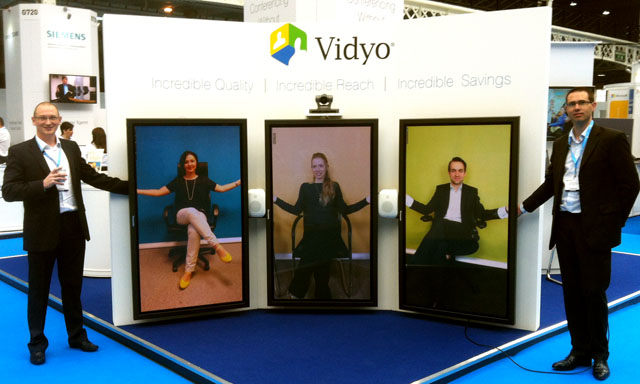 Vidyo live streams from European countries on show at the Unified Communications Expo 2013
"You take those AVC codecs today and put them on an IP network, as other applications come online that bandwidth is going to be reduced (it's a shared medium), so traditional codecs using AVC can't cope. So what does the industry say? If you want to get the best out of your video conferencing, you've got to put it on to an MPLS (Multiprotocol Label Switching) network, so that's further cost and further restricting where I can deploy video conferencing."
Dean adds: "The AVC approach was right for those times, but for today's networks and deployments we need a way of being able to cope with bandwidth fluctuations to deliver video over the internet. So we're a software company. We don't care if it's a Mac, PC or Linux, iOS or Android, we've got the clients that download on one of those devices. And when you work up to our room systems and telepresence solutions, it's still software but we preload it on Intel chipsets. And that allows us to constantly improve the level of quality pretty much every quarter."
If this sounds like hype, then you only have to look at all the recent SVC adopters from the AVC camp to realise Vidyo is on to something. OK, so Vidyo currently licenses its SVC implementation, but various flavours of SVC exist now that, overall, enhance interoperability.
A trade alliance called the Unified Communication Interoperability Forum (UCIF) formed in 2010 to aid this further, which has some big names behind it but one notable absentee: Cisco. This state of affairs hasn't escaped the notice of Imago's Ian Vickerage.
"The bigger barriers are infrastructure, but that's been overcome with this SVC technology," says Vickerage. "And SVC is not a low-end technology – it's better in every area of the business – it's just a better mousetrap. And the only company that is not supporting it in the entire industry is actually Cisco. LifeSize, Radvision and Polycom have announced it. Vidyo has been doing it for years. Cisco has said nothing, so let's see what happens."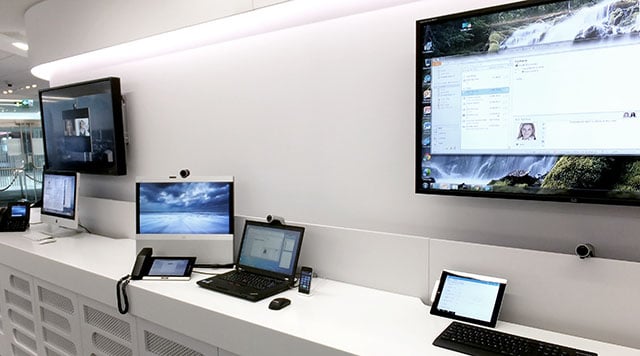 Cisco's H.264 AVC choice is widely supported by established high-end rivals and it offers a variety of desktop and mobile products.
Now H.264 Scalable Video Coding, as its full name implies, scales and adapts to the available bandwidth. Former AVC-only companies have been able to integrate their own implementations of SVC in their existing systems with considerable success, as Tim Stone former Cisco Marketing Director and now Polycom's VP of EMEA Marketing describes.
"What's happening with video is what people are using and the amount of devices is just exploding and that's where the SVC standard comes in. That gives you the ability to do much higher volumes of calls on the same hardware."
And it's the hardware, along with monthly operational expenses, that have been a barrier to broader adoption of telepresence. Traditionally, an MCU (multipoint control unit) has been utilised to handle the video bridging but with costs around £6k to £8k per HD port, the costs can quickly mount up for multipoint bridging in large companies - even though these ports are dynamically allocated, as required. As Vickerage emphasised, it's those costs that have impeded adoption, yet Stone is upbeat about how these costs can be managed,
"What's happening now is the market is changing to video being ubiquitous in organisations and people using lots of different devices. So it's not a matter of the video market 'going away', it's evolving and changing to multiple devices (depending on the situation they're in) and it's a matter of things to moving to the cloud too."
Immersion Therapy
If you're inclined to think that telepresence is just a glorified form of Skype then you really have to experience it to appreciate where the money goes. At the high end, the thinking is to deliver an immersive experience where, after a few minutes chat, you'll forget the two dimensional element of the on-line participants and engage with them as you would if they were across the table.
The fully immersive telepresence concept relies on precise seating and camera positioning so that the person on-screen appears the same size as if they were sitting opposite you. This means that the folk at the other side of the planet need the same set-up to pull this off. To add to the realism, you get directional audio too, to make it easier to identify who's talking. So when the person on the right pipes up, that's where the sound comes from. It's especially useful if you've never met the participants before.
Eye contact is an important factor too and the cameras are positioned to optimise this, but if your contact is off-axis, then it can be like talking Al Pacino in Scent of a Woman. No doubt experienced telepresence users learn tricks to build eye contact confidence and look at the camera when talking, rather than the screen.
The problem of talking over each other remains, but latency is not too noticeable these days. Tell a good joke and unless they're a bit dim at the other end, you'll get an idea of the delays. Perhaps it's the talking over people aspect that makes telepresence work. It seems to instil new disciplines where you learn to shut up and listen to avoid call crossover chaos.
Another aspect that the top end telepresence demands is the use of separate monitors for presentations. For this purpose, Cisco has a large display beneath its trio of screens which has been criticised as being "sexist", as women, who are typically shorter couldn't sit comfortably and see the data. High heels don't help when you're sat in a chair. Polycom's immersive suites have separate displays on the table which might appear a little more cluttered but avoids any issues for the vertically challenged.
Sponsored: Minds Mastering Machines - Call for papers now open