Whatever happened to telepresence? From $2.5m deals to free iPad apps
It's the tech that made Microsoft feel the love for open standards
The weakest Lync
So that's Lync 2010 accommodated, what about Lync 2013? According to Steve Tassell, Microsoft has made up its mind on its codec choices based on the way the wind is blowing in this market.
"SVC is what we're developing Lync 2013 to, we feel it will be the most commonly used. There will be in future iterations of that standard and we'll look to embrace those at the time, particularly around video interoperability." As for the H.264 AVC camp, he remarks, "With SVC we're making it easier for them to integrate the two. There are always vagaries with hardware support. I think we've certainly made it easier for the AVC guys to integrate Lync with those legacy platforms."
Legacy platforms? Ouch, that must sting a bit. So what's Cisco's answer to the H.264/Lync 2013 challenge? Cisco's Steve Beckley knows, but he's not giving away too much.
"We're going to have a dual strategy for Lync 2013 because we have Jabber, which integrates extremely well with all the other Cisco products, as you might imagine. So for a client who's not heavily invested in Lync, it's effectively a green field. Of course, we're going to propose Jabber and let them make that decision, and if they're going for a broad collaboration portfolio from Cisco, Jabber will probably make sense for them."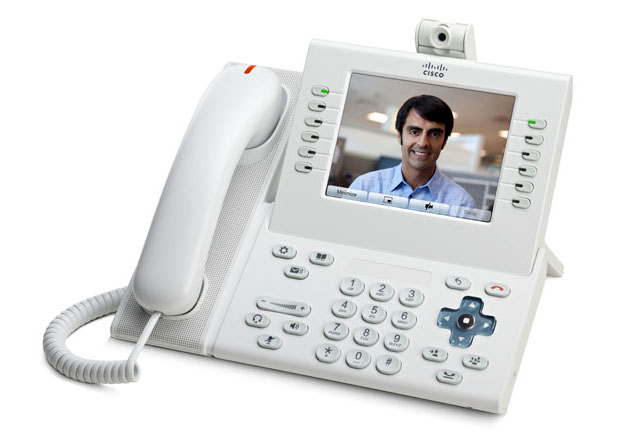 Video nasties: "Hi, if you have had an accident at work that wasn't your fault, then you could be entitled to compensation..."
"There are clearly going to be quite a lot of large companies who are heavily deployed in Lync – that's not going to be make commercial sense for them and maybe too disruptive from the end user point of view. So there's no question that we're committed to having a similar level of integration with Lync 2013 as well. 'Can it integrate with Lync 2013 so I can use these things seamlessly?' Then the answer will be 'Yes'. It's really where we are today with Lync 2010."
This raises the question: does this similarity with Lync 2010 mean the Advanced Media Gateway will still be required to deliver that functionality for Cisco products working with Lync 2013?
"It may or may not be the same paradigm about how we deliver that functionality," says a cautious Beckley. Now there's an answer that really leaves itself open to drawing your own conclusions.
Hard choices
Where Microsoft and Cisco very obviously part company in the Unified Communications space is with hardware. Microsoft might have the odd webcam, but when it comes to the desktop, it prefers to work with other partners such as Jabra and Logitech who can produce accredited hardware that, beyond being guaranteed to perform, can also convey presence status as well.
This is not unique to Lync deployments though. Logitech has recently introduced its UC Solution for Cisco 725-C – a suite of products featuring a mouse, keyboard and webcam that are designed to make the most of Jabber's features including dedicated keyboard controls for phone and video. The company even makes headsets that change colour to show when you're chatting or not. Whether we'll experience the death of the deskphone before this decade is out remains to be seen, but if the likes of Polycom and Cisco have their way, the softphone is coming with other likely replacements being videophones and headsets.
That said, they'll also be quite happy to sell you telepresence suites and dual function monitors that handle their respective video platforms along with desktop PC monitor duties. The level of sophistication is scaling too. The traditional bespoke telepresence rooms from Polycom and Cisco had separate displays for presentations. The idea being that you didn't become distracted by flipping screens and lose that intimacy of human interaction that these facilities endeavoured to simulate.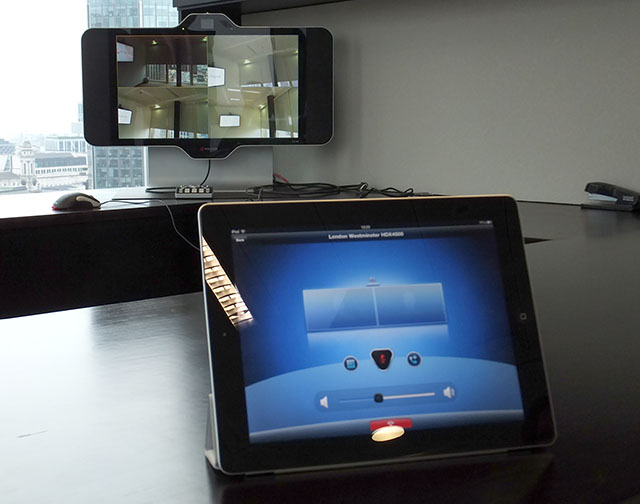 Transferring calls between devices to remain connected is seen as critical feature. Having shifted the call from the iPad to the HDX 4000 series desktop screen, Polycom's RealPresence mobile app now functions as a remote
Nowadays, just about anything with a display can join the party and touchscreens have the added benefit of user interaction, so remote callers can annotate presentations, adding red pen smears with a finger. Yet spend any time with these vendors and you'll notice the obsession now appears to be to maintain the call and transfer it across platforms. Polycom's RealPresence mobile 2.2 is pretty much state-of-the-art and naturally, you need a Polycom system with the latest software.
A typical scenario would be you began a Multipoint call on an iPad and rather than continue on that device, you decide to transfer call to a room system with Smart Pairing. This handshake uses Ultrasound and takes about 10 seconds to engage the RealPresence HDX 4000 series desktop camera/display combo. Now the Wi-Fi takes over and the iPad becomes remote control for the system.
Video conversion
This level of integration is all about maximising usage and increasing adoption. The vendors want video to become an essential aspect that adds "collaboration" to UC so it becomes UC&C. Unsurprisingly, all of them state that limiting who has video to a boardroom elite is not the way forward and under-utilises the benefits they claim this method of communication delivers. One virtue you hear time and again is that video meetings are shorter because everyone is paying attention: they're not checking emails while hanging on an audio conference call.
This interoperability between devices and platforms is a world away from costly systems of six or seven years ago. Although Imago's Ian Vickerage is quick to point out that there's still work to be done.
"Preaching and practice are still a little apart," he says. "Compatibility between videoconferencing systems is actually quite good. However, at the lowest common denominator level, you won't be able to get every feature of a high end system, but you will be able to communicate, you'll be able to show data at a good level. In Corporateland, there is a huge demand in the market to have compatibility with Lync. If you don't you then end up having a separate system completely, and things are messy enough. At the moment you have to live with Microsoft if you want to be in the corporate world, as Cisco are discovering."

There's an app for that: Telepresence embraces mobility with the iPad as its poster child.
Left to right: Cisco, Radvision, Vidyo, Polycom and LifeSize (ClearSea)
As the price of video collaboration descends and proliferates accordingly, its raison d'être has also transformed. It was originally sold as an exclusive corporate domain that would eliminate the need to travel and despite its own overheads would pay for itself by recouping the costs of business flights. Now every single one of these companies has apps for iOS and Android – and if they're not out yet, you can be sure they're in development. You'll even find the likes of Avaya and Polycom at Mobile World Congress – they've been coming for several years now, apparently.
The travel-free notion has long since gone and it's mobility that's driving this scramble to promote a video-enabled workforce. So what if you're looking up someone's nose as they peer at you from a tablet in a hotel room: it's not the quality, it's the taking part that matters now. As Radvision's Andy Nolan declares, "Everyone needs to have it, otherwise no one will ever use it." ®
Sponsored: Minds Mastering Machines - Call for papers now open