Sennheiser MM50 for iPhone stereo headset
Time to chuck out your Apple set?
The solution is to wear the 'phones in the traditional in-ear arrangement: put them in upside down and loop the cords back over your lugholes. Sennheiser clearly has this in mind, because the configuration minimises clothing snags that could yank the buds out while you're walking and practically eliminates body-cable noise.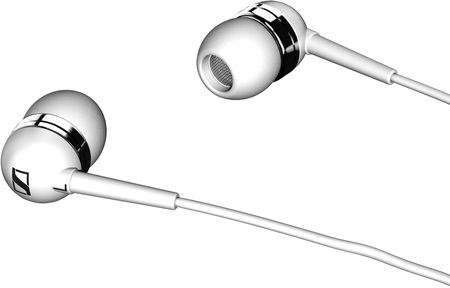 Also available in white
The MM50s come with the medium-sized sleeves already fitted, but we found them just too large to be comfortable. Switching to the smaller pair made for a better fit and better noise reduction. That's an entirely personal judgement, of course, but it shows that it pays to try all the options, not make do with the default, as it were.
With the right sleeves and a wide selection of musical genres on the old iPhone, we took a trip on the tube. The MM50s won't rid you of background noise altogether, but the reduction makes a big difference to your listening enjoyment. And to your aural health too, we'd say, since it permits you to hear what's being played without pushing the volume on your player right up.
On regular 'phones, even that doesn't come close to drowning out the roar of an arriving underground train, but the MM50s got there with the iPhone volume on 50 per cent. As we say, the noise isn't eliminated, but it's muffled sufficiently for you to hear every bit of your songs. And you can still pick up station announcements unless you want to be totally lost in music.
Purists might not call the results hi-fi, but it was plenty good enough for us. Elsewhere, in rather more quiet surroundings, the MM50s produced a very pleasant sound with a good bit of bass oomph. We'd have liked the higher frequencies to be a little clearer, but that's not to say they're muddy or missing.

A rather bulky dongle, yesterday
Rock, pop, folk, country and classical - the MM50s handled them all with aplomb. We've never found standard iPods phones particularly bad, but the improvement here should be clear to all.