Mesh Ultimate Q8 Tri-SLI gaming PC
We've drooled - now it's time to see Nvidia's Tri-SLI in action
The Tri-SLI feature affects every aspect of the Ultimate Q8 starting with the OCZ power supply, which is rated at a colossal 1200W. Despite this huge power figure, the PSU doesn't seem especially sophisticated, although it does have the all-important six PCI Express graphics power connectors.
Tri-SLI is a finicky beast and requires precise levels of Volts and Amps to ensure it works correctly. The OCZ has a single 80mm fan at the rear of the unit which has to draw air through the length of the PSU. It's a long time since we saw a power supply that had any pretension to greatness that didn't have some sort of venting or cooling on the large inner surface of its casing, the bit that faces the motherboard.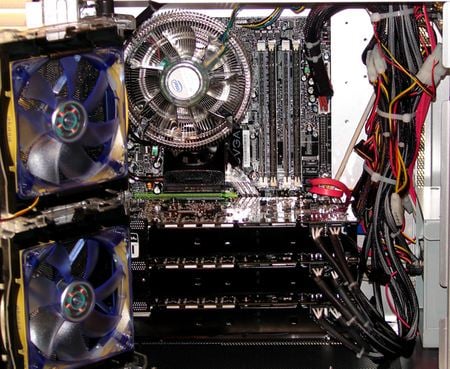 Inside the Q8...
During our testing the power supply remained reasonably cool. However, it was monumentally noisy. Indeed it was so loud that we rigged up a CoolerMaster 850W PSU externally to see what difference it made and found that while the noise level dropped by half, it couldn't provide enough juice to run any benchmark tests.
The five case fans are very quiet, the CPU fan is near-silent and the three graphics cards deliver a steady drone but the power supply is a killer. On the bright side, you have to assume that Mesh can specify a different power supply without too much trouble.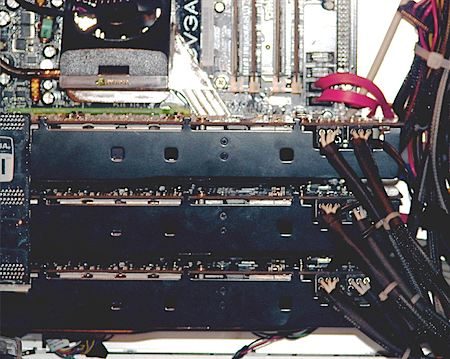 ...with the three Leadtek cards
What other impact does Tri-SLI have? Well there's no expansion capability whatsoever as every slot is covered by the three enormous graphics cards, so you have to use the integrated Realtek 7.1 audio unless you plug in an external X-Fi unit. The other integrated features should be sufficient to keep most people happy: dual Gigabit LAN, and six USB 2.0 and one Firewire on the rear on the I/O panel, with four more USB and a second Firewire on the front of the case.
Sponsored: Minds Mastering Machines - Call for papers now open