Mesh Ultimate Q8 Tri-SLI gaming PC
We've drooled - now it's time to see Nvidia's Tri-SLI in action
It's a decent screen with a resolution of 1920 x 1200 and it's well up to the task of playing HD movies. You have the choice of VGA and HDMI inputs, and there are both VGA and DVI-to-HDMI cables in the box. But the panel is unexceptional and there is no height adjustment. The Iiyama is a reasonable choice as a budget 24in display, but it seems an odd companion to a PC that costs a shade under £3000.
3DMark06 Results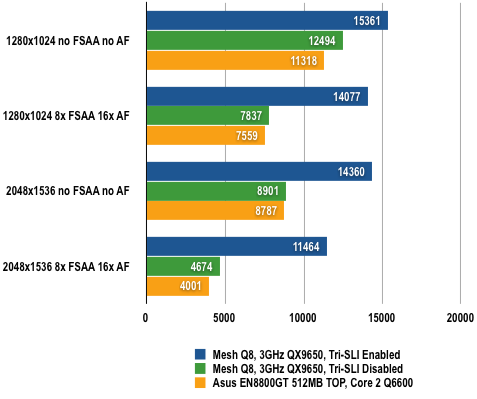 Longer bars are better
So let's get down to brass tacks – does the Ultimate Q8 deliver the goods? Any PC with a QX9650 processor and one GeForce 8800 GTX graphics card will make a superb gaming machine, no question about it. Adding second and third 8800 GTX cards raises the performance significantly, and you'll see from the test results that we only picked the worst-case scenario of Crysis to test the Mesh to its limits.
Crysis Results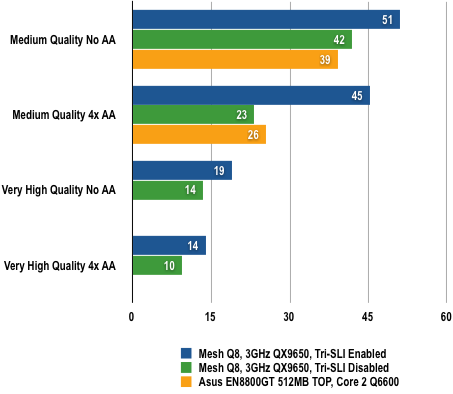 Benchmarked at 1920 x 1200
Results in frames per second
Longer bars are better
Less demanding games such as Bioshock and Company of Heroes don't have any particular need of three GPUs when you're running a screen resolution of 1920 x 1200. But if you spend £1000 for a 30in TFT with a resolution of 2560 x 1600 you'll be in clover.
And skint.
Verdict
You're not going to spend the best part of £3000 on a gaming PC unless you're seriously wealthy, but that tiny elite should give the Mesh Ultimate Q8 serious consideration. A Tri-SLI PC will inevitably be quite noisy but seriously, that OCZ power supply needs to be sorted out.
Sponsored: Minds Mastering Machines - Call for papers now open

Mesh Ultimate Q8 Tri-SLI gaming PC
Mesh unveils a gaming PC with three GeForce 8800 GTX graphics cards and it's epic.