Sony Ericsson Cyber-shot K800i photo phone
And the best 3G handset yet?
You have to wonder how much effort Sony would put into developing a phone camera that, if too competent, could harm sales of its standalone camera range. Yet the K750i undoubtedly had one of the best performing mobile phone cameras on the market, and the K800i claims to take things a step further.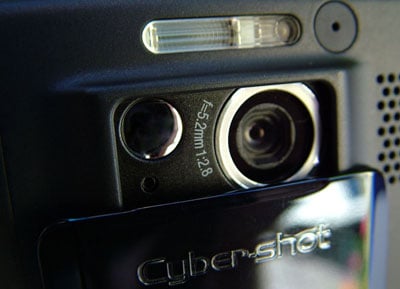 The back of the phone mimics the look and feel of a conventional digital camera. When not being used, the lens sits behind a glossy, sliding cover which has a quality feel to its sliding action. Opening the cover automatically activates the camera. Above the lens comes the first revelation: a Xenon flash of the type found on 'real' cameras. Admittedly its power is fairly low and its coverage isn't great, but compared to a pair of white LEDs it's a class apart, even despite an unfortunate tendency on the part of the camera to maximise its power by maxing out the sensitivity, leading to soft and grainy looking pictures with excessive colour noise.
Four main effects are available: black and white, negative, sepia and solarise. There are also seven scene shooting modes: twilight landscape, twilight portrait, landscape, portrait, beach/snow, sports and document. General shooting modes include the usual selection of slightly naff options, a fairly effective three-shot panorama mode and a rather clever best-pic mode. This breaks the law of physics by taking nine consecutive photographs, one as you press the shutter, four after pressing it and four before you pressed but while you're touching the release button. It doesn't operate with the flash, which it deactivates by default.
The pictures I took with the phone were generally well exposed and the colours well saturated but under close inspection they're far from perfect. Lens quality is good for its class with only marginal softening at the edges, and the autofocus is relatively quick and accurate. Macro mode can be forced from the menu but is activated automatically by the autofocus mechanism. Indoor shots in reasonable lighting were the best of the bunch, the white balance usually well judged and contrast well controlled. There are four white balance presets plus an auto setting, but no manual option.
Outdoor shots were marred by a series of minor faults ranging from too much contrast, excessive colour noise at high ISO levels and missing fine detail thanks to over-aggressive noise reduction algorithms. While none of this is excessive enough to spoil your photos it certainly identifies them as having come from your phone and not your camera.