Sony Ericsson Cyber-shot K800i photo phone
And the best 3G handset yet?
One failing I ran into was the lack of a forced flash mode. The use of fill-in flash in portraiture to create catch-lights in the eyes or to lighten harsh shadows in bright sunlight is a useful option to have available. The K800i does have red-eye reduction which worked quite well considering how close together lens and flash are sited, but like the standard mode this only fires in low light and can't be forced.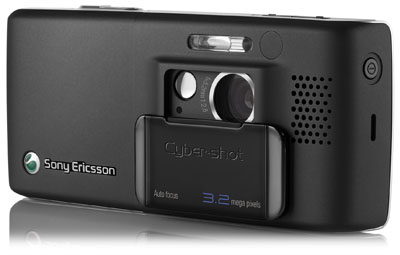 An integral image stabilisation mode helps iron out any minor camera shake, a great inclusion for a camera likely to be used in low-light conditions and which possesses no tripod mount. The downside is that image stabilisation is only available in two scene modes, landscape and twilight landscape, though frustratingly in both of these modes the lens is set to focus at infinity, which rules out extreme close-ups and macro photos.
Another feature of the K800i we're used to seeing only on regular cameras is the autofocus assist lamp, a red LED which casts its beam ahead of the camera to help the autofocus module detect something it can lock on to. The system worked very well and is another welcome and worthwhile addition to the increasing list of advanced features now becoming available. Incidentally, Pictbridge and DPOF are supported for PC-free printing. The K800i records video at a rather primitive resolution of 176 x 144, which quickly tempers any excitement you might have been harbouring at the prospect of video image stabilisation.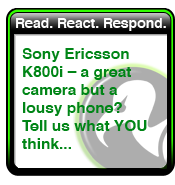 Flash performance aside, the photographs were really very good and though it's more of an incremental improvement over the K750 than any great sea change, the higher resolution will make for more detailed large prints. The fact remains, though, that you'll still get better quality images from most budget three megapixel digital cameras.
As a phone the K800i is every bit as adept as its predecessors. There's room for 1,000 contacts, each of which can be adorned with a multitude of details. You'll also find a useful RSS reader, with a few preset feeds to get you going and the option to add more as you wish.
Apparently the K800i's music player is lifted directly from Sony Ericsson's Walkman series handsets but minus the clues as to its origin. Your tunes can be viewed by track or by artist and you can create custom play lists. There are four equalizer presets plus a stereo widening option. Quality through the single internal speaker was surprisingly good, and the handset also supports Bluetooth 2.0 with A2DP (Advanced Audio Distribution Profile) which means stereo Bluetooth headphones and speakers should also work happily with it.
Like the K750, the integral radio is excellent. Reception quality was commendable and it employs RDS to display the station name and to automatically search for alternative frequencies if reception gets weak.
Verdict
There's a lot to like in the K800i, and I'd not feel I was taking too much of a risk proclaiming it the best 3G handset on the market at the present time. If it has a weakness it's that its frame is a little statuesque and its keypad is a little cramped, both of which could only really be overcome by switching to a clam-shell or slider format.

Sony Ericsson Cyber-shot K800i photo phone
A super snapper and possibly the best 3G handset on the market...
Price:
£295 untethered; network price depends on tariff RRP