Original URL: https://www.theregister.co.uk/2013/09/12/nas_trio_trotting_out/
Shrinking market doesn't scare the NASty boys of storage
Buffalo, Overland and Seagate still only too pleased to enhance your rack
Posted in Storage, 12th September 2013 14:36 GMT
The network-attached storage market appears to have shrunk slightly, but it seems that Buffalo, Seagate and Overland think the market's set to grow soon.
There has been quite a bit of NAS action of late, with Buffalo pushing out a new product, Seagate spinning out a pair of rackmount NAS shelves, and Overland introducing one that can scale to hundreds of petabytes.
With Seagate putting out rackmount NAS, it could raise a question about the height of its storage array ambitions. Will it bring out a 16-slot box, a 32-slot one, or even larger arrays?
Buffalo's NAS herd
The TeraStation 3400 is a new addition to the TeraStation family. Buffalo has its LinkStation range for the small and home office while TeraStations are pitched at small and medium business. This new SMB kit includes:
TeraStation base with 2-16TB of capacity in desktop and rackmount configs, and 800MHz ARM processor;
TeraStation 3000 with 4 – 16TB, ditto configs and faster ARM processor;
TeraStation 5000 with 2 – 32TB and Intel Atom mill; and
TeraStation 7000 rackmount with 8 – 48TB and Intel Xeon mill.
The 3400, the only 3000-class box, has up to four hot-swap disk drives and a 1.33Gz dual-core ARM CPU with 1GB of memory. It offers, as is becoming usual, both iSCSI block and NAS (file) access and has Active Directory support.
There are two USB 3.0 ports and IP camera recording capabilities for surveillance use.
It is available from Buffalo's UK distributors at a manufacturer's suggested retail price just below £600 if VAT is included.
Overland Storage
Overland Storage ploughs on and has a new SnapScale product, the X4, building on its SnapScale X2 clustered scale-out NAS products.
This is no tiddly ARM-powered system: it's full-bore Intel through and through.
The X4 gets us unified NAS and iSCSI storage volumes under one global namespace. Overland says unifying iSCSI block access and NAS file access in a scale-out clustered SnapScale node architecture means primary data-using databases can use the same storage resource as file-accessing apps, saving businesses money as they no longer need separate arrays.
SnapScale platforms are VMware and Microsoft certified and can have up to 36 drives per node, with a rackful of nodes offering up to 1.4PB capacity, with the ability to scale to hundreds of petabytes. This qualifies SnapSCale X4 as an enterprise-class system in terms of capacity; think online archiving and enormous disk-to-disk backup capacity for example.
Files are striped across drives and, when new nodes are added, the files are rebalanced across the cluster to optimise resource use, meaning better performance and higher availability.
Overland reminds us that: "SnapScale provides 99.999 per cent uptime and a no-single-point-of-failure architecture along with enterprise-class features such as redundancy, snapshots, automatic failover, replication and flexible provisioning."
Overland's Storage SnapScale X4 is available immediately from its resellers and system integrators with an MSRP starting at $48,597 for a 72TB cluster configuration including installation services and support.
Seagate rackmount NAS
This Seagate Business Storage range comprises 4- or 8-bay product in a thin 1U rackmount shelf with capacity ranging from 4TB to 32TB using hot-swap disks. Seagate marketing VP Scott Horn claims Seagate has "the industry's first hot-swappable 8-bay 1U rackmount NAS".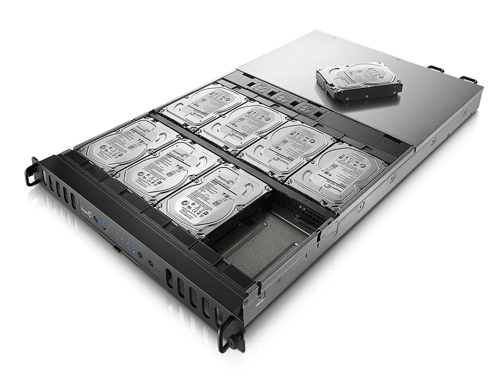 Seagate 8-bay rack mount NAS
Seagate suggests they can be backup data stores as they "are compatible with backup software for Windows PCs and are also compatible with Apple's Time Machine". The product comes with the Wuala cloud service and there is a service which "automatically syncs files and make them accessible from mobile devices such as iPhones, iPads, and Android devices to improve employees' productivity while on the go." Files are encrypted with Wuala, by the way.
It can support, Seagate says, up to 250 employees, from its 8 x 3.5-inch Enterprise Capacity (formerly Constellation ES.3) disk drives with the NAS OS software running on a 2.3GHz dual core Intel CPU. It has redundant, swappable power supplies and dual gigabit E connectivity.
The 4-bay shelf uses Seagate's NAS disk drives, not the Enterprise Capacity drives and access comes through the NAS OS running on a 2.13GHz dual-core Atom processor and 2GB of RAM. It has iSCSI as well as NAS support.
The 8-bay 1U rackmount will be available in October from CDW and other resellers for suggested retail prices ranging from $2,999.99 for the 8TB model to $5,999.99 for the 32TB product.
The 4-bay 1U rackmount will be available at the same retail outlets later this quarter. The rackmount shelf minus drives costs a cent under a thousand dollars. A 4TB model will put you back $1,299.99 with the 16TB version costing $2,499.99 (these are all the manufacturer's suggested retail prices). ®