Original URL: https://www.theregister.co.uk/2013/07/15/review_apple_macbook_air_2013_13in_base_model/
Apple MacBook Air 13-inch 2013: Windows struggles in Boot Camp
Can you turn Apple's Haswell laptop into a Redmond Ultrabook?
Posted in Personal Tech, 15th July 2013 09:02 GMT
Review Part Two For years now, Apple's MacBook Air has held its own as the ultimate in portability, inspiring the PC market to follow suit with the Ultrabook marque. While not all Ultrabooks attempt to ape the Air's slimline form factor, they draw from the same line of Intel CPUs and often beat the iconic Apple on cost.
Yet Apple has one trick up its sleeve that can be a clincher for some: Boot Camp - the ability to run Windows software on Mac hardware without resorting to a resource-sharing virtual machine.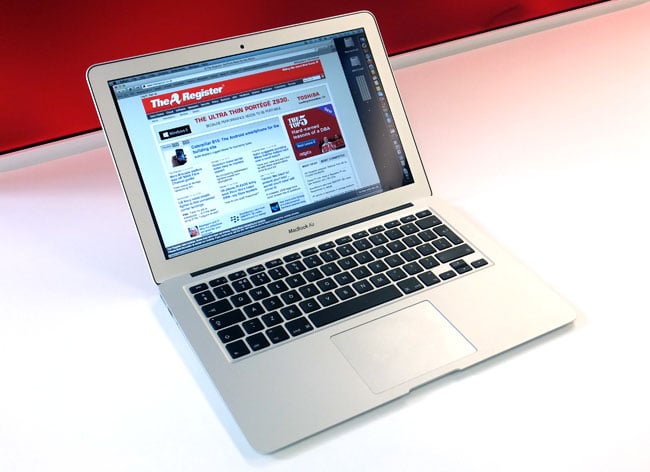 The original Ultrabook? Apple's MacBook Air 13in
We've already seen what the build-to-order dual-core Intel Core i7 Air is capable of - so how does the dual-core 1.3GHz Intel Core i5-4250U CPU base model fare with its 4GB of mobile DDR3 RAM and a 128GB solid-state flash drive when you configure it for the best of both worlds?
Is this the ultimate Ultrabook too?
Despite having two USB 3.0 ports on the MacBook Air, it would seem that in Apple's realm, not all USB ports are created equal. How do I know this? Through pain and misery, of course. I am referring to my efforts to use Boot Camp to start up Windows 7 on this model, something I've done on countless Intel-based Macs in the past as a way of benchmarking them against their PC counterparts.
Now, before I list my futile efforts, you should know that there is a way to make this work and there's even an Apple online knowledgebase article on the topic. There's just one tiny detail here that needs to be adhered to which makes the difference between success and failure.

Still striking, but isn't it time Apple did some more design work?
First things first, though. Boot Camp is an Apple utility featured on all recent Macs that can start the machine up with Mac OS X or Microsoft Windows, once the latter is installed; the tool partitions the drive without a reformat and sets about downloading the Wintel drivers you'll need to have stored on a USB stick prior to the Redmond operating system's installation. There are a few well documented twists and turns regarding drive formatting, but other than that, it's usually plain sailing.
So any Boot Camp old hand will be rather flummoxed as to why the darn thing restarts to a black screen with a blinking cursor instead of the Windows installer. Reboot and hold down the Alt/Option key, you say. That'll allow you to choose your booting options to include the installer DVD resident in the attached external optical drive. If only life were so simple.
I'm not quite sure how I managed it, but at one point I did get to the installer screen, but neither the mouse nor the keyboard were functional, so it was impossible to proceed further. I'm pretty sure I was using a USB stick with drivers from my last Boot Camp installation. According to the Apple website, the Boot Camp 5 support software has been around since March, so it seemed safe to assume it would work as no update was on offer and the MacBook Air (mid 2011 or later) was listed as supported. Don't be fooled.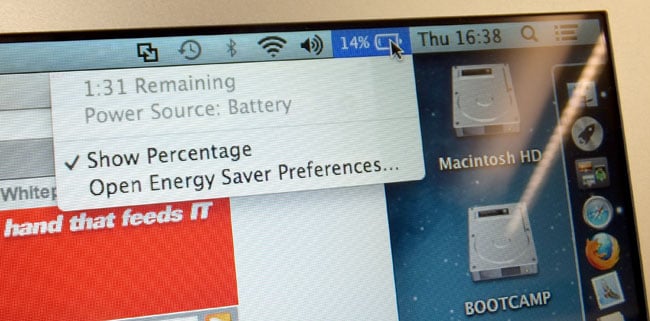 Just for the record, the battery life is excellent and even if it is a guess, 91 minutes at 14 per cent is quite a comfort
Attach a mouse, you say. Well, given one port was occupied by the external DVD drive with a Windows 7 disc and the other the Boot Camp drivers on a USB stick, this wasn't going to be straightforward, and even briefly detaching the USB drivers stick and trying out the mouse didn't work. It's at times like these that you become acutely aware that two USB ports aren't sufficient after all.
Eye SPI
I began to wonder if choosing Boot Camp's 'download drivers' option would be a better bet than relying on this stick of version 5.0.5033 drivers from the Apple Support site. Maybe there were a few sneaky machine-specific updates available that Apple was keeping quiet about?

Read the small print: "software designed specifically for each Mac..."
This appeared to be sound thinking, as a glance at the Apple System Profiler reveals that both the keyboard and trackpad on the new MacBook Air rely on SPI connectivity, rather than the usual internal USB hub shenanigans. Motorola was behind the name Serial Peripheral Interface (SPI), using the tech as way of classifying a range of communications protocols.
SPI is full-duplex and is suited to a master-slave set-up for relatively slow-speed communications, making it ideal for peripherals. You can tack on USB to an SPI controller too, which might be what Apple has done to link up its existing USB stack to the new hardware. But then again, maybe what we're seeing is old PC peripheral support on Intel boards being tapped into by Apple. Perhaps this is another MacBook Air power-saving trick.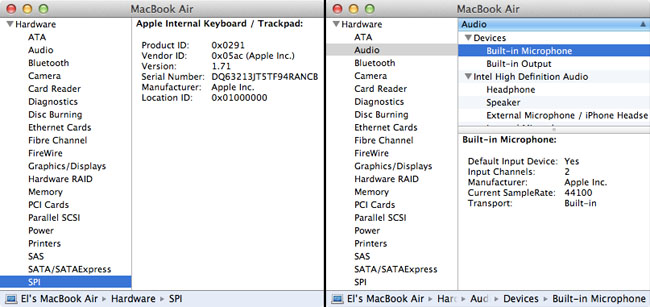 Apple System Profiler details SPI HIDs and dual channel mics
Where this leads to is perhaps an explanation as to why the old Boot Camp 5.0.5033 drivers didn't work: namely, no SPI driver support. The freshly downloaded version reported it was installing Boot Camp 5, build 5241 and all seems happy now. Oh and if you were curious as to how this came about, the answer is simple: be sure to plug in your designated Boot Camp drivers USB stick into the left port of the MacBook Air before downloading the new batch and keep it there. Overlook this seemingly inconsequential detail and you're stuffed. It's all in here.
So now Windows 7 glistens at me from the MacBook Air's bright but not dazzling, shiny but not too reflective display. Why not Windows 8? Well, from past experience, I knew Windows 7 would work and for benchmarking this would be, er, quick. And now for the result of all that palaver, Futuremark's PCMark 7 notches up a balanced score of 4138, climbing to 4157 in high performance mode.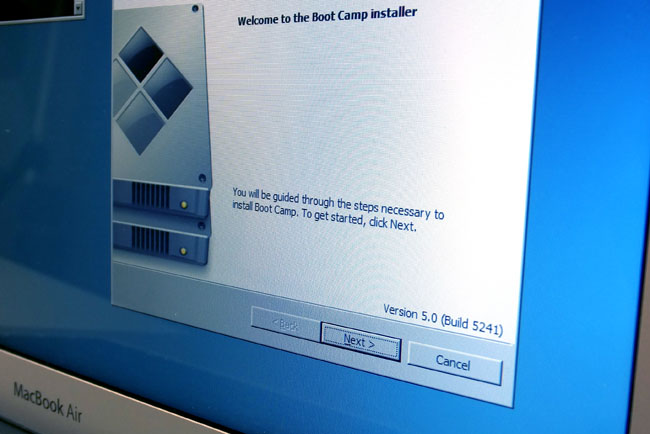 The Apple Support site standalone Boot Camp installer needs a refresh, the MacBook Air has its own version
Oh and if you're planning on doing this, be sure to update to Win 7 Service Pack 1 – without it the PC Mark 7 score was a lowly 3004. Just for the record, the Windows Experience Index measured up at 5.9.
Incidentally, the Windows 8.1 Preview installed without a hitch, but beware that choosing the erase all (clean) option will kill off Boot Camp components you've just installed. Still, the keyboard and Wi-Fi networking works but you don't get the trackpad gestures, which means no right click. Install those new Boot Camp drivers and that functionality is restored.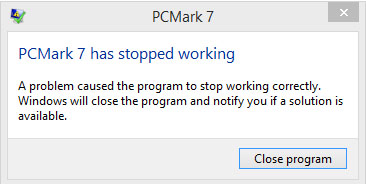 Broken by Boot Camp drivers – oops
Before doing so, I ran PCMark 7 in this virgin state and it scored 2585. Sadly, the driver install process then broke some apps that had run on the Win 8.1 Preview beforehand. PCMark 7 failed to start, as did the exceptional open-source transcoder Handbrake. The Windows 8 compatibility mode option was tried but the outcome didn't change.
Sonic sophistication
Windows 8.1 previews aside, if you really need your Intel Haswell MacBook Air to run as a PC, Apple delivers the means to do it without having to rely on virtualisation. That said, the partitioning process does take a significant chunk out of this base model's 128GB SSD. Sure you can offload some files to the SD card slot, but if your Air is to become your digital hub, it's going to feel congested pretty quickly.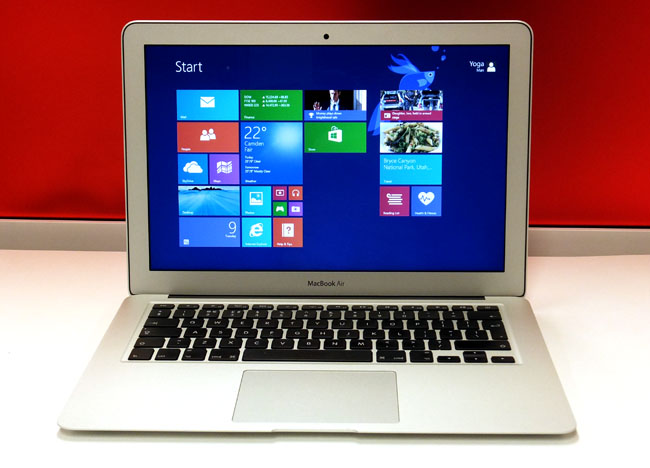 Boot Camp and Windows 8.1 preview
When I last reviewed a 13in MacBook Air a couple of years ago, I sorely missed having an illuminated keyboard, which I'm glad to see graces this model. Maybe that explains the 30g increase in weight, as very little has changed from the outside. OK, so the DisplayPort socket is now a Thunderbolt interface, there's USB 3.0 on board and you've got a fancy noise-cancelling mic array on the side.
The Apple blurb says the two mics used "create an adaptive audio beam". The idea is to cut the amount of background noise when one is recording a podcast or using voice-chat from the internal mics.
Microphone array beam-forming is the audio variant of filtering techniques used in a variety of applications including radio, sonar and Wi-Fi. It's not exactly new and having a known mic array allows for phase shift calculations to work out directional characteristics enabling background noise to be subdued.
The beam-forming mic array isn't reconfigurable for stereo recording
The more mics you have with a known geometry, the better it is at homing in on the person speaking. No doubt Apple's thinking is the user will only be a few feet away from their precious Air and so two mics will suffice. Moreover, having the mics on the side effectively staggers their positioning from the user sitting face on to the screen, so time delays are deliberately introduced. Whether this means left-handed mouse users will have a harder time making themselves understood on Skype as they click away merrily, remains to seen or, more to the point, heard.
As for musos, you could usually get away with using the internal mic on a MacBook to record some ideas, however, this new array of two mics introduced quite a bit of phasing when tested capturing acoustic guitar. This might sound inventive, but it isn't particularly desirable. Still, there is a cure: simply deactivate 'Use ambient noise reduction' in the Sound control panel. Oh, and if you're wondering, none of this is stereo either, despite showing up as two channels. This is no surprise really though, as the two mics are effectively summed as part of the beam-forming technique.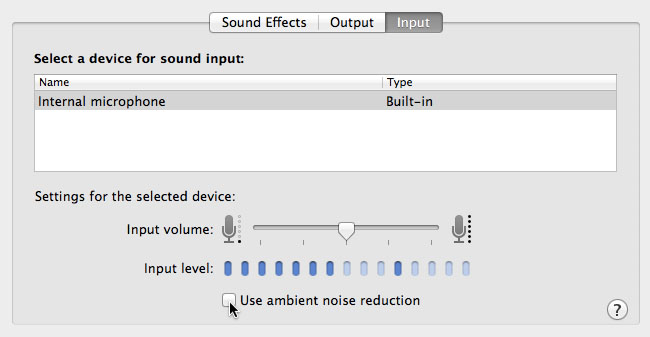 Deactivating Ambient Noise Reduction eliminates phasing artefacts
I travelled to IFA in Berlin with last year's MacBook Air 13in, where its lightweight, battery life and overall niftiness really showed its worth compared to the bulk of the battered - I'm not too fussed if I lose it - 15in MacBook Pro I'd usually take. Yet this time round, the wow factor just didn't really happen when using the new MacBook Air. It's still very nifty, but the ain't-broke-don't-fix-it design feels rather unimaginative now. The display resolution is 1440 x 900 and seeing those large borders around the screen seems like a waste of potential viewing real-estate.
The Reg Verdict
Could Apple shrink the Air and keep the screen size or notch it up an inch or more? A full HD Air, anyone? There's probably a good reason for this ongoing big borders arrangement – rigidity, antennas and suchlike – but I think it's time for Apple to show some design innovation again rather than simply adding the 802.11ac Wi-Fi and tweaking the latest Intel chippery. ®
Thanks to Square Group for the loan of the MacBook Air.