Original URL: https://www.theregister.co.uk/2013/04/29/feature_ten_netbook_ancestors/
Ten ancestors of the netbook
Doomed category has a long history thanks to Atari, Poqet, Psion et al
Posted in Personal Tech, 29th April 2013 08:29 GMT
Feature Come 2015, we're told, the netbook will be dead and gone, out-evolved by the more fleet of foot, more desirable media tablet.
We shouldn't mourn the netbook's passing, though. It has had, in one form or another, a good innings. While some folk may look back to the category's debut in 2007 with the launch of Asus' Eee PC 701 - aka the Eee PC 4G - in fact the story of the sub-sub-notebook computer stretches many years further back.
To discover the origins of the machine we now know as the netbook, it's necessary to look back three decades. If we define a netbook as a clamshell-format computer able to run a full operating system on battery power, and be rather smaller than a laptop, you can see the origins of the netbook in the first palmtops of the late 1980s and early 1990s and the first sub-notebooks in the later years of the decade.
Join us, then, as we explore the evolution of the netbook through the gadgets that defined its development, presented here in chronological order.
One name will ring loud: Britain's Psion. Its ground-breaking Organiser isn't included here - it wasn't really a proto-netbook - but the engineers who worked on it went on to create the first palmtops, clamshell handhelds and even the first Psion netBook.
Atari Portfolio / DIP Pocket PC

The world's first palmtop - a handheld computer in a clamshell casing - wasn't called the Atari Portfolio to begin with. Released solely in the UK in 1989, it was the DIP Pocket PC, an Intel 80C88-based handheld running an operating system compatible with MS-DOS and developed by a trio of former Psion engineers.
The CPU was clocked to 4.9MHz and it had 128KB of RAM to play with. The memory doubled-up as the device's storage. The OS and built-in apps were presented on a 40-character by eight-line monochrome LCD able to do graphics at 240 x 64 pixels. It ran off three AA batteries, with a button cell to keep the RAM alive when the AAs were swapped.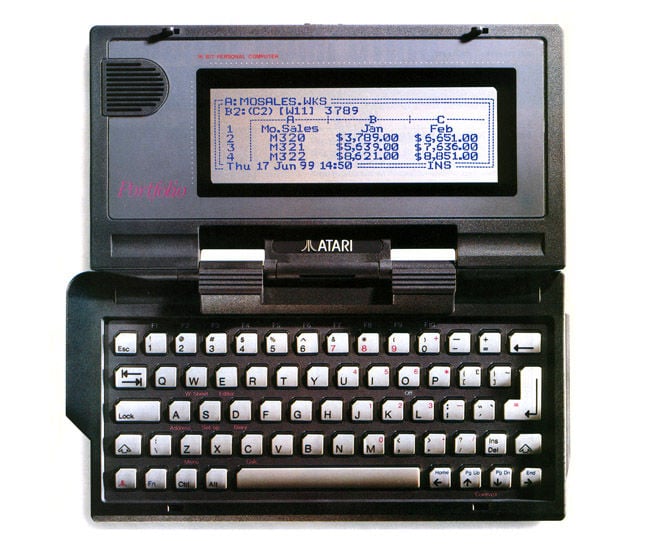 Staff at Atari UK saw the Pocket PC and were impressed enough to license the machine in order to make and sell it under its own name in the US and the UK. It's not entirely clear whether Guildford-based DIP continued to sell its own version - or, if it did, for how much longer and in what numbers. The firm certainly doesn't appear to have done anything of note after the Atari deal.
In any case, Atari had the resources to promote the Portfolio in ways DIP could never hope to match, including getting the gadget product-placed in 1991's Terminator 2: Judgement Day, as any fule kno.
Maker Atari / DIP
Introduced June 1989
Discontinued 1993
Price $400
Poqet PC

DIP co-founder Ian Cullimore quit his company in 1988 before the release of the Pocket PC and DIP's subsequent tie-up with Atari. Whatever the reason for Cullimore's exit, he immediately started a new firm, in the US this time, called Poqet to create... a pocket PC with a slightly better spec than the one he'd designed at DIP.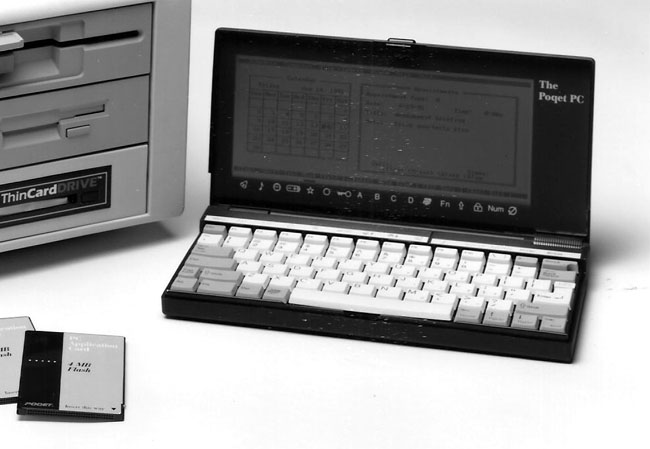 Working with John Fairbanks, Leroy Harper, Shinpei Ichikawa and Stav Prodromou, Cullimore created the Poqet PC, a device based on the same CPU as the DIP machine but clocked higher (7MHz) and equipped with more memory (512KB). Storage came in the form of extra slot-on PCMCIA flash cards. The screen could present 80 columns amd 25 rows of characters, or 640 x 200 pixels in graphics mode. It had a larger, less calculator-like keyboard than the Portfolio, and it ran MS-DOS 3.3.
The original Poqet was soon upgraded with an extra 128KB of memory, to become the Poqet PC Prime - the original contined to be sold as the Poqet PC Classic. In 1994, Fujitsu bought the company, at which point a new machine, the Poqet PC Plus, replaced the first two. The Plus was slightly larger but sported a 16MHz NEC V30 - an Intel 8080/8086 clone - 2MB of RAM, MS-DOS 5.0, PCMCIA 2.0 slots, and two serial ports. It's not known how long Fujitsu continued to offer the Plus, but it doesn't appear to have been for long.
Maker Poqet
Introduced September 1989
Discontinued 1994
Price $2000
Psion MC200

Technically, the MC200 was a laptop and a machine of a size we'd recognise today as a notebook computer. It evolved from Psion's Organiser series: the MC200 used the EPOC OS, and bundled productivity and personal information management applications into its 256KB ROM, plus the ability to run code written in the Open Programming Language (OPL). It was therefore arguably a large proto-netbook, and paved the way for Psion's Series 3 palmtop.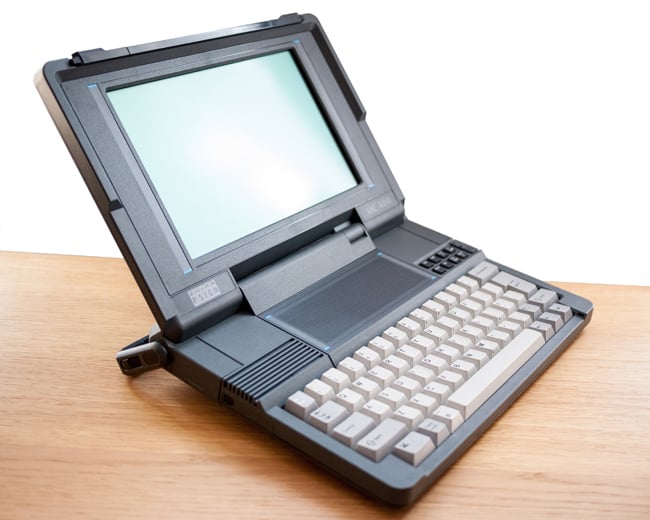 The MC400. Source: Charlie Headey, Retrocosm.net
The MC200 used a 7.7MHz Intel 80C86 processor and came with 128KB of RAM. Four slots allowed it to take solid-state storage cartridges - and extra ROM-resident applications. It had a 640 x 200 monochrome LCD. Psion launched two other MCs at the same time: the MC400 and the MC600 - both came with 640 x 400 screens and more memory: 640KB for the 400, 768KB in the 600. The MC600 had a MS-DOS 3.2 compatible OS in its ROM.
Since the MC200's version of EPOC presented a windowed user interface, Psion placed a large touchpad - possibly unique for a late 1980s laptop - above the keyboard.
Maker Psion
Introduced September 1989
Discontinued 1991
Price £595 (MC200) £696 (MC400) £1295 (MC600)
HP 95LX

As one of the world's biggest calculator companies, Hewlett-Packard wasn't going to be kept out of the pocket computer arena. In April 1991 it leapt into the fray with the 95LX, a 5.4MHz palmtop based on NEC's clone of Intel's 8088 processor, the V20. It ran MS-DOS 3.22 and had Lotus 1-2-3 stamped into its 1MB ROM, too. It was the first palmtop to do so, thanks largely to Lotus R&D chief Leon Navickas' close work with HP, a result of his desire to be able to offer his users an easy way to carry their spreadsheets around.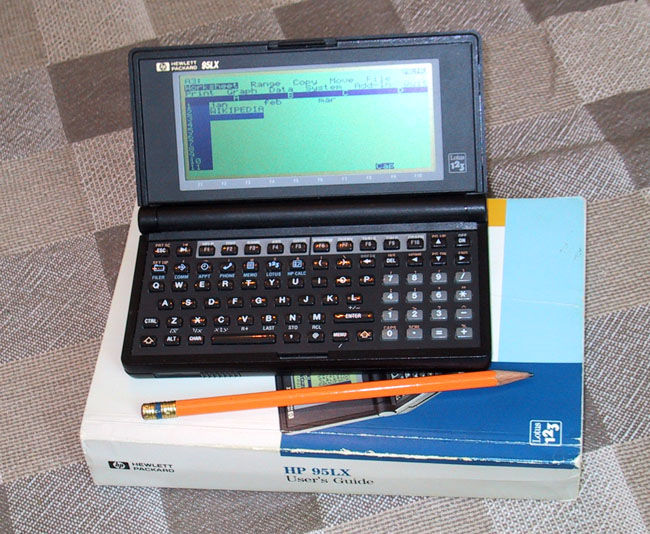 Source: WT Shymanski
The 95LX, codenamed Jaguar, also came with a basic text editor, a calendar and terminal software, which could be used to beam files back and forth through the palmtop's infrared port. A pair of AA batteries kept it running, while a button battery protected part of its RAM partitioned for storage when the main cells needed changing. Its monochrome 248 x 128 LCD was used to present a 40 x 16 array of characters.
Two years after the 95LX's launch, HP revised and re-released the machine as the 100LX, upping the CPU to an 7.9MHz Intel 80186, the memory to a choice of 1 or 2MB, and the software to MS-DOS 5.0. A year later, out came the 200LX with more recent software.
Maker April 1991
Introduced September 1989
Discontinued 1993
Price $699 (95LX)
Psion Series 3

Psion's second-generation organiser was very different from the first. The original Organiser was a calculator-like device; the new Series 3 a palmtop running off a pair of AA batteries housed in the hinge rather than a bulky 9V job as the Organiser and Organiser II had been.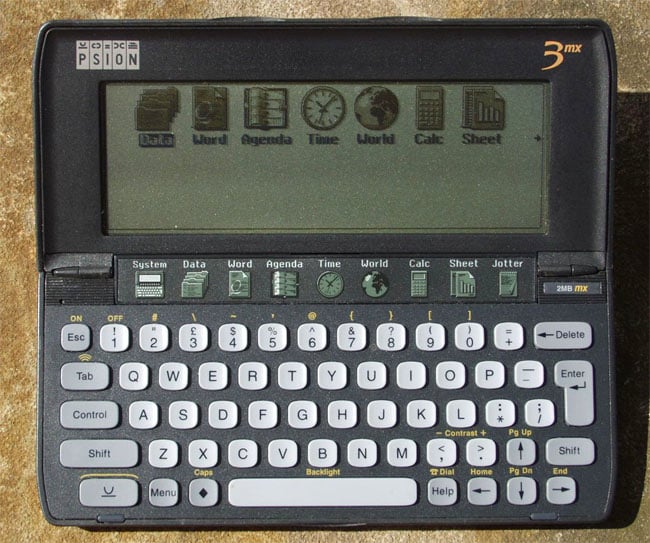 Source: Andy Armstrong
The original Series 3 defined the line's look: the 165 x 85 x 22mm clamshell casing, the application launch keys mounted on a touch-sensitive panel on the inner hinge assembly, the two ROM card slots under hatches on each side of the machine, and the 16-bit EPOC OS. It had all the defining productivity, personal information management and programming tools that would also feature in later models.
The first machine sported a 240 x 80 pixel screen, but this rose to 480 x 160 in 1993's Series 3a and gained backlighting with the Series 3mx. Likewise, the 3a gained a faster 7.7MHz NEC V30H processor, later upgraded to a 27.7MHz V30MX with the 3mx.
Psion stopped making the Series 3 family in 1998, the year after it introduced EPOC 32 and the Series 5, a larger, redesigned palmtop based around a 5.6-inch, 640 x 240 screen and an 18MHz CL-PS7110 ARM710-based processor - later upgraded to 36MHz in 1999's 5mx and the low-cost Psion Revo. When a deal struck with Motorola in 2000 to co-design smartphones went wrong, Psion, with no other consumer devices in the pipeline, decided to quit the market. It stopped making its palmtops and chose to focus instead on vertical market kit. Now, ironically, it is a Motorola subsidiary.
For more, check out El Reg's comprehensive History of post-Organiser Psion.
Maker Psion
Introduced 1991
Discontinued 1998
Price Series 3: £179 (128KB) and £249 (256KB)
Olivetti Quaderno

Olivetti launched the Quaderno - Italian for notebook - in 1992. The Italian company chose the name because its machine was small - its footprint was just 210 x 148mm, the size of a sheet of A5 paper - and it pitched the device as an electronic jotter for executives, mobile workers and the classroom. It had a 7-inch, 640 x 400 monochrome screen, and operated off six AA batteries.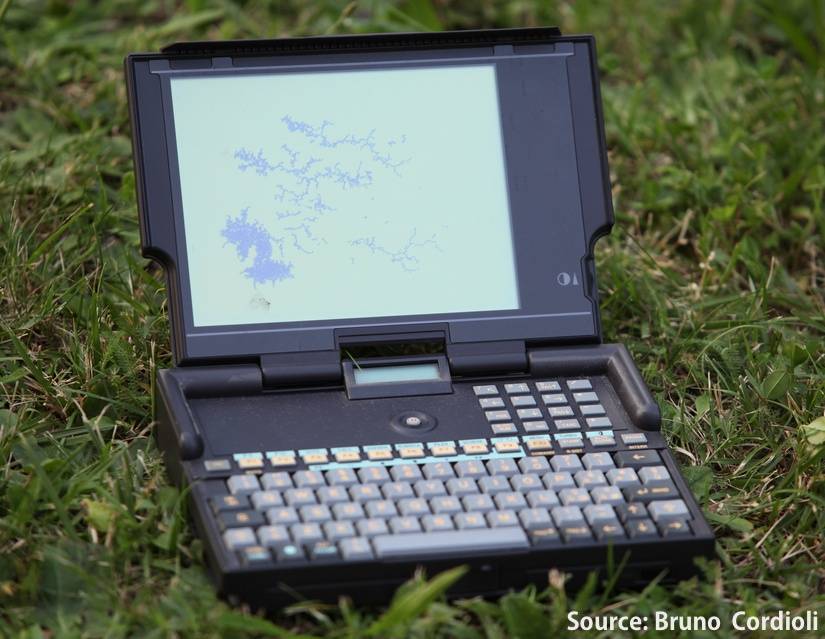 Designed by Mario Bellini and Hagai Shvadron, the Quaderno ran MS-DOS on a 16MHz Intel 8088 clone manufactured by NEC, the V30 HL, though an updated version launched a year later featured a 20MHz Intel 386 in order to allow it to run Windows 3.1. It had a megabyte of memory and a 20MB hard drive - increased to 60MB in the Windows version.
I got my hands on a Quaderno when a couple of Olivetti guys popped into the MicroScope office in 1992 to demo their new bambino. I was immediately impressed with its size and its keyboard which, unlike the one on the Psion Series 3, you could type on. It wasn't a match for a desktop machine, of course. And, for the time, spectacularly expensive for what it was.
Maker Olivetti
Introduced 1992
Discontinued 1994
Price Lira 1.35 million (£600) Windows version: Lire 3.4 million (£1500)
Toshiba Libretto

In the 1990s, sub-notebooks weren't popular outside of Japan. In the West, buyers wanted as much screen space and performance as they could get, but in Japan, a culture that favours the neat and the compact, punters were willing to pay for portability. No wonder than that Toshiba's Libretto debuted over there and didn't make it to the UK and the US until a year or so later. The first Librettos were based on an AMD-made 486 chip with 270-500MB of disk storage and a 6.1-inch TFT display, all crammed into a clamshell case slightly shorter than the Quaderno. It was lighter too: 840g to the Olivetti's round kilo.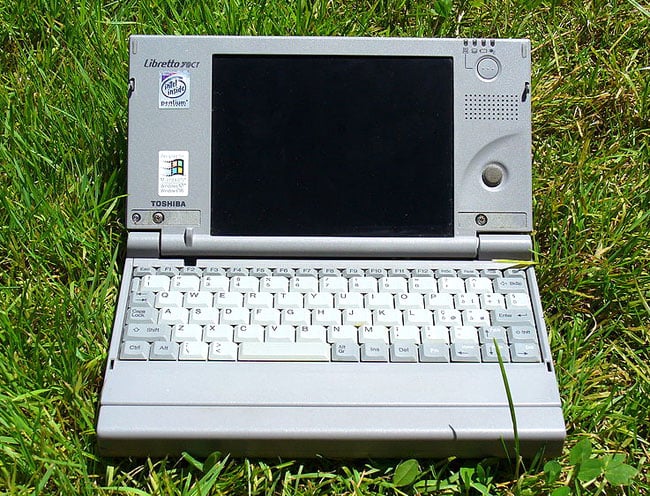 Source: Lorenzo Breda
Always designed to run Windows, the Librettos sported a flat joystick to the right the of the LCD in place of a trackball or trackpad.
Arriving in the West, the Libretto line gained Intel Pentium chips of greater and greater performance as time went by, though not all of them made it over here. Indeed, Toshiba stopped selling Librettos in the UK in 1999 until an attempt to relaunch the brand in 2005 with the Windows XP-based U series and, in 2010, the ill-fated dual-display W100, Windows 7-based W100. In Japan, the family was rebooted in 2001 as the L series, a range of larger machines based on the Transmeta Crusoe processor Linux founder Linus Torvalds was briefly involved with, but it was discontinued in 2002.
Maker Toshiba
Introduced 1996
Discontinued 1999 (UK, US) 2002 (Japan)
Price ¥248,000
Apple eMate 300

Designed as a low-cost (ish) laptop for schoolkids, Apple's 1997 eMate 300 was novel not merely for its small size. First, it wasn't a Mac. The 300 used an ARM processor clocked to 25MHz, not the PowerPC platform, and it ran the company's Newton OS rather than the Macintosh operating system. It had a touchscreen too, readily tapped with a stylus kept in a bay above the full-size keyboard. The screen itself was a 7-inch, 16-greys monochrome job with a 480 x 320 resolution, and the whole lot was wrapped in a turquoise translucent clamshell case, which incorporated a carry handle.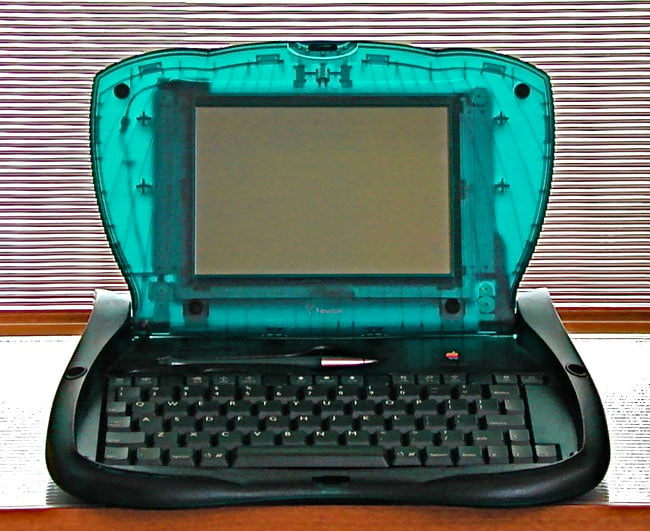 Source: raneko @ Flickr
The eMate 300 was priced at $800 back in 1997, the equivalent of $1450 now, according to consumer price index changes over the years. Its OS incorporated a full set of personal information management apps, plus basic drawing and word processing packages, and even an ebook reader. A couple of Apple-style serial ports and a PCMCIA slot allowed for expansion and the addition of new software.
Steve Jobs canned the eMate 300 less than a year after its introduction, in a cull of many non-Mac Apple products he instigated on his return to the company as interim CEO. "Apple is committed to affordable mobile computing, pioneered by the eMate, and will be serving this market with Mac OS-based products beginning in 1999," the company said in February 1998. The result was the eMate-influenced iBook, which debuted in July of that year - for almost twice the price of the eMate.
Maker Apple
Introduced 1997
Discontinued 1998
Price $800 (£300)
HP Jornada 820

In 1998, HP followed up its early MS-DOS palmtops with a broader range of machines, this time running Microsoft's Windows CE OS and going out under a new family name, Jornada. Among them was the 680, a classic palmtop-size gadget like an upscaled HP 95LX, but the PC giant also released the 820, a much larger, almost sub-notebook machine.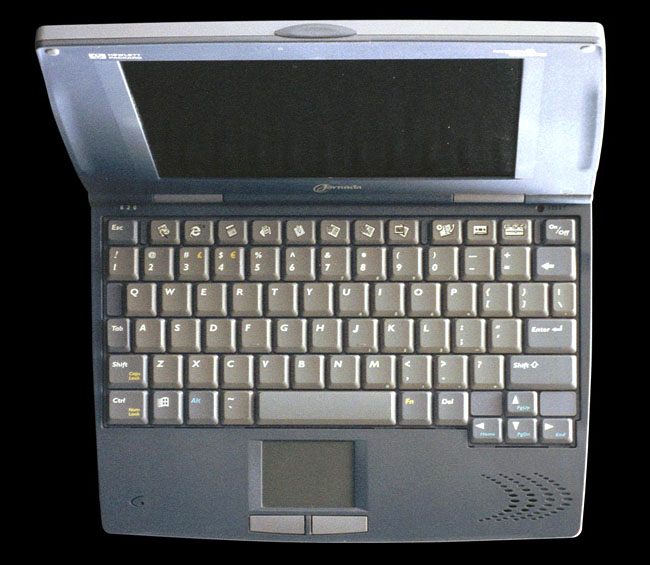 The 820 ran CE 2.11 on a 190MHz Intel StrongARM processor equipped with 16MB of RAM. It had an 8.2-inch 840 x 480 256-colour display, and built-in 56Kbps modem and infra-red links. Storage depended on which CompactFlash card to slipped in on the right side - likewise expansion on the contents of the PCMCIA slot on the left.
The 680, incidentally, was essentially a half-size 820. It used the same OS and productivity, email, fax and personal management software bundle, but shipped with a 640 x 240 display and a 133MHz Hitachi SH3 processor.
HP canned the Jornada line when the company merged with Compaq in 2002, although the 820 was so loved by its users, they called for and sponsored the porting of Linux to the machine.
Maker HP
Introduced 1998
Discontinued 2002
Price $899

Psion netBook / Series 7

If Apple could take its personal organiser operating system (Newton OS) and stick it into a sub-notebook, so could Psion, the British pioneer of electronic organisers. The result: 1999's enterprise-oriented netBook, and the Series 7 - a version aimed at consumers. Both were compact clamshells based around a 640 x 480 colour touchscreen and a StrongARM chip running at 190MHz in the netBook and 133MHz in the Series 7. The netBook had 32MB of memory and the Series 7 had half as much.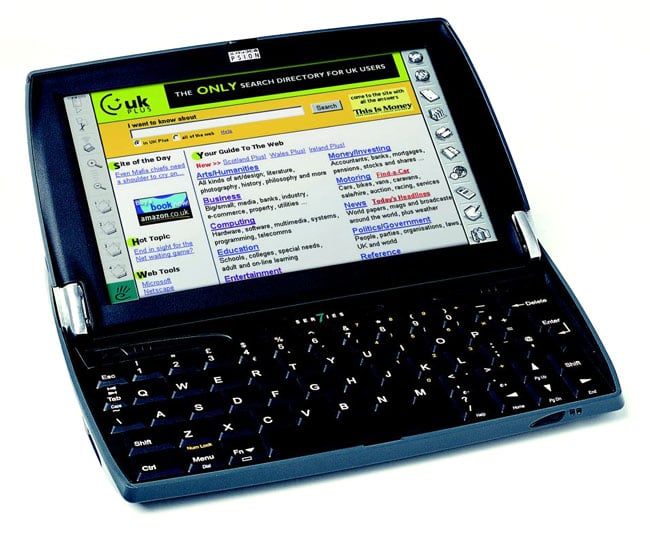 The two machines used Psion's EPOC OS and so came bundled with the company's stock selection of personal info management, productivity and programming tools. Notably, the netBook shipped with the Opera web browser installed. EPOC, of course, would go on to become the foundation for Symbian OS, now owned by Nokia.
Psion released the netBook Pro in 2003, upgrading the original's screen to 800 x 600, the memory to 128MB and the CPU to a 400MHz Intel ARM-compatible XScale PXA255, but downgrading the OS to Windows CE.NET 4.2. The earlier models were discontinued, but the Pro didn't last long. Not that that stopped Psion from trying to persuade Intel to cough up in 2009 for calling a new line of mini-notebooks "netbooks" - even though the netBook Pro had long appeared on Psion's discontinued products web page at that point.
Maker Psion
Introduced 1999 (NetBook) 2000 (Series 7)
Discontinued 2003
Price $800 (£300)
Asus Eee PC 701 and the "new" netbooks
Finally we come to the first proper netbook - as Intel defined the term. Asus' Eee PC was demo'd at the June 2007 Computex show in Taipei, Taiwan, and pitched as a handy, ultra-portable adjunct to a regular computer. The first Eee PC sported a 7-inch 800 x 480 screen surrounded by a large bezel - Asus soon used the extra space to install a 8.9-inch panel. There was 512MB of DDR 2 memory onboard - plenty for the Xandros flavour of Linux the Eee shipped with - and 4, 8 or 16GB of solid-state storage, with an SD card slot for more.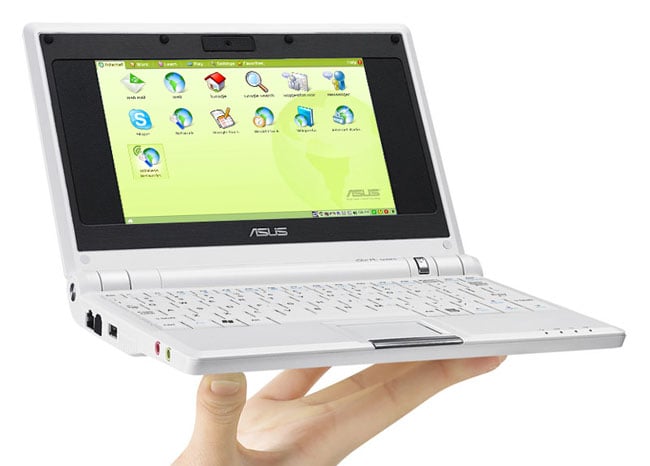 The 225mm x 165mm machine packed in VGA output, 10/100Mbps Ethernet, 802.11g Wi-Fi, and three USB ports. While the reduced-size keyboard was useable, the tiny 45mm x 30mm trackpad was a strain for adult fingers. Yes, it ran Linux, but it was a highly customised version, and users were soon working to cram Ubuntu onto it or even Windows XP - which could be pruned to fit onto the 4GB flash drive with enough room left over for documents.
But then the darn thing did only cost 220 quid.
Lack of an upfront Windows option, the small screen and compressed keyboard did put off adult buyers, though, and Asus quickly responded with models with larger displays and keyboard, plus hard disks to accommodate Microsoft's OS. That brought in greater file space, though the addition of Windows and delicate storage did move the Eee PC line away from the netbook ideal of cheap and almost throwaway computing for all.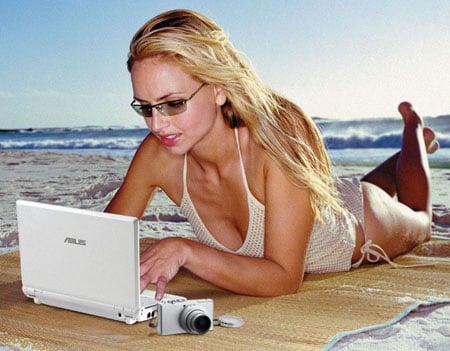 Because you demanded it
Asus' early success - not to mentioned encouragement from chip giant Intel - led to a profusion of netbooks from all the major manufacturers of Wintel kit. Acer's original Aspire One won a solid fan base, as did Lenovo's S10. Dell's Mini 9 was for a time a hot item among Linux lovers because its hardware was well supported by the major distros, which was not always the case with many of its rivals.
The Mini 9 also proved one of netbooks most compatible with Mac OS X guaranteeing it many a buyer keen to have a highly compact Hackintosh. Apple, of course, resisted the trend, preferring to tout its 13.3in MacBook Air sub-notebook - the successor to 2003's popular 12-inch MacBook Pro - as a better alternative while keeping mum about the product that would really push against the netbook: 2010's iPad.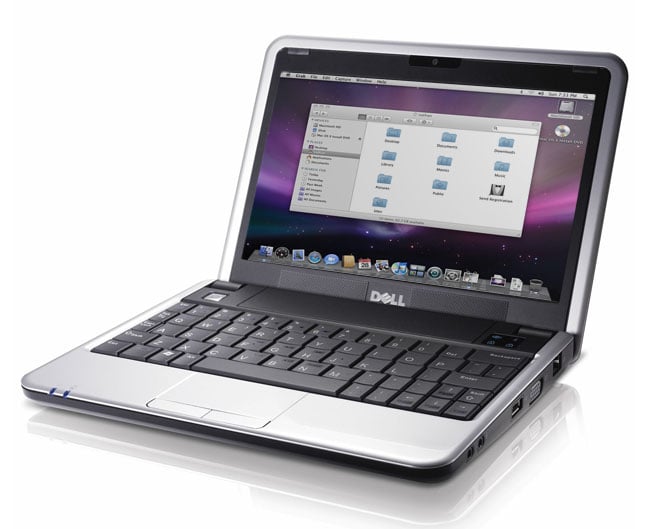 The Dell Mini 9 Hackintosh
The modern media tablet was born, and the netbook was almost immediately cast in shadow: yesterday's tech for yesterday's user. Chunky, slow and with a low battery life - unless you had a clip-on booster pack that added weight and girth - there was no way the netbook could compete with the more fleet-of-foot, instant-on tablet. Only its keyboard gave the netbook an edge.
Still, it has endured. The iPad arrived in 2010 and dominated 2011, yet netbooks continued to sell. Only in the last year have most manufacturers pulled the plug on their netbook lines, and I suspect many users will keep their small, cheap computers going for many more years yet.
That's a testament not only to this later generation of netbooks, but also the vision of the palmtop computer pioneers all those years ago. ®
Maker Asus
Introduced 2007
Discontinued 2009
Price £220