Original URL: http://www.theregister.co.uk/2013/03/15/home_labs/
Reg readers reveal MIGHTY DOMESTIC DATA CENTRES
Servers'n'sofas challenge reveals racks and stacks in the oddest places
Posted in Servers, 15th March 2013 08:02 GMT
A few weeks back VMware's Mike Laverick told this hack about his home lab and how he used it to further his career. Plenty of you revealed your own home labs in response, so we launched the servers'n'sofas challenge to report on the very best domestic data centres.
We've sifted through the responses and can now bring you the very best home labs from your Reg-reading kin.
Let's start with Brendan Horan's rig. Brendan lives in Hong Kong and apologised for his rig, saying that if he lived in a spot where houses were bigger he would do better. He has nevertheless managed to cobble together the following lab, listed from top to bottom:

Brendan Horan's very neat home lab
100Mbit fibre connection modem on the left and Wi-Fi access point running DD-WRT on the right.
Cisco 1812 terminating the fibre connection
Cisco 3500 XL 48 port Cisco Switch
Sun Netra X1, running OpenBSD 256MB RAM, 10GB HDD
Dual Intel Sossaman running Gentoo Linux 4GB RAM, Areca raid card with 4x HDDs (two Raid 1 volumes)
Rack shelf (holds his tools)
Intel Itanium 2 running OpenVMS 8.2.1, HP-UX 11.31 and Gentoo Linux. 8GB RAM, 3x 18GB SCSI u160 disks, DAT tape drive
Dual AMD Opteron 2216 running ESXI 5. 32GB RAM, 8x HDDs in Raid 10, and Areca Raid card running many, many VMs from Plan9 to OS/2, Gentoo and Linux from Scratch.
HP J6750 running HPUX-11.11 and Gentoo Linux 64bit. Dual CPU PA-RISC 2.0, 16GB RAM, 2x32GB SCSI-U160 disks. HP web console card, fibre card and FX 10 card.
IBM Power, running AIX 5.5 and Gentoo Linux.
Brendan said he built the lab "as my home testing grounds and running my own internal services, BIND, DHCP etc. ESXi takes care of most of that testing side and allows me to have a smaller footprint." He also feels the lab "gives me a good way to keep current with new technology quickly."
He adds: "As for the UNIX boxes. I have a bit of a soft spot for different hardware architectures, so I used them to learn about architectures."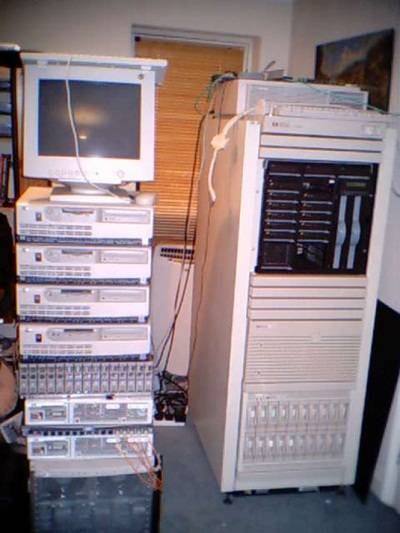 Ken Green's Home Lab circa 2003
Home lab lUXury
Readers might know our next home labber, as Ken Green was once lead technical trainer on HP-UX for HP's UK customer training organisation. Below right you can see the lab he ran circa 2003, when it held all sorts of HP storage, PA-RISC workstations, a Brocade fibre channel switch and four PCs acting as servers.
These days Green is still a training consultant and has contented himself with the following, housed in a data centre:
1 HP rx7620 with 8 Maddison Itanium2 CPUs and 56GB of RAM
1 HP rx5670 with 4 McKinley CPUs and 8GB of RAM
1 HP rx2400 with 2 McKinley CPUs and 12GB of RAM (this runs an Oracle RAC cluster inside VMs)
The VA disk array
Really can't remember how many FC JBOD disk racks (I just gave away all my SCSI boxes)
2 DL380s
1 DL320... and
"all the switches and crap to make it work," as Ken delicately puts it.
At home he houses another four servers, several Dell PCs, three laptops, some HP managed switches and Ken's pride and joy: an HP85 luggable computer from around 1980.
Another trainer, Stephen Rea, also has a colossal lab.
Indeed, Stephen sent us no fewer than 75 images of his lab, which comprises nine servers, a QNAP NAS and a UPS.
"As a Microsoft Certified Trainer I've found over the years one way to help learn is to play so I've always had some sort of LAB setup," Stephen wrote. "Now as a Technical Architect … designing and deploying environments for many Fortune 500 and above businesses, having a home based LAB to test different platforms and application technologies is one of the most important parts of my job."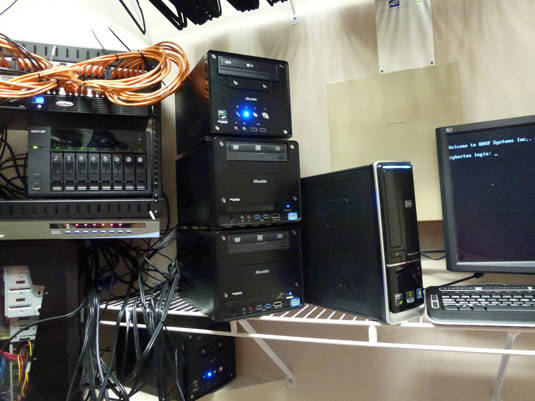 Some of Stephen Rea's home lab
The travelling lab
A reader named Elmars asked us not to use his surname, but we can't leave him out because his story is remarkable: kit on the rack you see at right was acquired in the Baltic countries and eventually shipped to the USA where Customs became rather interested in X-Ray images of its UPS batteries.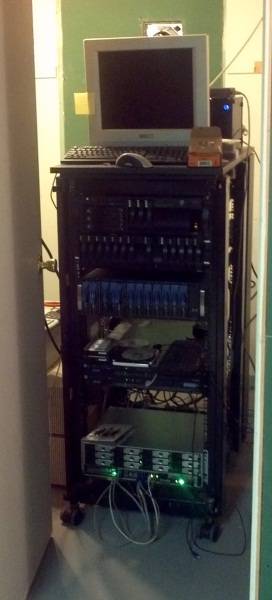 Elmars' Home Lab
"I am a senior systems engineer running a much larger VMware farm for a cloud-based product for the printing industry," Elmars wrote. "VMware certification is very expensive and I have yet to find an employer willing to stump up the >$5k for the required courses and certification. They are much more willing to throw me a decommissioned server or other gear - sometimes accompanied with the phrase 'knock yourself out'. With at least one supervisor, I was never really sure if it was meant figuratively or literally.
"All told, probably about $3k in my own money invested and it has brought me a lot more benefit than a piece of paper titled 'Certified'."
What's in the rack? Here's Elmars' list and explanation:
An ancient IBM dual P3 server (933MHz eServer x340) with 4GB RAM attached to a 1.5TB SCSI storage shelf, and 1TB internal SATA array. A dual-port Intel gigabit NIC makes sure the network floods the backplane at will.
A SATA storage shelf that is a work in progress.
Two VMware hosts licensed for Essentials. V5.1. The hosts are IBM x3455 machines with two sockets and four cores each and 48GB RAM. "These came out of an HPC shop in Texas for cheap," Elmars says. "They replaced a pair of first generation IBM x3950 machines I had picked up in Germany. It was cheaper to replace the x3950 machines than to power them as they together ate 1KW just to run at idle and don't support ESXI 5.x."
The last machine at the bottom is an old Rackable box with 8GB RAM and a pair of 2nd generation Opterons serving as OpenFiler NAS providing the data stores for the ESXi hosts. Elmars adds: "35MB/s sustained write speed is good enough for me."
"An HP switch I don't even remember where I picked up."
Home-lab building makes me... thirsty
Kiwi reader Andrew Gall says his lab only looks a little messy because when he took the shot below he'd lived in his current home for just two weeks.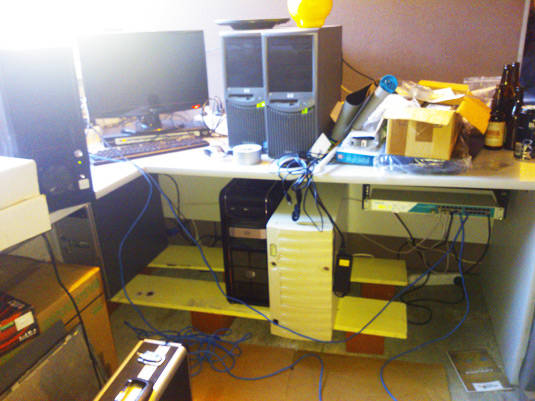 Would your home lab look like this 2.5 weeks after you moved into a house?
He's done rather well, we think, to stand up the following:
ESX1 Host 1, Quad Core, 8GB RAM, 3TB storage
8 port KVM + 21" LCD, keyboard & mouse
Old HP ML330 G3, Dual Xeon 4GB RAM
Another old HP ML330 G3
ESX2 Host 2, Quad Core, 16GB RAM, 4TB storage
Media server, not technically part of my training lab but storing a few Linux ISOs
Windows Server 2008 Hyper-V Host, Quad Core, 16GB RAM, 2.5TB storage
24 port 10/100 switch
The lab "mainly gets used for me to learn new MS skills/technology, and to play around with things that I'd be hesitant to try out on a production network," Gall told us by email.
Cloudy capers
Tom Davies' home lab is a cloud.
Davies told us the rig below is: "A CloudStack 2.0 implementation using a mix of equipment including Dell R900, R710, T610, R510, three 2850s and AX150 FC SAN, Equallogic PS6000, Power connect switches and a pair of Cisco firewalls."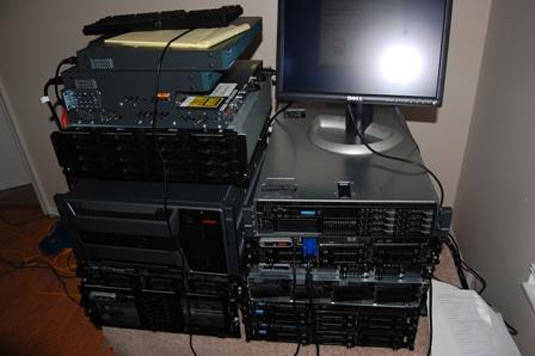 That's no pile of computers, that's a cloud station
"We used it to build a prototype public cloud," he wrote. And a rather fine prototype, too, we imagine.
Here's what Chris Prickett cooked up in his lab:
1 x Dell 170L as a domain controller and VMWare management/licensing server. 3.2GHz P4, 1GB RAM, 1TB storage.
1 x Dell GX280 (out of shot) as a domain controller. 3.2GHz P4, 1GB RAM, 80GB storage.
1 x Sun Ultra 40M2 as VMWare host. 2 x 3GHz AMD Opteron Dual Core 2000 Series, 16GB RAM, 16 TB storage.
1 x Dell PowerEdge 2700 as VMWare host. 2 x 2.4 GHZ Xeon, 6GB RAM, 2TB storage.
1 x HP DL360G3 as VMWare host. 1 x 3.0 GHz Xeon, 2GB RAM, 600GB storage.
1 x HP DL580G2 as VMWare host. 2 x 2.8 GHz Xeon, 12GB RAM, 1.2TB storage.
1 x Lenovo R52 (out of shot) Windows 7. 1 x 1.7GHz Pentium M, 2GB RAM, 80GB storage.
"I don't imagine it'll win any awards," Chris wrote. "But it was very special to me because it let me learn VMware ESX at zero cost to anyone."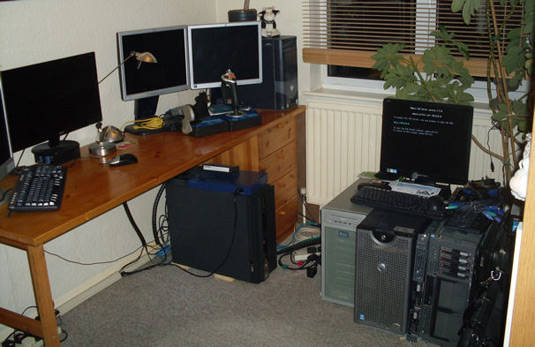 At last, a spot of domestic data centre greenery
"With the HP kit, my company have been very supportive and generous over the years and frankly I can't thank them enough. The Sun kit was donated by a friend who works for a hedge fund outside the UK.
Nothing in the rig was new, but Chris says it has nonetheless "been incredibly useful to me over the years".
Edward Alekxandr says one important element of his lab, which he uses to "learn (and play!) with VMware vSphere [as] we didn't have budget for a test lab at work, is "one very tolerant partner!"
There's a fair bit to tolerate, as he details the contents as follows:
1x Dell 2900 28GB RAM, 8x500GB SAS drives
1x Dell T610 40GB RAM, 8x500GB SAS drives
1x Mac Pro 20GB RAM 2x256 SATA drives
3x HP MicroServers 16GB RAM and 4x1TB drives
1x HP Itanium rx2620 16GB RAM and 3x160GB drives (running OpenVMS 8.3-1H1)
2x Cisco SG200-10 switches
2x Cisco ASA 5505 firewalls
1x Cisco 2811 router
1x ReadyNAS Pro with 6x1TB disks (worst purchase ever!)
....Plus Sky Router, Vodafone Suresignal and Apple AirPort Extreme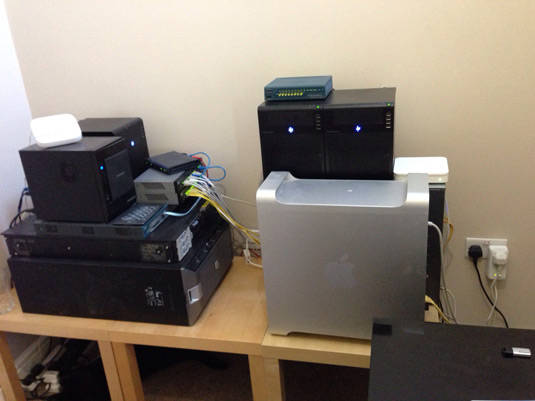 Ed's lab exists to give him "a sandbox to play around without breaking stuff at work".
Edward says the lab: "Kinda expanded to host some apps for my brother-in-law for his car garage as well, but mainly to give me a sandbox to play around without breaking stuff at work."
What kind of stuff? "I've used it to test out upgrading our exchange server to 2010 before doing it for real, and could we replace our fileserver with Solaris 11 zFS (turns out yes!) and de-duplication," he wrote.
Not a lab but noteworthy anyway
The servers'n'sofas challenge also scared up few entries that aren't labs, but deserve a mention.
John Robson's rig, which he used to do some serious work on Seti@Home, represents the most unusual location, as is visible below.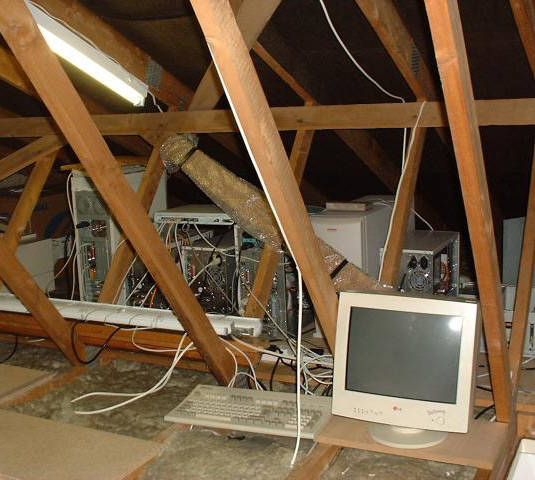 John Robson's alien-finding home lab
The rig is defunct but once comprised 17 PCs "from a P166 (on firewall duties) to a Dual CPU P III 800 (the 1GHz Athlon (water cooled@1.2GHz) downstairs, all on a 10MB hub (not switch) and running flat out doing SETI@Home processing, with a local data cache of three days."
John notes: "17 PCs in a one bedroom flat was a little excessive, and it has mostly been donated/mothballed."
We're happy about that, as the roof cavity location of John's lab looks a far from ideal location for a computer of any sort, never mind 17 humming away producing heat.
John worried about that too, telling us "the tallest machine (on the left) used to run a little warm - the case still has rubber embedded into the top from when the feet of the keyboard melted."
David Given had the most exotic rig, as the server he has set up to drive his website and do what he calls "the usual routing/caching/proxying/firewalling/fileserving roles" has a motherboard built from "a customised Mele A1000 set-top box, based on a Cortex-A8 ARM core with 512MB RAM. For storage it has a 64GB Kingston SSD and 2TB Seagate spinning disk.
"The big black square on top which makes it hard to photograph is a sound-absorbing baffle made out of a neoprene mouse pad. The console is an old laptop plugged in via USB."
Ashley Black runs a mail server VPN he uses to access resources at work and a home network from "the little under-stairs cupboard that even Harry Potter would find cramped."
J.J. Green sent a shot of a defunct under-the-stairs lab that included a stuffed soft toy penguin, which seems fitting and earns him a mention.
Lastly, let's all bask in the diagrammatic glory of Tim Stone's effort.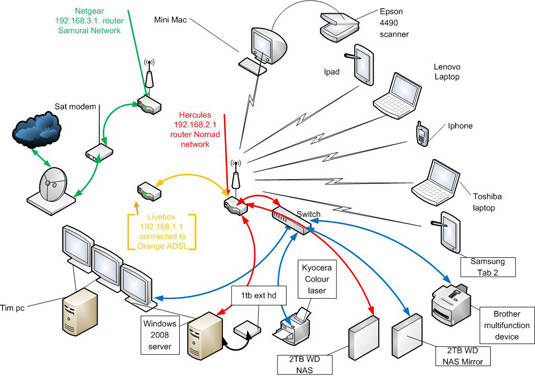 All this to trade shares
Tim was the only one to send us a network diagram. It depicts a rig he uses for day trading.
The Reg wishes Tim and all those who took time to send us descriptions and images of their home labs all the best with their efforts. And their power bills. ®