Original URL: https://www.theregister.co.uk/2013/03/02/google_pixel_chromebook_review/
Review: Livin' in the cloud with Google's new Chromebook Pixel
Nice legs – shame about the concept
Posted in Personal Tech, 2nd March 2013 19:58 GMT
It has been well over two years years since Google released its first Chromebook, the CR-48, and set off on a quest to convince the world of the benefits of living in the browser. Last week, the company unveiled its latest attempt to seduce the public – the luxury touchscreen Chromebook Pixel – and gave The Reg a $1,449 LTE-equipped version to try out.
We tried it out, and, well ... read on.
We Silicon Valley press folks are a surly lot, not given to displays of emotion. But when that astronomical Pixel price was announced at Google's roll-out event, there was a lot of excited shuffling about in the press-conference room as we hacks maneuvered to get our questions in.
The biggest of those questions: since Chrome OS has been concentrating on the low-end of the market and hanging out with the kids in education, why is the Pixel leapfrogging into the very big – and pricey – leagues?
Why, indeed?
At this kind of money, Google is going directly at Intel-flogged Ultrabooks and Apple's 13-inch MacBook Pro and Air – and they might just succeed in prying away some users of those laptops. After a week of lugging the Pixel around, using it for day-to-day work and trying it out in a variety of locales, we prefer its hardware to an idealized Ultrabook, the MacBook Pro, and in some ways the Air, in terms of design, build-quality, and specifications.
But that's far from the whole story, as "as any fule kno," as the infamous Nigel Molesworth would say.
Speeds and feeds
The Pixel has a distinctive angular design with a 16.1mm-thin aluminum case that's unadorned with prominent logos or even port icons; there's just the word Chrome etched on the hinge and behind the keyboard as a reminder of who makes this device.
At 3.35 pounds and 297.7-by-224.6 millimeters in depth and width, it's on the larger and heavier side, but its build quality is superb. There's no give or twisting in the screen, and the laptop sits firmly on either desk or knees upon its little pointy feet.
Inside, our test unit had a 1.8GHz dual-core Intel 3rd-Generation ("Ivy Bridge") Core i5 processor with HD 4000 graphics, 4GB of RAM, and a 64GB SSD. Buyers of the $1,299 Wi-Fi-only version, however, get only 32GB to play with. Google says this paltry internal storage space doesn't matter, however, because Mountain View gives users 1TB of cloud storage for three years. Users who prefer local storage, however, might disagree.
For external hookups, there are two USB 2.0 ports on the left of the case, along with a power port, a 3.5mm combination headphone and microphone jack, and a Mini-DisplayPort connector that can run a 30-inch monitor; a USB-to-Ethernet adaptor is also included.
Google says that the USB 3.0 chipset is too bulky for the Pixel's rather slim design, but the lack of an industry-competitive fast external storage connection is enough of a failing that it's a shame designers couldn't figure out a way to squeeze it in.

'Look Ma, no icons!' Left to right: power port, Mini-DisplayPort, two USB 2.0 ports, and audio (click to enlarge)
The keyboard has good key travel, is easy to adapt to (although keys could be larger,) and, like many another laptop, has an backlighting system that makes the Pixel a dream to use in darkened presentation rooms. The touchpad is fantastic – finely grained, silky-smooth, and super-responsive.
Over on the unit's right side you'll find a a full-sized SD card slot and SIM card slot. Inside are 2x2 MIMO Wi-Fi 802.11 a/b/g/n antennas and Bluetooth 3.0. On booting, the Pixel is very quick to establish an internet connection – much faster than many tablets we've tested – and the range and speeds of the connections we managed were impressive.
Over on the Pixel's right side you'll find an SD/multi card reader slot and the SIM garage (click to enlarge)
When you're out and about, the LTE model we tested comes with a Verizon connection that includes 100MB a month free downloads, along with a dozen Gogo "Inflight Internet" airline Wi-Fi coupons. If you want more online flight time, there's the choice of a $10-per-day connection or $20-50 monthly plans, and Google is in talks with mobile network operators in the UK and elsewhere for similar deals.
That 100MB download total isn't a lot when you need to use the cloud storage on a regular basis, and this makes the cellular connection more of an emergency-only connection – unless you're flush with funds, of course. It's also not a guarantee of a signal: Verizon's network is large, but there are large swathes of the US where this connection is useless.
The air vent for cooling the Pixel's innards is in the back of the unit under the hinge, which makes the unit look sleeker but does need a little getting used to. After we slipped off to dinner for an hour, leaving the Pixel propped up on bedcovers that covered the hinge, its casing was almost too hot to touch.

Developers may well have some fun with the color-shifting light bar on the Pixel's lid
Just to show that the Pixel isn't all business, there's an LED light strip across the top of the outer cover which gives a four-color flash on opening and closing – Google's blue, red, yellow, and green branding, of course – and settles into a steady blue glow during use. It catches the eye well, particularly with a four-second light show triggered by the traditional Konami cheat code on two up, two down, left-right, left-right, and b-a button press.
Screened for success
But the Pixel's crowning glory is its 13-inch display – well, 12.85-inch, to be exact, but let's not nitpick. The display's 2560-by-1700, 239 pixel-per-inch resolution out-specs Apple's 13-inch MacBook Retina display's 2560-by-1600, 227 ppi screen – although not by a lot.
But that's not the whole story. Those 4.3 million pixels in that bright 400 NIT display are arrayed in a 3:2 aspect ratio rather than today's predominant 16:9 standard, Google explains, to optimize the Chromebook for browser use.
The benefits of this approach are mixed. Yes, 3:2 does work much better in a lot of circumstances – writing this review, for example – since you get more useful work area. But if you're watching a widescreen movie the limitations are clear – although it works well with Google's YouTube, as you'd expect.
The fantastic screen quality, with solid colors and fine shading, makes up for a lot, but it still feels somewhat cramped. It's a pity because the speaker quality on the pixel is amazing. The device has three speakers; two in the lid and one under the keyboard. In addition, the dual-microphone noise-cancellation system allows you to type and Skype at the same time, even if you're a keyboard-hammerer.
In terms of touch responsiveness, the screen performs as well as anything on the market. Some people like touch on a laptop, others don't like the distraction, but it's certainly useful and does grow on you.
But the user interface counts for a lot on a touchscreen, and Chrome isn't there yet. Google says it's going to make Chrome OS a lot more touch-friendly in the future, which is fine, but in the meantime the rest of the web isn't. It's not hard to miss-touch a link on a page of search results – unless the viewing size is set stupidly high – and the thick-fingered may have problems.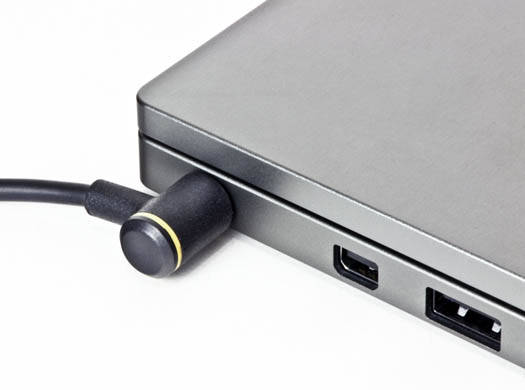 Watch a lot of video, and you'll often use the Pixel's less-than-elegant charging plug (click to enlarge)
The power-hungry display also means the Pixel's battery life isn't as good as you might want. Google says the unit is good for five hours on one charge, and that's perfectly doable – even more if you're smart about screen brightness and power settings. Stream HD video at full volume, however, and you'll bring battery life down to four hours – and you since can't swap out the Pixel's batteries, you are stuffed on long flights with no power socket.
Secure and simple – maybe too simple
Besides the LED light strip, the first thing that really grabs you is Chrome OS's speed – less than 10 seconds to boot from cold, and in standby mode you lift the lid and it's ready to go. For a regular Windows or OS X user it feels blindingly fast.
To use the Pixel to its fullest potential you'll need a Google account. There's a non-cookie "Browse As Guest" user mode, but the Chromebook is understandably built around Google and designed around Google's Apps suite.
That said Google, is quick to point out that you can write, edit, and calculate using Microsoft Word and Excel via Quickoffice, which Google bought last summer, but that still leave some traditional Office apps unobtainable. Then again, with Microsoft aggressively pushing people into Office 365, comparisons with the full Office suite might soon become moot.
The Chrome OS store is growing, but there's still a shortage of really useful applications to augment the Pixel's browser-based basics, particularly those that work without an internet connection, and those in the games sector. Google has led the way in app development, and it's no longer fair to say that a Chromebook without an internet connection is simply an expensive doorstop, but it still feels crippled when offline.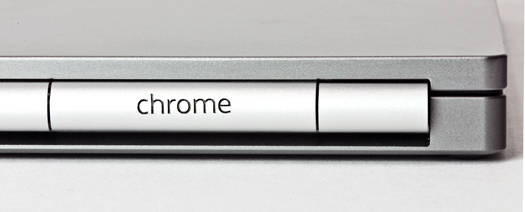 Google calls it a 'Chromebook', it calls itself 'Chrome', and 'Pixel' is nowhere to be found (click to enlarge)
Chrome OS's key selling point are simplicity and security. OS updates are added in the background on an as-and-when-needed basis, and during our testing there were no crashes or required reboots. Instead of the traditional operating system model of monthly (or longer) updates, Google treats Chrome OS like a browser and is constantly adding new code. In the next few weeks, Google has promised a host of new functions.
Current capabilities already include a few nifty tricks. For example, pop an SD card full of pictures into the Pixel's slot and software can automatically select the best ones based on focus, color, and positioning. The unit can also be configured to automatically upload images straight to a Google+ or Drive account.
Google is also quite cocky about the security side of the Chrome OS. It uses a mixture of hardware and software lockdowns to keep out malware, and Mountain View is betting over a quarter of a million dollars that the OS can't be hacked at next week's CanSecWest conference Pwnium challenge.
Selling ease-of-use and security is one thing, but with a luxury touchscreen laptop, you also need to be able to win over hearts and wallets. So is the Pixel worth it?
Should you get one?
The Chromebook is the perfect laptop if you are a Google employee – the kind of person who's fully bought into the cloud concept and has near-ubiquitous Wi-Fi.
All over the San Francisco Bay Area, Wi-Fi-equipped Google busses pick up staff so they can be online for all but a few minutes of their workdays – and the Pixel is perfect for that usage scenario. In fact, I suspect Google might have made a bit of a problem for itself internally. Staffers are going to beg, borrow, and back-stab to get their hands on a Pixel.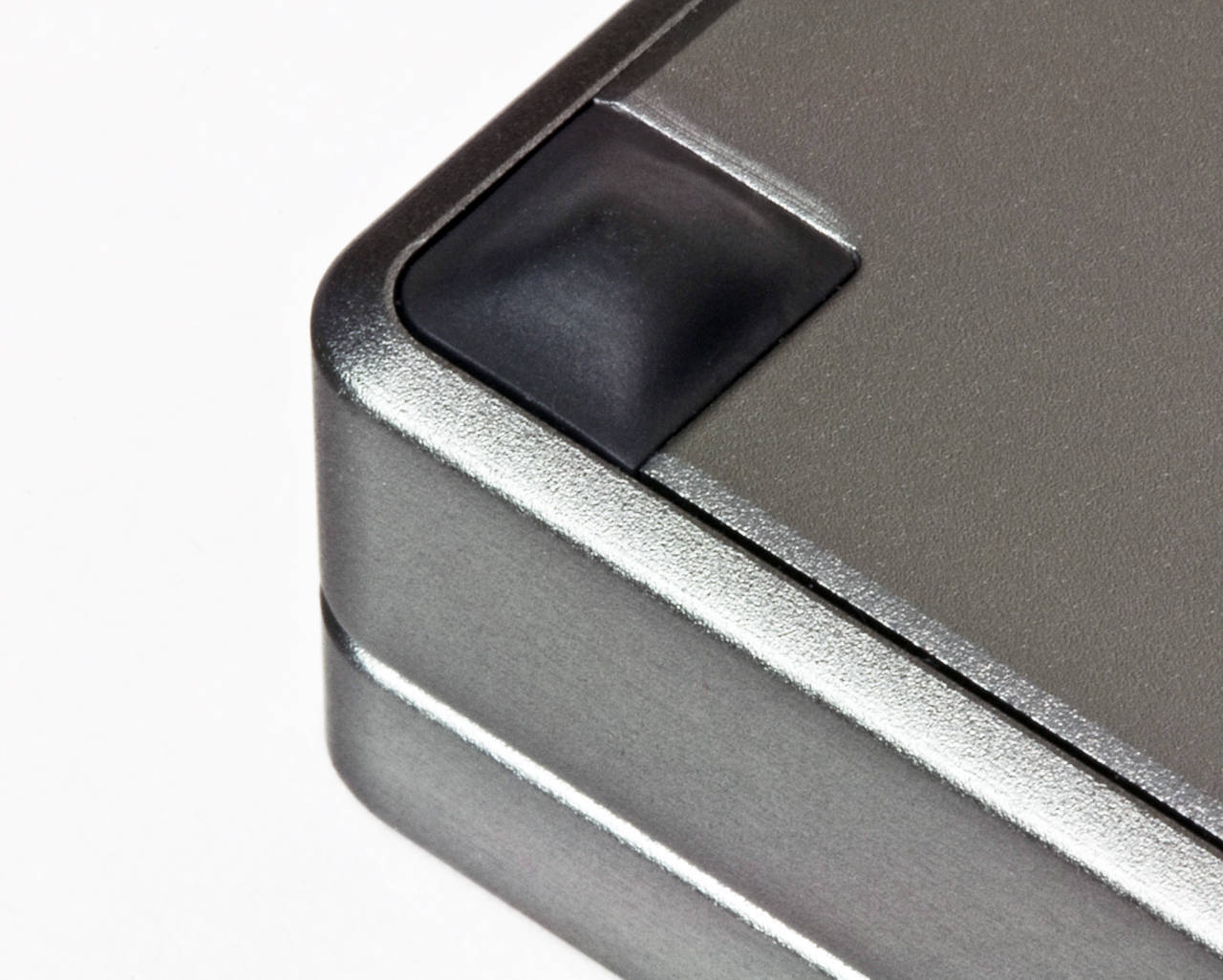 Details such as sweet li'l feet demonstrate the Pixel's exceptional build quality (click to enlarge)
But for most of the rest of us an internet connection can be a tenuous thing, and the Pixel is still a frustratingly dysfunctional device without one. There have been great strides in making this a workable system when it's offline, and in the future when the internet is everywhere, a purely cloudy machine will make good sense.
But we're just not there yet. In the meantime you're left with a system that that is handicapped without an internet connection – and remember, for the same price as the Pixel you can get an Apple MacBook or PC Ultrabook with an internet-independent operating system that gives you many more options.
There are also serious shortfalls in the amount of software that's available for the Pixel. We couldn't use the Pixel comfortably for work since some in-house apps won't work with it, and if you're a power-application user, the operating system is a decided disadvantage.
The Reg Verdict
In terms of specifications, design, and build quality, the Pixel is up there with the best of today's laptops. MacBook Air users won't be impressed with its bulkiness and weight, but it makes most premium Windows laptops look last-generation.
But the Pixel is a very expensive bit of kit for what it is. Chromebooks have principally been sold at the cheap end of the market, and Chrome OS is an attractive choice for a household's second laptop. But at the Pixel's premium price, it's a tough sell.
For a distinct subset of power cloud users, the Pixel is a dream machine – we suspect a lot of start-ups that are built around Google Apps will love it. That could in itself give Google a viable business plan, since it says that the deal it has with an unnamed Chinese ODM to manufacture the Pixel gives Mountain View a profit on each machine sold.

'Assembled in China' makes the Pixel profitable (click to enlarge)
But for the general market, the Pixel isn't the laptop most people are looking for. It's simply too expensive for what it is, has a limited range of applications, and isn't practical for the majority of people.
Its screen is a delight, its build quality is best-in-show, and it has some very nice touches – but El Reg suspects that Google's Chromebook Pixel will not fly off the shelves. ®
All photography by Rik Myslewski