Original URL: http://www.theregister.co.uk/2012/05/09/review_sony_vaio_l_series_vpcl22v1e/
Sony Vaio L VPCL22V1E 3D PC
All-in-one with finger fun
Posted in Personal Tech, 9th May 2012 06:00 GMT
Review

Finding the all-in-one Sony Vaio L Series with a 1TB hard disk isn't as easy as it might have been. The reason you'll need to be keep a keen eye on the specs is, according to Sony, due to a shortage of hard disks – a consequence of the flooding in Thailand. Indeed, the Vaio L series models soon to go on sale on Sony's web site will only have a 750GB capacity.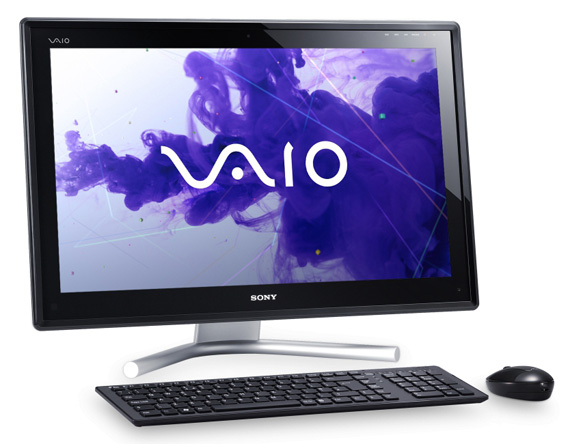 Added depth: Sony's Vaio L VPCL22V1E features 3D viewing
Although the review sample was equipped with a 1TB drive, all other aspects of the machine remain the same – a 2.2GHz quad-core Intel Core i7 2670QM processor, 8GB RAM, GeForce GT540M graphics card, and 24-inch touch-sensitive, 3D-capable screen with 1920 x 1080 resolution. This costs £1499, but there's also a boring old 2D model with a Core i5 processor available for £1199.
The L Series is neatly designed, with the slimline black panel mounted firmly atop a solid metallic base. The 24-inch screen provides excellent image quality and the L Series has both HDMI input and output, so you can plug a games console into it, or hook it up to a larger HD TV screen if you want to use its Blu-ray drive to play some films. It's even got composite video input as well – although personally I'd have preferred a TV tuner instead.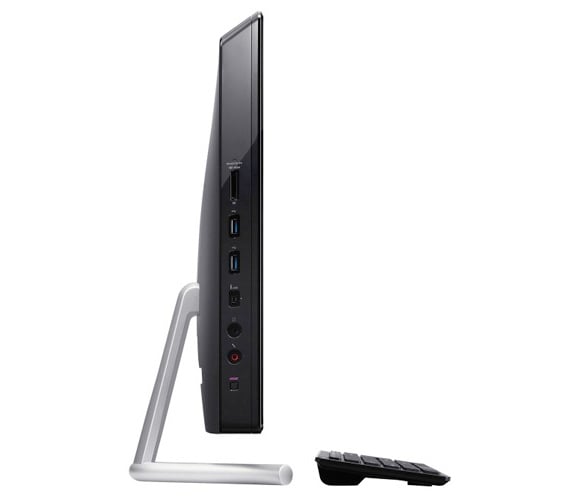 USB 3.0 on board and there's FireWire iLink too
Throw in five USB ports – two of which are USB 3.0 – memory card slot, iLink (FireWire) for Sony camcorders, and an above average set of built-in stereo speakers with Dolby Home Theatre 4 enhancements, and you've got the makings of an excellent multimedia entertainment system. I even liked Sony's Vaio Care software, which provides a straightforward set of diagnostic, recovery and update tools.
With a quad-core i7 CPU, the L Series is no slouch, however, its overall performance wasn't quite a strong as I'd expected. In fact, its PC Mark 7 score of 2670 was almost identical to that of Toshiba's less expensive Qosmio DX730, which has an i5 processor running at 2.4GHz.
Benchmark Tests
PC Mark 7 Results

Longer bars are better
The key culprit here is probably the choice of a less than zippy 5400rpm hard drive, which would have dragged down the overall benchmark score quite a bit.
Graphics performance was a bit better, though. The GeForce GT540M graphics card is by no means top of the range but still managed to run Far Cry 2 at 100fps at my favoured resolution of 1280 x 720 – and that was in 3D mode too, which is quite good fun thanks to the included set of 3D active goggles.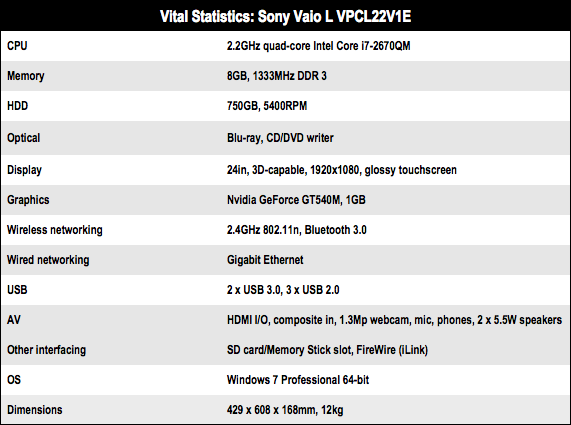 Economies of scaling
Far Cry 2 is a 3D-enabled game so it works well in 3D, but there's also a 3D upscaling option for 2D video content. To be honest, this didn't add much to my Spiderman 2 or Aliens DVDs, but then I've never seen really successful 3D upscaling from any other manufacturers either, so I can't be too harsh on the L Series for that.
I was also quite impressed by the way Sony approached the touchscreen controls of the L Series. I've always felt that putting touchscreens on desktop PCs was a bit of a gimmick, but Sony has come up with a feature that it calls Edge Access, which does make touch control rather more practical.
In addition to making the main screen touch-sensitive, Sony has also built some additional touch controls into the glass border that runs around the edge of the screen.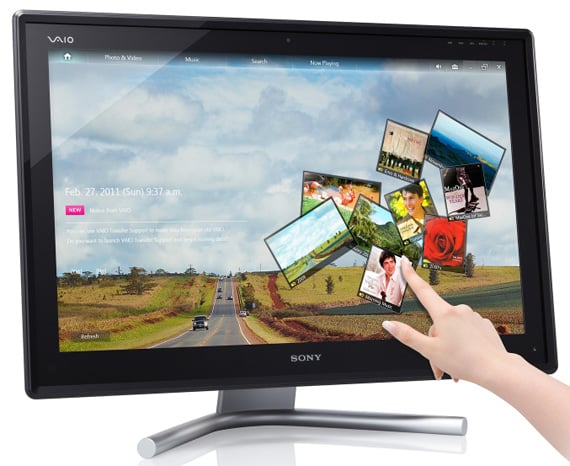 A touch too much?
You can close windows by quickly tapping the top-right corner of that border, or step forward and backward through a series of web pages or photos by flicking your finger right or left along the bottom edge of the border. This makes it much easier to perform basic tasks with the touch-screen controls, although I still reckon it'd be more useful in a showroom or for business presentations than on a desk at home.
Verdict
The L Series is an extremely capable all-round multimedia PC. Its range of AV features is impressive, as is Sony's attention to detail with features such as the touch-screen controls. It's rather costly though, and at this price it really ought to have a more up-to-date graphics chip and hard drive in order to make the most of its quad-core processor. ®
More Desktop PC Reviews

Toshiba
Qosmio DX730
Lenovo
ThinkCentre
Edge 91z
Apple
Mac Mini 2011
HP
TouchSmart 610
Apple
iMac 27in