Original URL: http://www.theregister.co.uk/2012/03/30/review_philips_42pfl7666_smart_tv/
Philips 42PFL7666 42in 3D LED Smart TV
Passive aggressive
Posted in Personal Tech, 30th March 2012 06:00 GMT
Review Philips spent much of 2011 on the periphery of the televisual market, bereft of Freeview HD tuners and dogged by confusion over its long-term ambitions, having off-loaded its TV business into a joint venture. But things are off to a better start in 2012.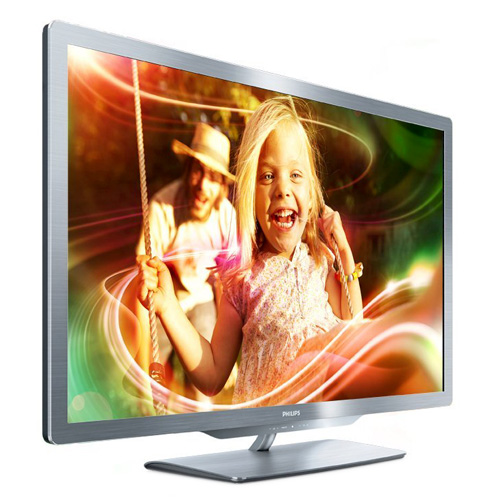 Collaborative effort: Philips' 7000 series TV
This 42-incher is one of the first fruits of its joint venture with Chinese outfit TPV. The good news is, this is still recognisably a Philips telly. Features include Ambilight (strip) LED mood lighting, internet connectivity, 'Easy' 3D and multimedia file streaming. There's even a Freeview HD tuner on-board.
Aesthetically too, the 42PFL7666 strikes a confident pose. The bezel may be slightly larger than those on more trendy rivals, but the brushed finish is a touch of class.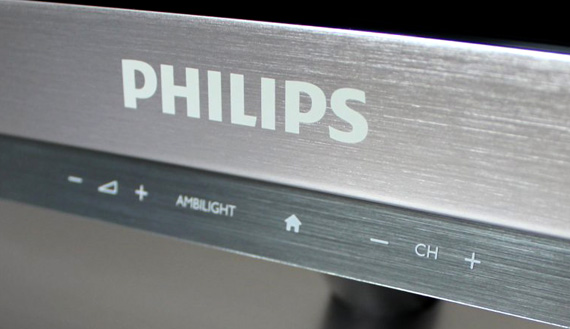 Looks good with respectable build quality
The inclusion of Ambilight doesn't swell the cabinet overmuch either. Two side mounted LED strips change hues to mimic the content of the picture. For best results, sit the screen around 25cm from a plain wall. The general connectivity on-board is fine. In addition to an Ethernet port, there're four HDMIs (one side mounted), PC VGA and component inputs, two USBs, a digital optical audio output plus an SD card reader.
The TV comes with a pebble remote handset, which feels good to wield, the main Home button falling readily to hand. The set employs an overlarge user interface that looks a little bonkers, but it's easy to navigate.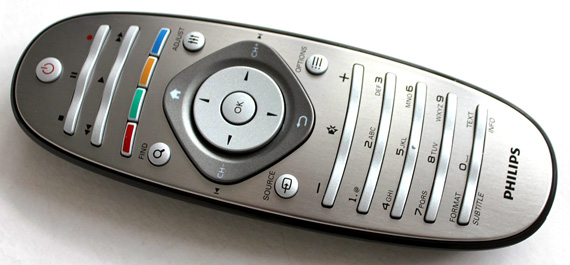 Well-rounded remote
Philips has finally licked its Smart portal, dubbed Net TV, into shape. The 42PFL7666 offers a satisfying selection of IPTV, including BBC iPlayer, YouTube and DailyMotion. These are supplemented by subscription services from Box Office 365, Acetrax, Cartoon Network, Viewster, iConcerts HiTEntertainment and Aupeo!. You can take the set on-line using its integrated Wi-Fi or its a Ethernet connection.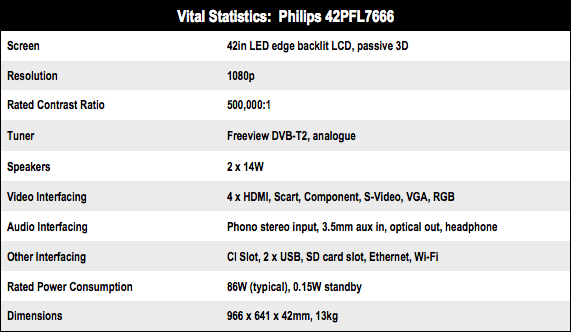 Image quality is high, although getting the best picture from this set requires some effort. Ostensibly, Philips makes things easy with a simple visual Picture Wizard. Just select the best in a series of two still images to calibrate the set to taste. But follow this routine and I guarantee you'll end up with a TV picture that's virtually unwatchable.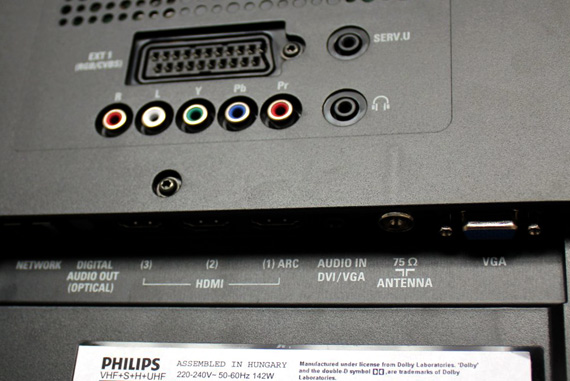 Rear interfacing – USB, SD card, CI slot and another HDMI appear on the side panel
Remember, the set's HD Natural Motion processor is a bit of a misnomer, as it can impart a distracting glacial sheen to almost everything. I generally preferred HD Natural Motion off. Once deactivated, there are no motion artefacts, although pans can judder.
With HD Natural Motion on Minimum, these smooth out but artefacts are introduced around certain moving objects; there's also a momentary blur before the set locks to the image. Crank HD Natural Motion to Maximum and motion artefacts become more aggressive.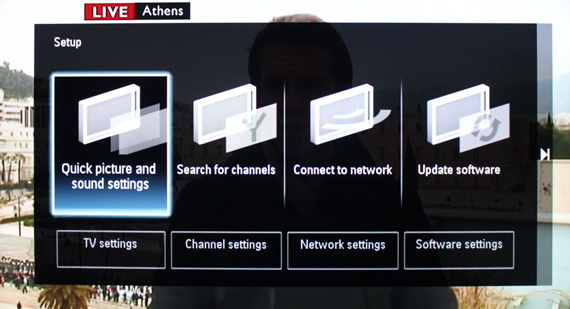 User interface is clean and simple
The set offers deep, smooth blacks with plenty of shadow detail. Just keep the Sharpness control one notch up from zero to preserve genuine clarity. Also ensure you keep the Clear LCD setting on. Switch it off, motion resolution turns to mush.
When it comes to 3D, the set's Passive implementation is in line with what we've seen from LG models – unsurprising given the Philips 42PFL7666 uses an FPR panel sourced from LG Display.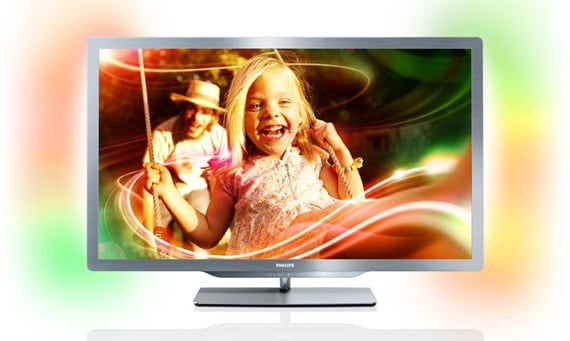 The display needs tweaking to get the best out of it, but a good performer in several areas
The 42PFL7666 features an accomplished USB media reader which makes short work of assorted files loaded from a flash drive. AVI, MP4, MKV and VOB files all play. Audio support is equally comprehensive, with MP3, WMA, WAV, AAC and AIF tunes all working. Across a network though, this compliancy may be reduced. My NAS-served MKVs were roundly ignored. Results vary depending on the media server software being run from your devices.
Verdict
Overall, the Philips 42PFL7666 is a solid proposition. Image quality is good – once you've mastered the copious image processing modes – and the smart net portal is well stocked. Indeed, the Series 7000 screen is idiosyncratic but classy nonetheless. ®
More TV Reviews

Ten...
smart TVs
Samsung
PS64D8000
Toshiba
Regza
40RL858
Sony
Bravia
KDL-55HX923
Ten...
monster TVs