Original URL: http://www.theregister.co.uk/2012/03/27/review_apple_new_ipad_wi_fi_4g/
Apple New iPad 3 Wi-Fi + 4G
My generation
Posted in Personal Tech, 27th March 2012 06:00 GMT
Review Let's face the elephant in the room first. The 'New iPad Wi-Fi + 4G' as Apple calls it - I'll use iPad 3 - may be branded 4G but that's eff-all value to us Brits. The tablet's cellular radio doesn't work with the frequencies being proposed for UK 4G communications.


But let's be honest, that doesn't matter, for a couple of reasons. First, there are no commercial 4G services in the UK to hop onto even if the iPad 3 could reach out on the right wavelengths. Second, by the time there are, we'll be on to the iPad 4, possibly even the iPad 5 - 'New New New iPad', anyone? - and that almost probably will support 4G networks in the UK.
So it's important not to get hung up on that '4G' label. Think of the New iPad 4G as the New iPad 3G and get on with your life. Since you're paying no more for the new tablet's cellular data hardware than you would have done for the old one, that's a very easy point to get your head around.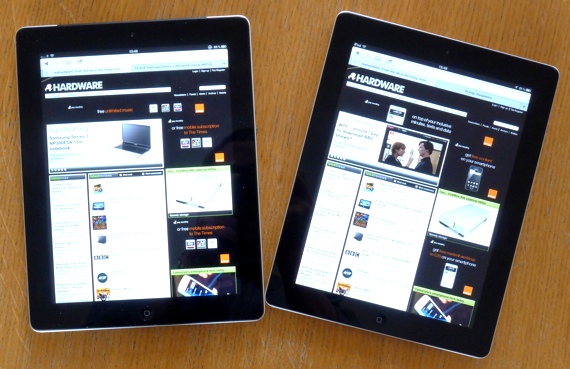 From a distance, who'd know the difference? Clue: the iPad 2 is on the left
The iPad 3's compatibility with 3G HSPA+ data links means it's darn quick in most parts of the world - or as quick as local radio conditions and the speeds networks actually run to, which don't always reach what the technology is capable of. And it still supports GSM Edge for everywhere else.
You'll also get the same GPS functionality, irrespective of the radio in use, something absent from the Wi-Fi only iPad 3, which has to use triangulation to work out where it is. But I suspect that's sufficient for most iPad users, leaving the GPS hardware in the Wi-Fi + 4G model a nice-to-have rather than a necessity.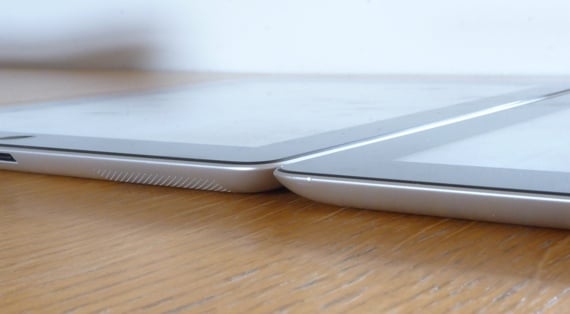 The new one's barely any thicker
The extra circuitry adds 10g to the cellular iPad's weight, but I defy anyone to be able to feel it. Weight is important, though, for its over-time arm straining capability, and I think that is an issue here. The new iPad is less comfortable to hold for long periods than its predecessor was.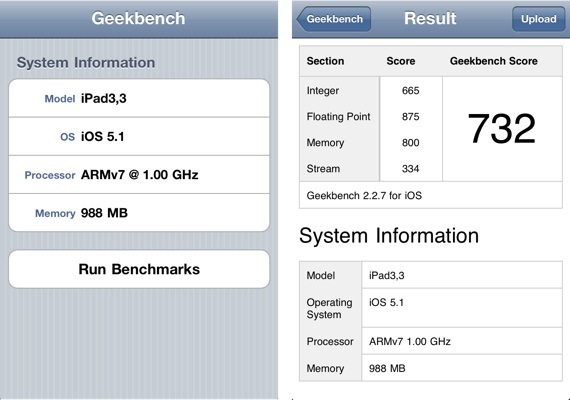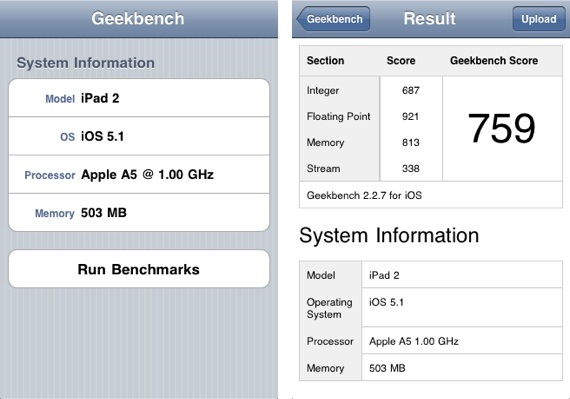 What a performance: iPad 3 (top) and iPad 2 (bottom) in Geekbench 2
Single benchmark run after hard restart
Net worker
Arm-strength draining, then, and battery draining too. Using the iPad 3 on a cellular network will suck extra power, enough to knock an hour or so off your runtime. You can switch the cellular radio off - switch on Airplane mode, but turn on Wi-Fi.
But if you're going to be turning off cellular for long periods, you should ask yourself if you need it at all. I use my smartphone or a pocket 3G router, either of which will work as a hotspot, when I need net access away from a Wi-Fi network. And it means I can make do with a cheaper, lighter iPad.
Sample Shots
But if you do want 3G built in for convenience, the iPad 3 will do the job nicely, if my testing with Three's network was anything to go by. Speedtest.net results came in as good as I'd expect from the locations I test it in.
As a Wi-Fi device, the iPad is impressive, supporting not only 2.4GHz 802.11n and older Wi-Fi specs, but also 5GHz operation - handy if, like me, you like an uncongested home network. I didn't experience any of the Wi-Fi signal dropout reported by some users, either on my 5GHz WLAN at home or the 2.4GHz network at Vulture Central.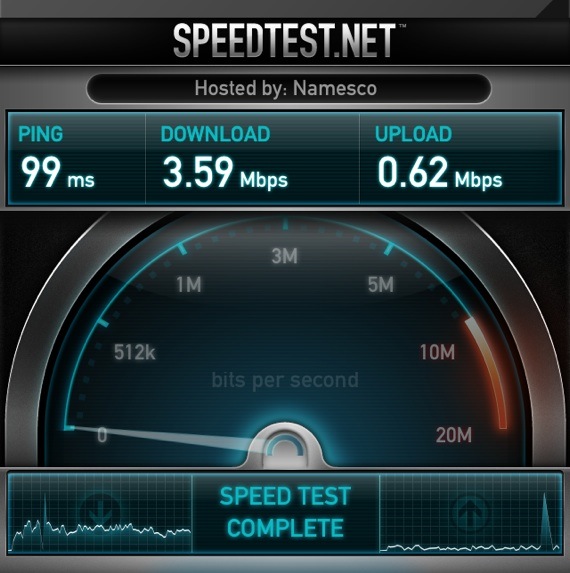 No 4G? Maybe, but the iPad 3's 3G speed is decent enough
Like the iPhone 4S and the most recent MacBook Air, the iPad 3 supports Bluetooth 4.0, but that's unlikely to matter much. Rest assured, it's compatible with Bluetooth 2.1, which is what 99 per cent of the Bluetooth accessories you're likely to want to use with the iPad 3 connect by.
I had no trouble getting the iPad 3 to talk to my Philips Fidelio speaker for some wireless music streaming.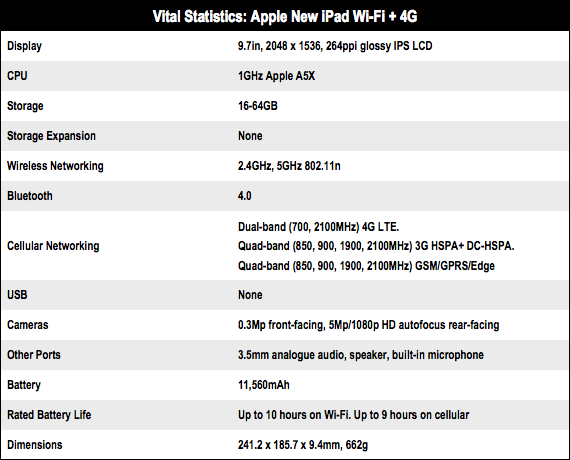 Screen test
With - to all intents and purposes - no 4G, the star here is, as Cliff noted in his review of the Wi-Fi only iPad 3, is the iPad 3's "retina display" screen. Simply, it's a stunner.
I was sceptical before I saw it. I knew the 2048 x 1536 resolution would look good with native iOS user interface elements because I saw in 2010 how much better the iPhone 4's screen was over that of the 3GS. But scaling up graphics designed for an older, lower-resolution screen is another matter. Upscaled graphics were noticeably 'jaggy' on the iPhone 4.
The iPad 3's screen has a lower dots-per-inch rating than the iPhone 4/4S and either that or a better upscaling algorithm makes the pixel-doubling less noticeable here. Old 72 x 72 icons aren't as crisp as their new 144 x 144 siblings, but they don't appear as blocky as before. I read a lot of comics on my iPad and even low-res scans upscale nicely, something I feared would not be the case.
Likewise all my sub-standard definition DVD rips look fine scaled to beyond HD resolution. Even iPhone apps look decent, appearing way less blocky on the iPad 3 than they do on the iPad 2.
That's not a compelling case for an upgrade though. I won't be flogging my iPad 2 on eBay just yet. There's no doubt the new tablet's display is much better, but for me that's not enough to ditch a perfectly decent tablet. Especially since the new model delivers not a jot more peformance than the old one. CPU upgrades and doubling the tablet's memory size has been done to accommodate extra pixels not greater performance.
Verdict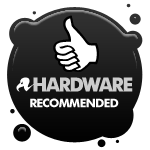 The iPad remains my favourite tablet. I prefer the screen size and aspect ratio; it delivers the right performance and functionality for what I want a fondleslab to do; USB – without the need for an adapter – would be nice, but otherwise it has the connectivity I need; third-party apps have got me over the walled garden without jailbreaking; the battery life is great. Android buffs and Apple biters won't care anyway. But the iPad 3 is a good tablet, and its screen sets a higher bar for Apple's rivals to try and leap over. ®
Many thanks to Square Group for lending me a review unit.
Thanks too to Three for providing 3G data connectivity. Cheers, all.
More Tablet Reviews

Apple New iPad
Wi-Fi Only
ViewSonic
ViewPad 10e
Lenovo
Thinkpad
Tablet
Motorola
Xoom 2
Media Edition
Ten high-end
Android
tablets