Original URL: http://www.theregister.co.uk/2012/02/20/geek_treat_lantronix_xprintserver/
Lantronix xPrintServer
AirPrint for grown-ups
Posted in Personal Tech, 20th February 2012 10:00 GMT
Geek Treat of the Week As far a tech goes, my encounter with the Lantronix xPrintServer was somewhat unusual. This fag packet of a device plumbs into your network and enables an iPhone, iPad or even an iPod Touch to access the local printers, assuming there's a Wi-Fi access point on the same subnet. There's no need to track down an AirPrint compatible printer, as the xPrintServer lets you use grown-up printers in the office or home.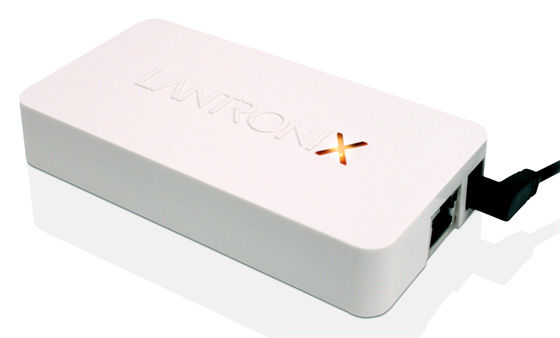 Networking skills: Lantronix's xPrintServer
Now the unusual part of all this is that I plugged it in and it just worked... in seconds. I'm still trying to get over it now. I suppose the Lantronix xPrintServer has a just one task to perform, but I'm so used to the promise of any tech satisfaction involving a certain amount of farting about that having it work out of the box borders on a dewy-eyed experience.
Now talking of dewy-eyed, you do have to pay £115 for the privilege, but as iOS devices become ever more ubiquitous in the office, it's going to prove its worth printing out travel itineraries and the like booked on-line and other details that might appear in personal e-mail accounts kept on handhelds, rather than the office in-box.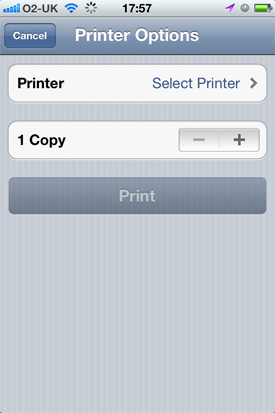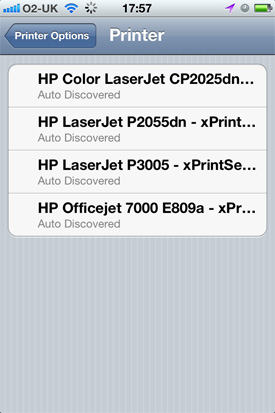 Going through the motions: the list of available printers is conveyed to an iPhone 4S
The xPrintServer has only an external power supply connection and a 10/100Mbps Ethernet port. A short Ethernet cable is provided too and when attached to your network, activity lights around the RJ-45 connector indicate connection status and an orange X on the box blinks slowly when printer discovery routine is complete. The base has a reset button as well as serial number info that's required for admin access.
If all goes well, and experience suggests it will, you simply go through the motions of printing from your iOS device. The Printer Options screen appears, you choose Select Printer and there's a quick scan and then a list of available printers appears and you pick the one you want to print to. Tests with several iPhones and an iPad 2 in the office revealed that if the scan didn't list the printers first time round, it never failed to show them with a second scan.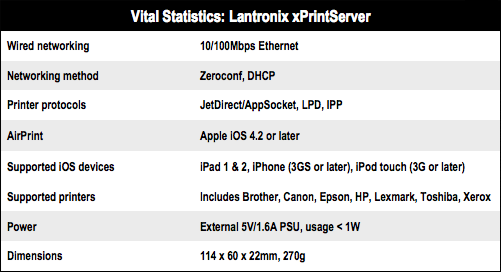 Making changes
Now, despite the plain sailing I encountered, there's always going to some set-ups that need additional configuring and the Lantronix xPrintServer caters for a range of scenarios. You simply access the device from a web browser and options including entering in printer IP addresses manually are catered for. Furthermore, the xPrintServer supports firmware updates, so if Apple makes some protocol tweaks that need addressing, it would seem Lantronix will deliver a fix.
Browser configuration menu and status
Out of curiosity, I tried out the Lantronix xPrintServer on my home network. I hooked up my aged Canon i865 printer to the USB port of my Synology Nas box. While the presence of the printer is recognised and visible to computers on the network, the Nas doesn't go the extra mile and actually support printing to this old model. Shame. Ensuring that the Synology Diskstation OS had its own AirPrint functions disabled, I set the xPrintServer to work.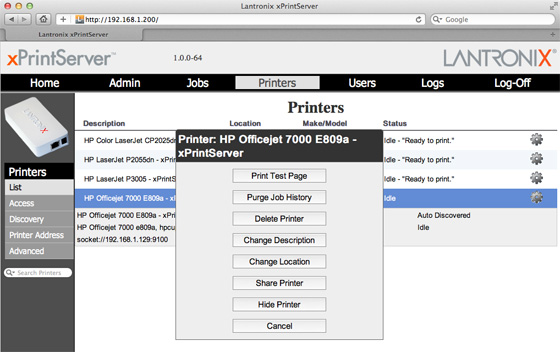 Printers list with individual device options
What happened next was rather interesting, as all the office printers were listed. It would seem they stay resident and are broadcast whether or not they are actually present. Using the browser interface I performed a default reset which cleared this listing and checking the Discovery section revealed that, even though my Canon wasn't available, the xPrintServer had at least found it, delivering the message:
Provisioning: usbprinter1 \064 DiskStation on socket network lpd://192.168.0.110:515/usbprinter
Admittedly, I never expected this particular test to work, but the xPrintServer's capacity to discover a USB printer via a Nas box does seem hopeful for similar yet functioning set-ups that lack AirPrint. Incidentally, I also tried a similar approach with the i865 using printer sharing on a Mac, but the xPrintServer couldn't access it that way either. Such is the way with old kit. Stick to Ethernet printers and all should be well.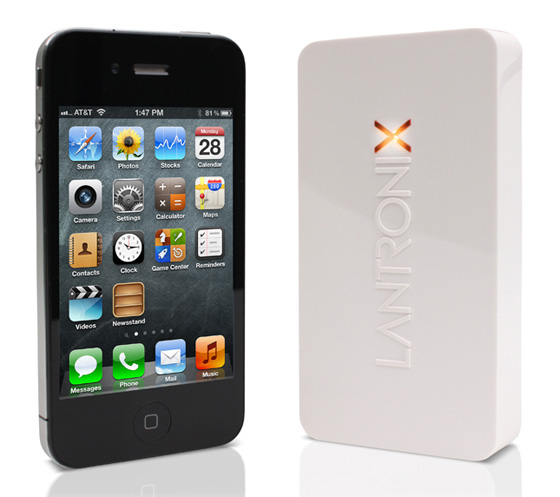 Irresistibly easy to implement with tech tweaks if you need them
Verdict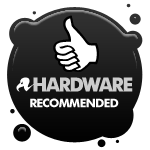 The Lantronix xPrintServer is impressive in that it is as simple as it needs to be and yet offers all the relevant settings to accommodate more sophisticated set-ups tucked away for advanced users. The price is really the only aspect that I can grumble about, especially if you're of the mindset that all adapters should cost no more than £50. However, the convenience of access to an array of quality printers in the workplace certainly simplifies matters and further extends the usefulness of Apple's unceasingly ubiquitous iOS devices. ®
Geek Treat of the Week is published every Monday. Got a handy or fun gadget in mind you'd like us to consider? Please let us know
More Geek Treats

Belkin LiveAction
Camera Grip
Philips
Fidelio AS851
Silverlit
Spy Cam
Pocket Boom
CableJive
DockBoss Plus