Original URL: http://www.theregister.co.uk/2012/01/25/review_toshiba_qosmio_dx730_102_all_in_one_desktop_pc/
Toshiba Qosmio DX730 PC TV combo
Touchscreen desktop entertainer
Posted in Personal Tech, 25th January 2012 12:00 GMT
Review

Toshiba's Qosmio laptops regularly appear in our hardware reviews but the new Qosmio DX730 is a bit of a departure. In fact, it's not a laptop at all. It is, according to Toshiba, the very first desktop PC that they've ever released here in Europe. And it's a pretty good one at that.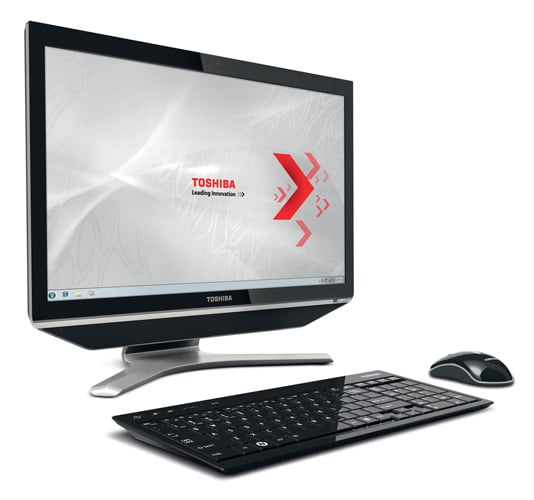 Touching idea: Toshiba's Qosmio DX730
As you might expect with Toshiba's background in consumer electronics, the DX730 very much puts its emphasis on entertainment and multimedia. The all-in-one unit provides a bright, sharp 23in touch-screen display with 1920 x 1080 resolution, as well as a hybrid analogue/digital TV tuner. An HDMI input is included too, so you can plug in a games console or set-top box. There's also a rather nice set of custom-designed Onkyo speakers built into it, complete with a separate subwoofer.
Prices start at £699 for the DX730-100 model, which includes – shock horror – a 2.1GHz Intel Pentium B950, along with 4GB RAM, 1TB hard disk. For £799 you can step up to the DX730-101, which swaps the Pentium for a 2.2GHz Intel Core i3-2330M. On test is the top-of-the-range DX730-102, priced at £999, which runs a 2.4GHz Intel Core i5-2430M and also throws in a Blu-ray player and 6GB RAM.

Windows Media Centre-savvy remote is among the peripherals
The slimline system is neatly designed, with the screen and wireless mouse and keyboard all finished off in the same glossy 'precious black'. I wasn't wild about the keyboard, though, as the keys lie very flat and low and don't feel very responsive. The sideways-mounted tray-loading Blu-ray drive is also a bit dodgy – it's fiddly to insert disks, and the plastic tray mechanism feels rather flimsy.
Those are relatively minor flaws, though, and I was more irritated by the morass of bloatware that awaits you when you turn the PC on for the first time.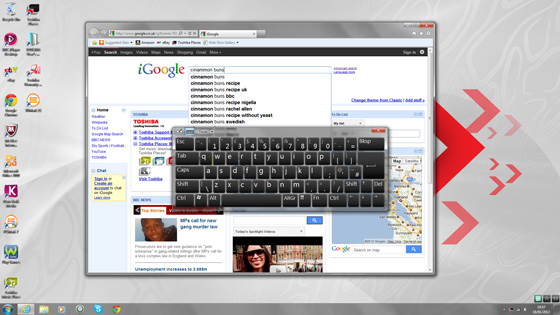 Virtual keyboard: for when those Bluetooth batteries go flat
There's a variety of programs and notifications that appear on the initial startup, and some of them linger afterwards too, making regular appearances to remind you to register the anti-virus software or start making a back-up. I particularly hated the customised iGoogle page on Internet Explorer, which replaces the normal clean and simple Google home page with a page full of rubbish.
Making contact
To make up for all that, I did have some fun playing with the touch-screen controls. Touch controls still seem to be a bit of a gimmick on desktop PCs, but they can be a quick alternative to using the mouse when performing simple tasks like launching a web browser or flicking through a batch of photos.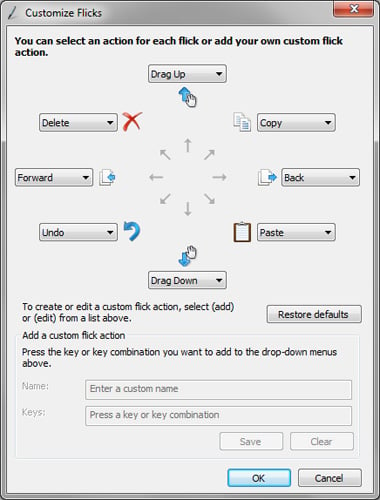 Touch control configuration
I also like the fact that Toshiba's Flicks software allows you to customise the touch controls for tasks such as stepping forwards or backwards through a series of web pages. However, typing on a virtual keyboard when you're trying to do a Google search or enter a web address isn't particularly comfortable or efficient. I'm afraid that Windows in its current form simply isn't well suited to touchscreen operation.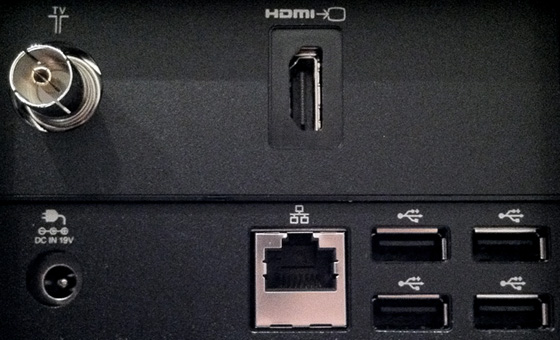 Rear sockets include HDMI and TV aerial connectivity
Going back to the mouse and keyboard, I found that the DX730 felt smooth and responsive when resorting to these options, and the clarity of the screen was a particular strong point. However, you could argue that the DX730 is a little underpowered for a desktop machine in this price range. It's actually configured more like a laptop – perhaps no surprise there, Apple has been doing this with iMacs for years – as the Qosmio relies on a mobile CPU and Intel's HD 3000 integrated graphics. While it all works well enough, at this price I'd expect a discrete graphics card at the very least.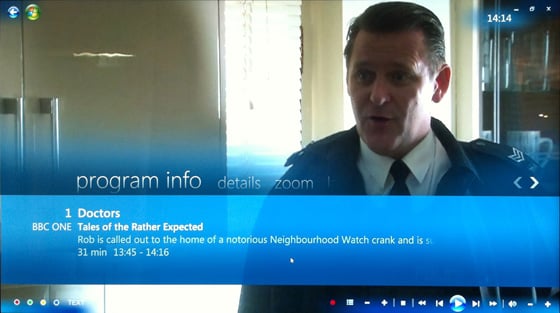 On-screen touch controls for Windows Media Centre functions
Even so, the machine's PCMark 7 score of 2680 was perfectly respectable and outperformed a number of the Core i5 laptops that we've tested recently. The latest 3DMark graphics test-suite wouldn't run on the Intel integrated graphics, but the DX730 did manage a passable 30fps when running Far Cry 2 so it can handle a spot of casual gaming if it needs to. And, of course, there's the HDMI-input option if you want to plug a games console into it as well.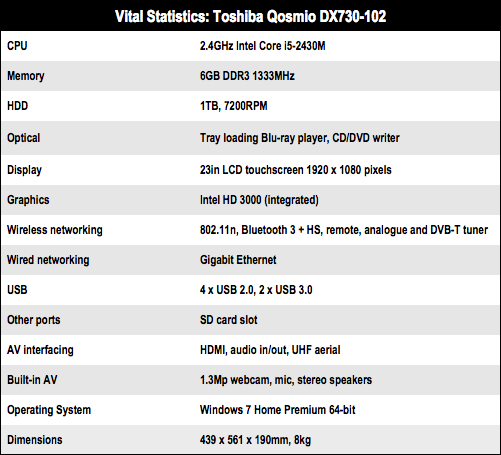 Entertaining options
The TV features work well too, allowing you to watch and record Freeview TV programs using Windows Media Centre. There's a separate remote control included with the DX730, but you can use the touchscreen controls here too – and I actually had a bit of a Minority Report moment when realised I could use my fingers to flick through the TV guide and other options in Windows Media Centre. I was also pleasantly surprised by the Onkyo speakers, which gave the DX730 the best sound I've ever heard from any all-in-one PC or Mac.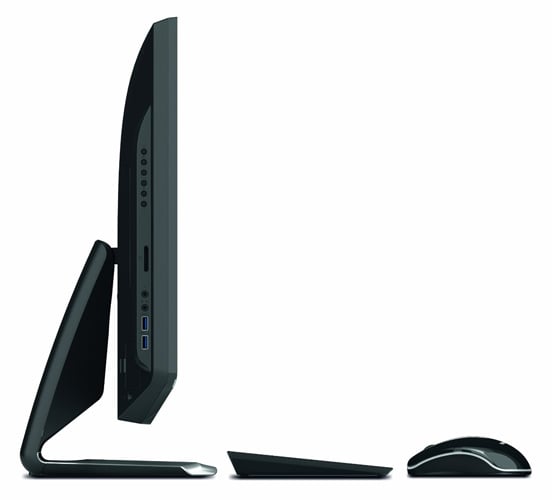 Somewhat pricey, but a decent performer overall
Verdict
For a desktop PC costing £1000 should a discrete graphics processor, and possibly a quad-core i5 would not seem out of place, but no doubt the additional cost of the touchscreen has seen corners cut here. Unlike Toshiba's Qosmio branded latops, this all-in-one PC is no gaming rig, but the sleek design and the versatile multimedia features of the DX730 will appeal to many home users, especially for use in a bedroom or study where it can also double up as a TV and music system. ®
More Desktop PC Reviews

Lenovo
ThinkCentre
Edge 91z
Apple
Mac Mini 2011
HP
TouchSmart 610
Sapphire
Edge HD
Apple
iMac 27in