Original URL: http://www.theregister.co.uk/2012/01/21/product_round_up_ten_boomboxes/
Ten... boomboxes
The noise on the street
Posted in Personal Tech, 21st January 2012 08:00 GMT
Product round-up There are some really excellent iOS speaker systems available at the moment, but most of them are designed for a tasteful dinner party with friends rather than a full-on party scene. And, of course, they're mostly mains-powered and designed for use at home. However, there are a number of boombox systems that can run off batteries when you go outdoors and really pump up the jam – sometimes to quite ribcage-rattling levels. We've rounded up some of the biggest and best boomboxes, along with a couple of smaller, more portable models that manage to provide pretty good boom for your buck.
Altec Lansing MIX iMT810

The chunky design, big metal handles, even the metal guard-rail that protects your iPod or iPhone – Altec Lansing's MIX just screams boombox bling. It's got the chops to back it up too. Altec doesn't like to quote figures, but the MIX is seriously loud and the bass hits you like a slap in the face. It has inputs for multiple devices, and will last for up to 30 hours on battery power. However, it doesn't have a rechargeable battery so you'll have to fork out for no less than eight size-D batteries when you head outdoors. Make sure you get the current iMT810 model, which was updated last year for iPhone 4 compatibility, rather than the older iMT800 that is still on sale on-line.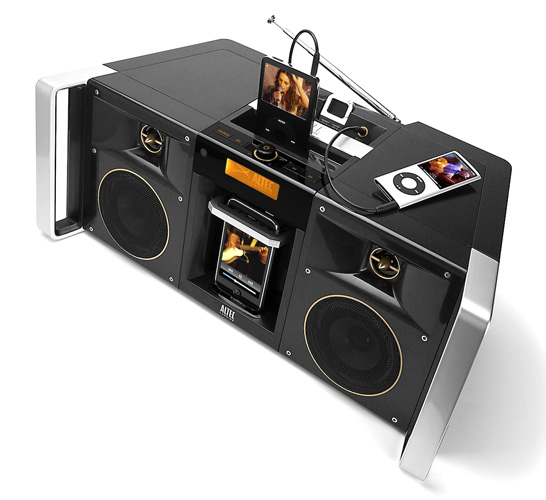 Arcam rCube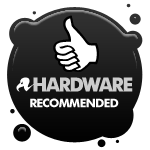 We raved about the rCube when it was first launched, and a recent price cut to £350 makes it even better value for money. The 90W output is powerful enough to kickstart a party, and pretty impressive given the rCube's compact design. The sound is warm and rich too, as well as just loud, and the battery will last 2-8 hours depending on how high you crank up the volume. As well as having a dock for the iPhone and iPod, you can also buy an adaptor that uses the KLEER technology for CD-quality wireless streaming. The adaptor's a bit pricey though - £50 for the iOS dock-connector version or £80 for the USB version.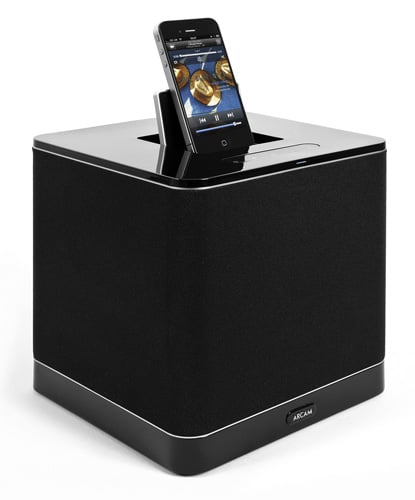 Reg Rating 90%
Price £350
More info Arcam
Bose SoundLink

I almost passed over the SoundLink because its paperback-sized design simply didn't look all that powerful. However, I have to admit I was quite impressed both by the sound quality and the volume that this slimline Bluetooth speaker produces. The sound was much fuller than I'd expected and certainly enough to get things going at a BBQ or a picnic in the park. Battery life is about eight hours and also includes a neat little wrap around carrying case. The price is a bit steep at almost £260, but Bose offers a 30-day 'at home' trial period to help you make up your mind.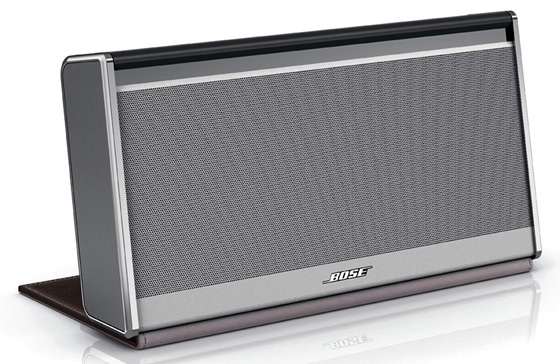 Reg Rating 80%
Price £259
More info Bose
Harman Kardon Go + Play II

There's not much difference between the Go + Play II and its predecessor, but who cares when the end result is this good? Harman's distinctive silver-arch design is much classier than yer average boombox, and at just 2.9kg you can easily pick it up and head outdoors whenever you want. The Go + Play II sounds as good as it looks, too, producing 90W of clear, detailed sound that is underpinned by rock solid bass. Battery life is around 24 hours at medium volume, but it's disappointing to see that there's no rechargeable battery pack, so you'll have to feed it eight size-D batteries when it's away from the mains.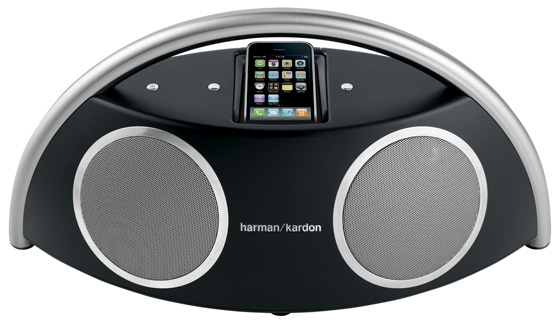 iHome iP4

The rubbery retro design of the iP4 may not be to everyone's taste, but I've got no complaints about the sound quality. Admittedly, the default settings did audio a bit flat and listless, but when you turn on the SRS TruBass option the whole sound just comes to life. There's also a graphic equalizer that lets you tweak the sound to suit your taste as well. There were no output specs forthcoming from iHome but it's plenty loud and light enough to perch on your shoulder as you strut down the street. At just under 200 quid, it's reasonably priced and the battery life is good too – up to 20 hours at maximum volume – although you have to feed it with six size-D batteries.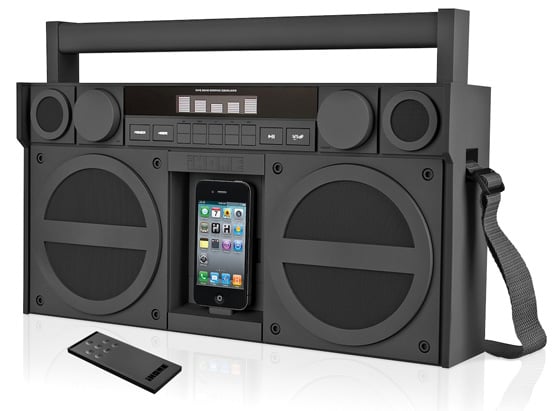 Reg Rating 80%
Price £199
More info iHome
Ion Audio Mobile DJ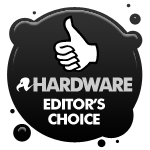 Now this is impressive – both in terms of the sheer noise that it makes, and value for money too. The Mobile DJ includes two docks for the iPod or iPhone, with a crossfade control so that you can switch between them. There's an Aux-In for a third device and two additional inputs for microphones or instruments – Ion Audio even throws in a mike to get you going. I'm told that the little wheeled trolley unit contains a 50W woofer and 20W tweeter – 70W in total – yet the sound that booms out of it is far more powerful than any of the 90W speakers reviewed here. It may not be the most detailed or nuanced speaker system you've ever heard, but it'll get the party going for sure, and the 12 hour battery will probably last longer than you do.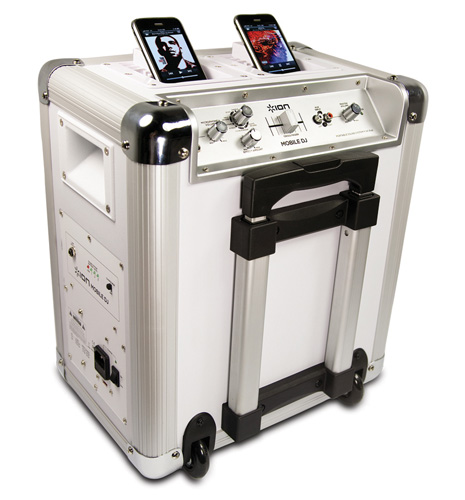 Reg Rating 95%
Price £200
More info Ion Audio
Logitech Wireless Boombox Z715

It's not as loud as some of the other beasts in this group, but Logitech's Wireless Boombox is one of the few that you could actually carry around in a backpack with you. It's hardly a weakling either, with 30W output and a nice clear sound that will be fine for an outdoor BBQ or a bit of a boogie in a holiday apartment. There's no dock for an iPod or iPhone but, of course, the Bluetooth wireless means that you can use it with just about any mobile device these days. It's got a rechargeable battery that should last for about six hours, but it's a shame there's no carrying case.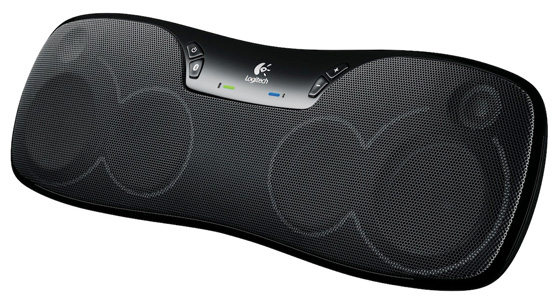 Reg Rating 85%
Price £129
More info Logitech
Philips Fidelio DS8550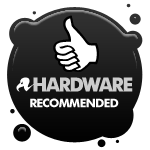 Like most of Philips' Fidelio range, the DS8550 is primarily designed for use at home. However, this particular model does have a rechargeable battery that lasts for up to five hours, so there's no reason why you can't take it outdoors for a BBQ or stick it in the boot of your car when you go away for the weekend. There's a built-in dock for iOS devices, but it also provides Bluetooth wireless streaming so that you can use it with a wide range of Bluetooth mobile devices. The sound quality is excellent and its 30W output will be perfect for a civilised soirée with friends either indoors and outdoors.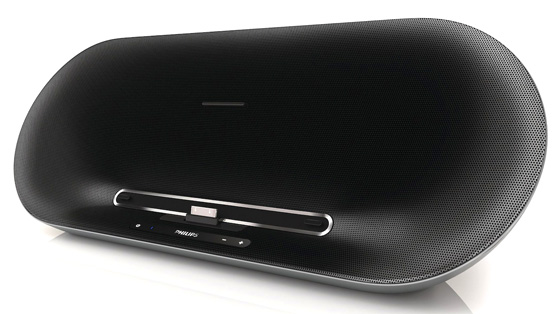 Reg Rating 90%
Price £190
More info Philips
Pioneer STEEZ STZ-D10Z

Aimed squarely at the clubbing crowd, Pioneer's new STEEZ is a real monster. In fact, it looks more like a thermonuclear device than a set of speakers. It's almost as complicated too, with features such as 8-beat skip and Auto-Battle Mode that will only make sense to an experienced DJ. In addition to an iPod dock and AUX-IN the STEEZ even has 4GB of its own internal memory to store and mix your tracks. It also seemed a darn sight louder than the 40W listed on the spec sheet. The £350 price tag is a bit steep, but worth it for those that know how to use the STEEZ properly. However, the 10 size-D batteries needed to power it when you're away from the mains seems like a bit of a downer.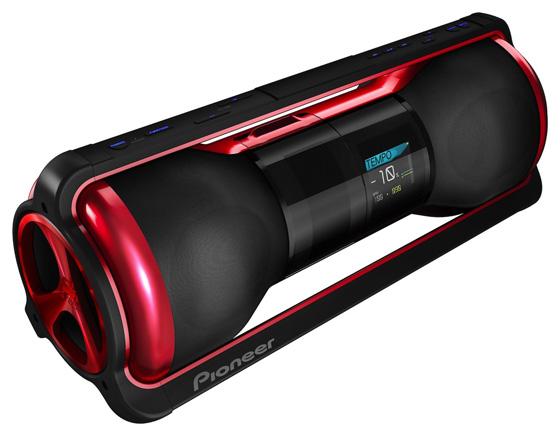 Reg Rating 85%
Price £350
More info Pioneer
Soundfreaq Sound Step Recharge

Like the Philips Fidelio, the Sound Step Recharge is primarily designed for indoor use, but has a rechargeable battery so that you can easily pick it up and take it outdoors for about six hours of al fresco funkyness. The Recharge has a full-size dock that is large enough to accommodate an iPad, but also supports Bluetooth so that you can use it with mobile devices. Sound quality is very good, thanks to the built-in sub-woofer that gives it a good, firm bass output. Soundfreaq doesn't quote numbers but I'd put it at around 30W – not quite full-on party time, but fine for a BBQ come summertime.