Original URL: http://www.theregister.co.uk/2012/01/21/controlling_content/
How can family sysadmins make a safe internet playground for kids?
The scourge of Sonic the Hedgehog abominations
Posted in Networks, 21st January 2012 09:00 GMT
Confab Internet access isn't about PCs any more, and keeping an eye on one's children is tough for even the most techno-literate parent despite the plethora of tools available.
It's not puritanical to want to control what one's offspring see and hear – there are things on the internet with the power to scar an adult – and while no one wants to stop the exploration of natural curiosity, a six-year-old experiencing Sonic the Hedgehog rape fantasies is best avoided.
But traditional parental controls are largely restricted to desktop computers while children are using all sorts of devices. It's constantly surprising how many parents are relying on PC-based filtering, while their children are upstairs eating though YouTube's finest on an iPod touch.
What's behind their closed bedroom doors?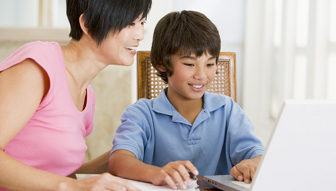 Image via Shutterstock
The days when parental control was just a matter of putting the PC in the hallway are well past. Although we'd all love to sit with our children the whole time they're using the internet, that's just not practical once one has more than a two or three of the blighters. Not to mention there's a limit to how many times an adult can watch Dr Strangeglove's singing before the brain starts to melt.
Some device-specific software is available; Vodafone's Guardian Android app will limit access to specific applications and calls to certain numbers, but does little to prevent the kids watching the aforementioned Sonic abomination.
In the UK mobile operators will block access to all but the tamest of pornography, until the user has demonstrated their maturity by wielding a credit card, but most data access will be over Wi-Fi connections where one can't rely on the operator's prudishness.
Some routers offer parental controls built in, and that's certainly a sensible place to put controls of this type. Basic filtering by category is available on most modern routers, and more advanced blocking may be possible depending on router capabilities and how much you're willing spend on a filtering service.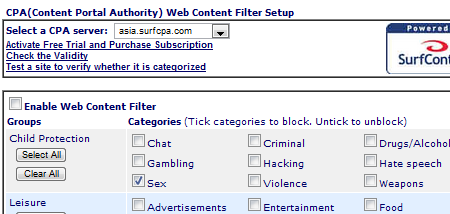 Filtering by URL is standard - more intelligent control needs paying for
Another approach is to use an alternative DNS provider, such as OpenDNS, rather than your ISP's name servers. The Domain Name System turns the textual web address of a site (like theregister.co.uk) into an IP address (like 50.57.15.204) to which a page request can be sent. An alternative DNS server can be configured to only look-up sites that match selected criteria, a service that OpenDNS provides for free (or $20 annually for their advertising-free premium service).
The great thing about using DNS is that one can configure specific machines to use the ISP's default DNS in the normal way, bypassing the filter, should one wish to access inappropriate sites for the sake of research or similar. One imagines that once the children can configure their own DNS then they're probably old enough to cope with the consequences.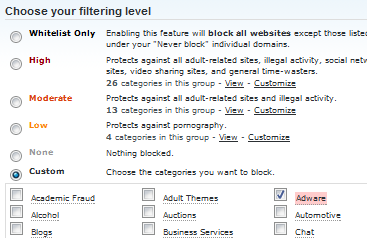 OpenDNS offers predefined options, but personal preferences are easy to express
Control via Choc box
That's great for simple site blocking, and takes out a lot of accidental clicks that might otherwise cause problems, but realistically children are going to spend most of their time on YouTube and Google, so one becomes dependent on what the Chocolate Factory is prepared to offer in the way of content control.
The answer isn't a lot. Google's safe search (which also exists for YouTube) can only be locked on by the account holder, and Google brooks no concept of a family account. One might imagine that a corporate account would work: Google lets one set up such a thing for free, but while employee accounts can be prevented from creating YouTube channels, or accessing YouTube at all, they can't be restricted in the kind of content which can be accessed.
Locking by the account-holder is fine if one is lending a laptop or tablet to a child, just switch on safe search and lock it on, thereafter it can't be turned off without entering the account holder's password. But that falls down if one is trying to deal with multiple devices, and use one's own computer at the same time, so another approach is needed.

For Google the same thing is in the top right corner, under Search Settings
One solution, admittedly a bodge job, is to create GMail accounts for the children to use themselves, but don't give them the requisite passwords. Log the device's browser onto Google and switch on safe search, do the same thing to YouTube and one should be safe to leave the child to click through links and videos with limited damage - though it's worth remembering that YouTube content in particular is only peer reviewed. Dodgy content will only be restricted after someone has reported it as such.
None of this is foolproof, and none of it substitutes for attentive parenting, but desirable as it might be one can't spend every moment watching the children watching the internet. Just as one tries to watch TV with the kids, there's a limit to how much Samsam one can put up with and to the children YouTube is nothing more (or less) than a TV channel that never ends.
There's also an argument which says children should be given some freedom to explore on their own, virtually as well as physically. The giggles on hearing kids discover lolcats for the very first time are as precious as any parental memory.
But trying to provide freedom while at the same time preventing them being exposed to the worst of the internet is tough, so chip in below with suggestions or advice - we only get one shot at getting this right. If we get some good tips from you lot (and frankly, who better?) we'll compile them and come back with a Reg guide on the subject. ®