Original URL: http://www.theregister.co.uk/2012/01/19/review_wacom_bamboo_fun_s_pen_and_touch_graphics_tablet/
Wacom Bamboo Fun S Pen and Touch
Graphics tablet and trackpad in one
Posted in Personal Tech, 19th January 2012 07:00 GMT
Review Take TWO pointing devices into the shower? Not me, I use Wac-and-Go.
When I first saw this product demonstrated – a graphics tablet with pressure-sensitive stylus but whose surface equally supports touch gestures – I thought I'd seen the best creative gadget ever.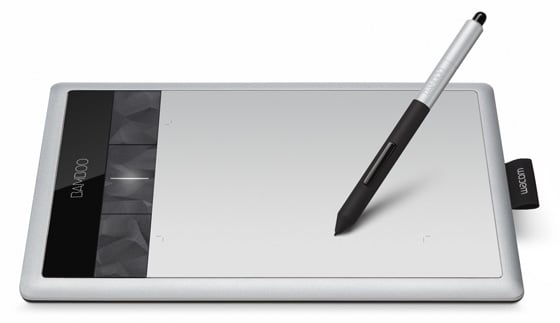 Wacom's Bamboo Fun S Pen and Touch: the finish is not so much cool grey as spray-paint silver
You see, I've been a dedicated Wacom user since the UD series appeared back in 1992, and a confirmed owner (i.e. bought with my own money) since the ArtPad in 1994. But last year saw my Intuos 4 accompanied on my desk by a clutch of touchmouse and touchpad alternatives. If only someone could put pen and touch input into a single device...
Ta da, as they say.
The Pen & Touch is a category of Wacom's popular Bamboo range of home-use graphics tablets. The 'Fun' edition comes with a graphics software bundle. The 'S' in the product name means it's the Small version; the larger Medium version (352 x 209 x 11 mm) costs £170.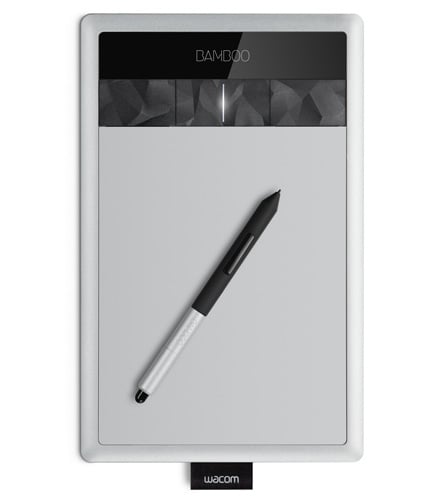 The textured surface of the four ExpressKeys looks and feels like crumpled paper
Apart from the cheap-looking spray-paint silver look, this new Bamboo model sports an improved design. For a start, it's landscape rectangular, instead of square, which saves desk space between you and your keyboard. It can be turned 180 degrees to suit left- or right-handed use, to give the other hand easy access to the four large ExpressKeys.
These four large buttons, with their unusual crumpled paper-effect textured surface, can act as keyboard modifiers, custom keystrokes, tablet mode switchers or as simple program launchers. You specify the actions in the Bamboo preferences panel.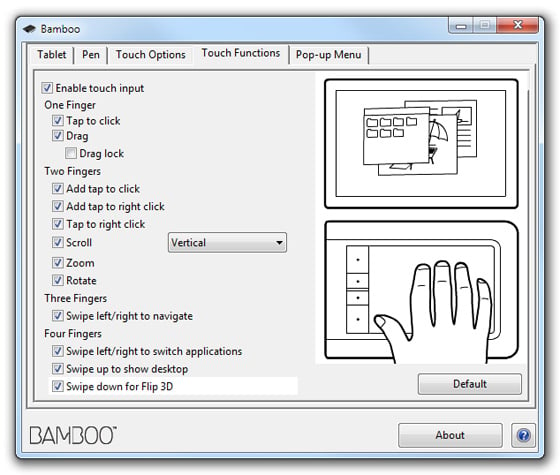 Wacom supports a good range of touch gestures on Windows and Mac platforms
My only problem with the ExpressKeys is that they are super-sensitive to the slightest touch. Since I generally keep my graphics tablet in front of my keyboard – as with a mouse, using a graphics tablet stretched out to the side of a keyboard is a recipe for RSI – I found that I kept triggering ExpressKey actions with my sleeve whenever I reached across to type something.
Firm and function
Accompanying the tablet is a lightweight but sturdy stylus. Considering that the Bamboo is supposed to be an entry-level product, the Bamboo pen is pretty damn fantastic given the price. Its pressure-sensitive nib supports 1,024 levels of pressure, while the other end is an 'eraser' nib that automatically switches to Erase or Delete functions in lots of software – notably Photoshop. It even features a rocker switch on the side that can be configured to trigger custom clicks, keystrokes and other actions.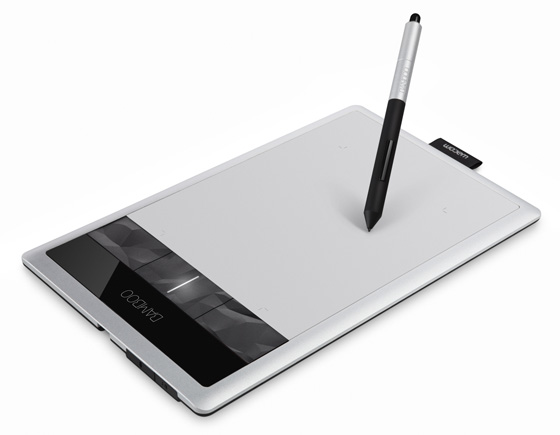 A little clothing-style label tag at one end acts as a sleeve for the stylus
So much for the Pen & Touch's pen: now for the touch. I was expecting a few basic clicks, scrolls and sweeps, but Wacom has done its best to pack in the wider range of two-, three- and four-finger gestures that modern touchscreen users have grown to expect. This includes zooming and rotation, swiping between programs and navigating consecutive web pages.
Under Windows, it includes Flip 3D and Show Desktop, while under Mac OS X Lion, it supports gestures for Mission Control, Exposé and Launchpad, not to mention the new 'Natural' scrolling option.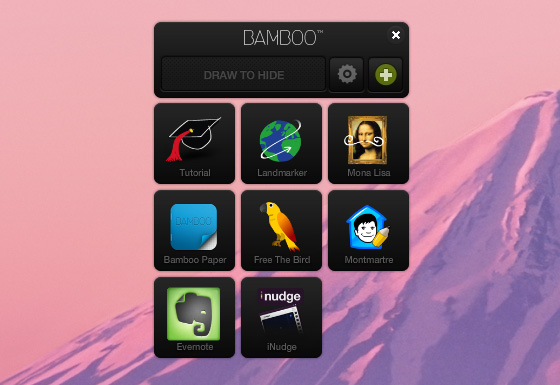 Bamboo Dock provides access to some pen-friendly app-style mini-programs
What the Pen & Touch's touch functions lack, however, is immediacy. There always seems to be a teeny-weeny little time lag before the tablet responds, and it needs a pretty firm touch to recognise anything at all. And it doesn't seem to like multi-touch gestures unless you place each finger down separately. For example, when sweeping with three fingers between web pages in Chrome, the tablet ignores the gesture unless I drop my fingers onto the tablet 1-2-3 in rapid succession before each sweep.
Also, Mac users who have selected 'Natural' scrolling will find that horizontal sweep-navigation of web pages works the wrong way. Perhaps all this is just something I have to get used to. Having been accustomed to ultra-sensitive and ultra-responsive touchpads such as Apple's Magic TrackPad, I have probably been spoilt.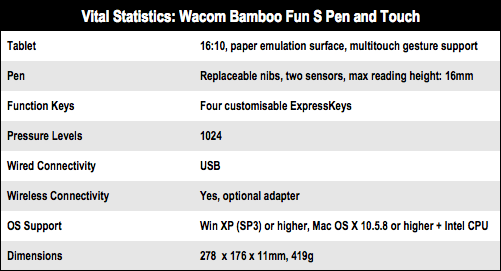 Wireless whirled
A nice feature, though, is how the tablet automatically switches from Touch to Pen mode when it detects the stylus nearby. This prevents accidental mouse actions when, for example, resting your hand on the tablet while using the stylus.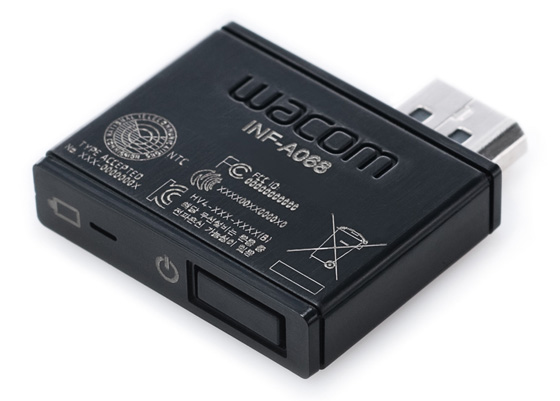 Tablet wireless adapter
The one design fault that sang out at me right from the start is the way the active area of the tablet surface is surrounded by a 3cm thick inactive border. What's that for? Worse, the active area is indicated by almost-invisible corner tick marks. Every few minutes I find I'm wondering why my on-screen cursor has halted, only to find that the stylus or my finger has strayed into no-man's land. If it's not possible for Wacom to avoid building in this massive inactive border, surely a groove or some other tactile edge could have been added to let me feel where it begins.
A much better example of design is the extra-cost wireless upgrade option. Unfortunately, it doesn't use Bluetooth so it won't free up a USB port on your computer, but it's simple to fit and works instantly. A battery-receiver slides into a slot in the tablet, while a tiny transmitter plugs into a free USB port; the USB cable supplied with the tablet is then used only for recharging the battery when required. The battery lasts a good week or so between recharges, although I found the Windows driver kept reporting that the battery was nearly depleted when it wasn't.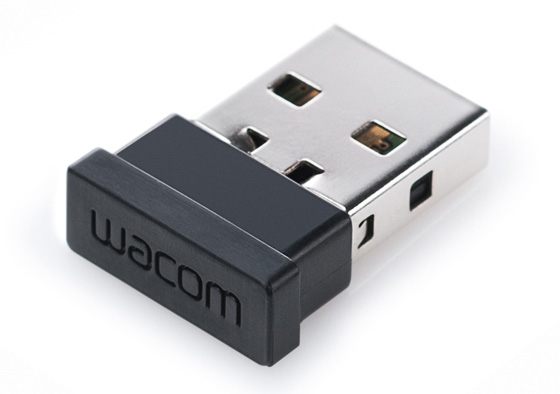 The USB dongle end of the £35 wireless upgrade kit
May I say that using a wireless graphics tablet, especially one supporting touch gestures, is wonderful at times. Instead of chaining you to your computer, it allows you push back from your desk, stretch out your legs and carry on using the tablet in your lap. Buying the Wireless Kit as well as the tablet brings the total cost to almost £125 but it's worth it.
A final word on the Bamboo Dock software: it's a pain in the butt to instal – it took me five attempts on two computers before success – but is quite enthralling once it's up and running. While it makes access to the tablet settings a bit clumsy, its main feature is its set of app-like mini-programs, each designed to work well with a stylus.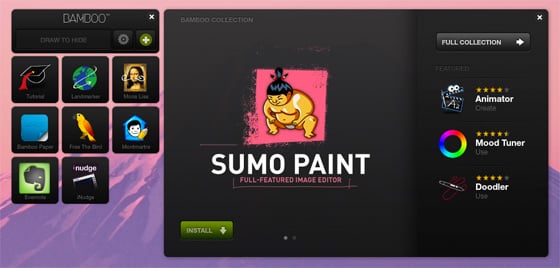 Further apps can be downloaded quickly and they are all free
The apps are mostly silly – with the exception of Bamboo Paper and Evernote – or at least have silly names, but I thoroughly enjoyed playing with them. You can download more apps within Bamboo Dock and they are all free.
Verdict
The Pen & Touch Fun is a very good graphics tablet with an excellent stylus, customisable functions and some enjoyable software. As a touchpad, it is well-meaning and certainly well-featured but prefers deliberate, heavy strokes to (ooh matron) the tickling and flicking that I am used to. Add the Wireless Kit for convenience and comfort: well worth the extra cost. ®
More Input Device Reviews

Logitech
Wireless
Touchpad
IRISnotes
Executive 1.0
digital pen
Ten...
laptop
accessories
Livescribe
Echo
Smartpen
LG
LSM-100
mouse scanner