Original URL: http://www.theregister.co.uk/2011/11/25/review_game_need_for_speed_the_run/
Need for Speed: The Run
Step on it
Posted in Personal Tech, 25th November 2011 14:01 GMT
Review Releasing a driving game into an already congested market is a risky endeavour for any developer. So it follows that releasing two within six months could be considered careless. But to release three within a year, as EA has now done, seems at best illogical and, at worst, pure cannibalistic folly.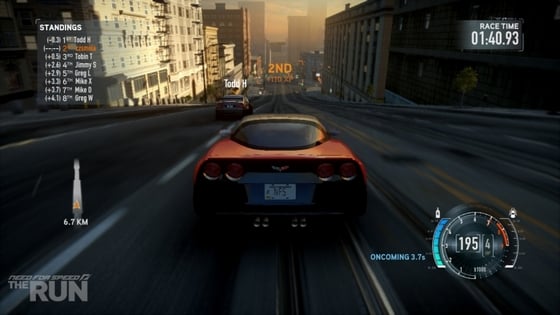 Downhill tussle
EA's justification for foisting three separate Need for Speeds on gamers in 12 months seems to be that we're all individuals. I might prefer the cat-and-mouse frivolity of Hot Pursuit and you the claustrophobic tussles and vertebrae-shattering physics of Shift 2, so it stands to good reason that a third game might prefer a more cinematic, narrative-injected racer.
First impressions of The Run lend credence to that logic. An interesting – if derivative – premise places you in the driving seat as Jack Rourke, a marked man racing for survival.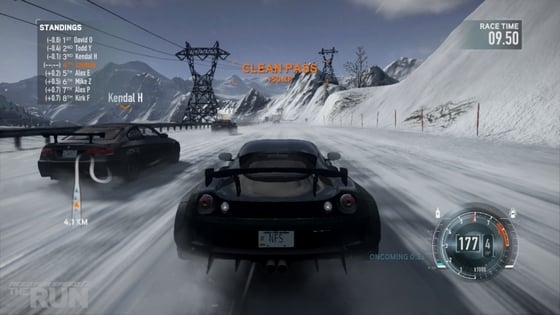 Ice to beat you
A compulsive gambler, Jack owes a life-shortening debt to the mob. The only way to avoid sleeping with the fishes is to compete in 'The Run', a Gumball Rally-style street race from San Francisco to New York.
Finish first, and you'll not only pick up a slice of the $25m purse from your backers, they'll also help get the mob off your back. Finish anywhere else and all you'll win is a pair of concrete slippers and a long walk off a short pier.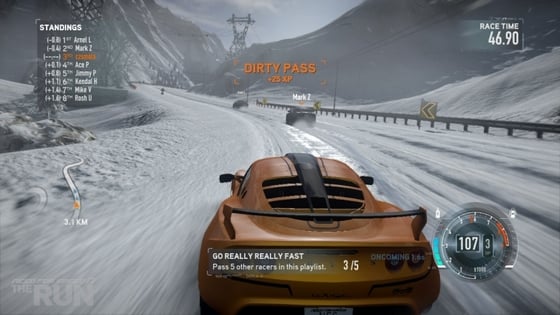 Driving up the dirty pass
Delivered through cinematic cut-scenes - and, oddly, a couple of woeful QTE foot chases - the story is intended to appeal to gamers unmotivated by split times and chequered flags alone. But while the narrative wrapper superficially distinguishes The Run from its Need for Speed stablemates, it soon proves mere window dressing for the game's generic event types.
Whacky races
In isolation, there's nothing wrong with those events: Standard races to climb through the 200-strong field; Battle races against three specific cars; head-to-head Rival races against the cream of the field; and Checkpoint races, time trials to make up lost time.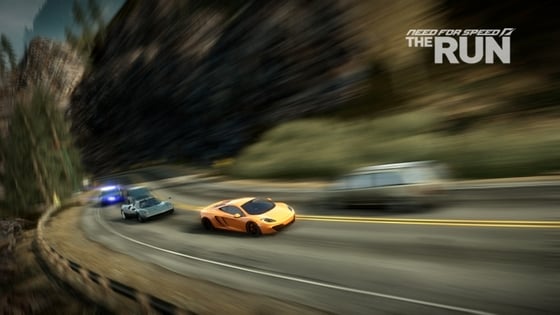 Blurry ride
In truth, they manage to engage initially, as you head out from San Francisco, through Yosemite and Death Valley, and around Las Vegas. But by cycling these four events ad nauseum fatigue sets in by the time you've reached the Mid-West, and the game's second half descends into a monotonous slog.
It's not just the events that prove repetitious. America's iconic landmarks and cities provide a sumptuously varied backdrop for the point-to-point races – thanks in no small part to the extremely capable Frostbite 2.0 engine – but punishing racing conditions mean you'll become far too acquainted with each location as you fail time and time again.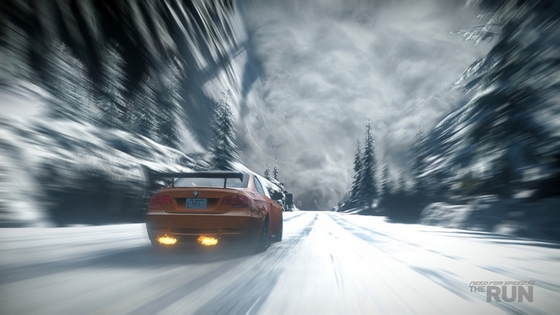 No smoke without tyre
You see, success almost invariably requires nothing short of perfection. Each and every missed racing line, short-cut or minor collision gifts your opponents an insurmountable lead which no amount of nitrous boosting can claw back.
It's punishing enough contending with belligerent AI alone. Opponents display an implausible disregard for self-preservation by colliding with you at every opportunity.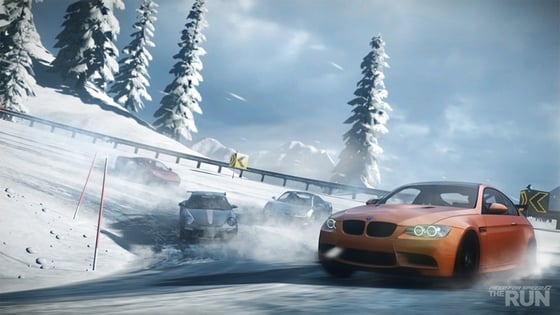 Crunch corner
But you'll also have to deal with near-constant police harassment and roads chock full of slow-moving traffic, all of which conspire to precipitate the sort of punitive twitch gaming better left to bullet-hell shooters.
Couple of chasers
Compounding the misery, opponents also have an uncanny knack of brushing through pile-ups and police roadblocks unscathed, while your car screeches to a grinding halt, costing you valuable seconds as you try to extricate yourself from the carnage.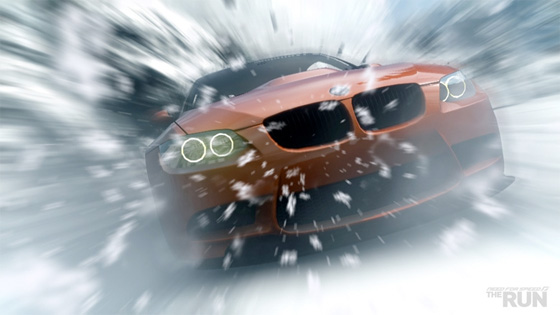 Snow place like road
It's not the only waste of time, however. Not content with sharing Shift 2's penchant for lengthy and distracting crash porn, The Run also flicks to short roadside cut-scenes every time the police enter the fray, fracturing the experience and unnecessarily diverting your attention away from the demanding race conditions.
All of which is a shame, because The Run is a decent arcade racer at heart. Controls are tight and responsive, traction feels realistic and drifting plausible.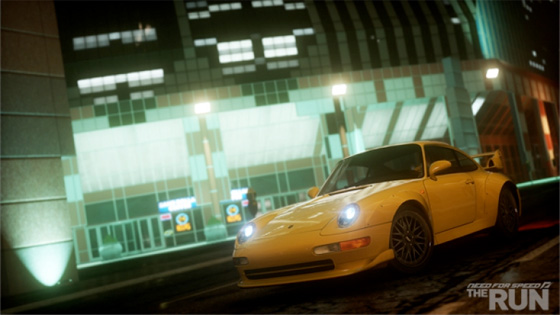 Someone call 911
And, despite customisation being strictly limited to paint jobs, the handling of each car feels distinct and refined, with muscle cars better suited to long, meandering freeways and sports cars at home on the shorter, convoluted urban tracks.
The Run's multiplayer offering is a mixed bag. Without aggressive AI and cut-scenes to contend with, racing certainly feels a lot more balanced. The bragging rights of the Autolog social network remain as addictive as ever, as does the holistic system of XP, which spans both campaign and online racing.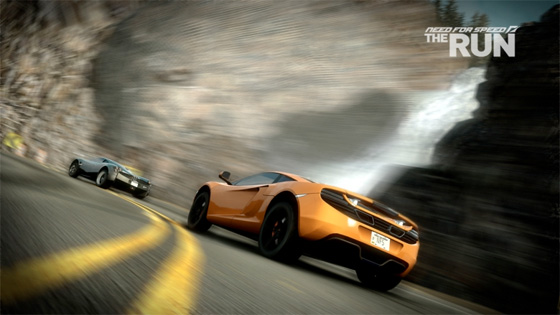 Follow the yellow slicked road
There's even a novel unlock system, where more advanced series are opened up by completing in-race objectives. Stripped of the distinguishing campaign narrative, however, and without a unique selling point of its own, it's ultimately just too much like any number of other racers on the grid.
Verdict
Of the three Need for Speed games, The Run feels the least well realised. There's definite potential in its concept – the unique narrative, structure and mechanics. But the game never feels more than a hastily cobbled prototype to showcase the Frostbite 2.0 engine. The picture-postcard tour across America may be stunning, but The Run's flaws spoil the view. ®
More Games Reviews

Saints Row:
The Third
The Legend of Zelda:
Skyward Sword
Assassin's Creed
Revelations
Halo: Combat Evolved
Anniversary Edition
The Elder Scrolls V:
Skyrim