Original URL: http://www.theregister.co.uk/2011/11/23/reg_hardware_goes_inside_bbc_research_and_development_labs/
Inside the BBC's R&D Labs
From the Lab to the living room
Posted in Personal Tech, 23rd November 2011 07:00 GMT
Whatever your views on its programming, it is hard to deny that the BBC's research labs have produced some pretty clever things over the years. Teletext, RDS and Nicam stereo are just some of the more well known ones, but the R&D Lab is also responsible for much of the work on the DVB-T2 standard that makes Freeview HD possible, as well as research on topics like resolution and screen size that Reg Hardware has looked at before.
Following that long history of innovation, the closure in 2010 of the labs facility at Kingswood Warren, Surrey made some observers worry about the future of the R&D department, now split between two locations in London and a third in Salford's new Media City UK development.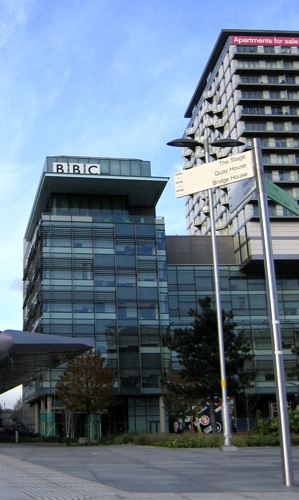 North Lab, part of Salford's Media City
No need to worry, the Corporation claims. To prove how busy the R&D Labs are, it invited Reg Hardware to travel north to take a look at what's happening in the labs today.
Only connect
Tucked away on the fifth floor of Dock House, the new North Lab is a far cry from Kingswood Warren. What at first glance seems like a modern open-plan office boasts, according to Project Director Adrian Woolard, some of the best connected desks in the Corporation – and probably the UK – with massive bandwidth to the Lab exceeding the whole of the rest of the Salford site.
Each desk has been supplied with up to six Gigabit Ethernet connections to meet engineers' immediate requirements, but dark fibre and low-loss coax are available throughout the Lab, for future-proofing. Given a good business case, up to 80Gb/s could be supplied to each engineer using existing technology.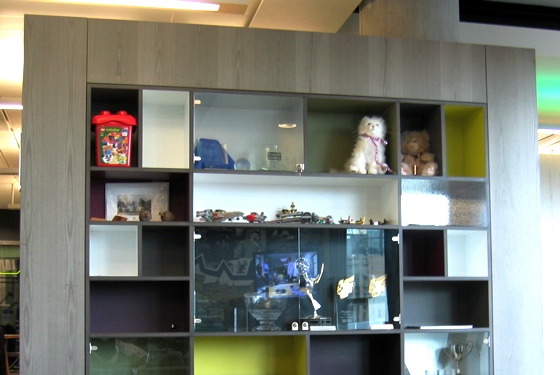 Gongs for boffins: the R&D Labs' awards cabinet. And an animatronic cat
Across the Lab, in fact, IP networking is having a big impact, from the continuous live link in the reception area, keeping the team in video contact with London colleagues, to a production system that allows 'rushes' to be taken from a camera and synced to multiple devices, so all the members of a team can make notes or comments about a shot within a short time of it being loaded into the system.
It looks too as if the IP and the internet will have a significant impact not just on production but also on how we consume TV and radio – but perhaps not in the way many Reg readers imagine.
With the UK's creaking broadband infrastructure, broadcast will still be doing the 'heavy lifting' of delivering content to many consumers for a long time to come, with the internet enhancing it through hybrid services.
Listen with Mother
One of those is RadioTAG, which can use the internet to deliver additional data alongside a broadcast, whether DAB or FM. Besides enhancing the limited slideshow features of DAB, RadioTAG – which I saw working on a specially modified Revo Axis receiver – can allow immediate interaction with the programme, whether that's by buying the record that's playing or, as in the BBC's demo, bookmarking a live broadcast which can then be resumed in iPlayer – a sort of 'follow me' for radio.
RadioTAG has already won awards, and the BBC is working with companies like chip-maker Frontier Silicon to ensure it's supported in future chipsets used for digital radio.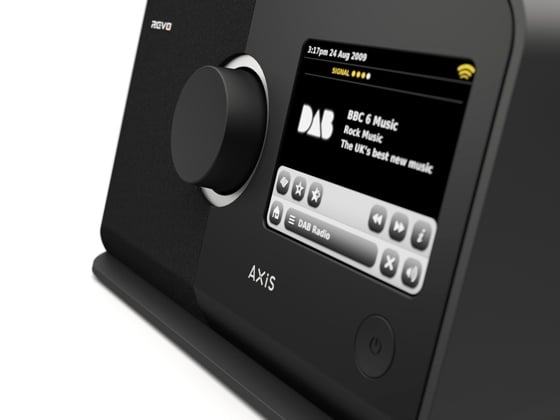 Thanks to RadioTAG, just press a button when you leave home, and pick up the programme from the same point on iPlayer later
When most people think about hybrid TV, it's services like iPlayer they're considering. But one of the impressive demos in the lab allows for an extra soundtrack to be delivered over the net and perfectly synchronised with a live broadcast.
How about an alternative version without incidental music, for example, but still perfect lip sync? The technology can potentially open up a whole new market too, as the audio can come from anywhere. It would be possible for a third-party to provide, say, a Polish soundtrack to Doctor Who that syncs perfectly with the live broadcast.
Talking heads
Many of us have probably had a sinking feeling when, watching a programme about a subject dear to our hearts, exactly the same clip that we've seen in every other programme is used. One of the projects in the Lab might help make that less common. By capturing all the subtitle information from the DVB streams – the last four years' of broadcasts are included so far – it's possible to search a huge amount of material to find any mentions of a subject, then view the relevant clip and, eventually, producers will be able to use the system to include it in their own programme.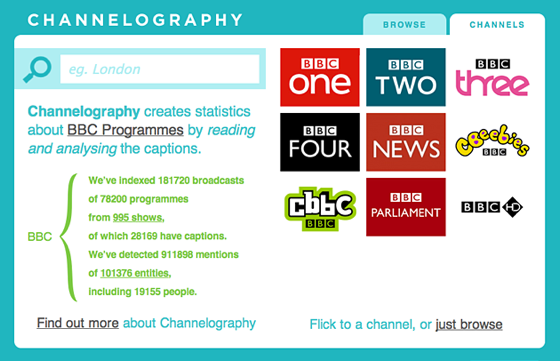 Subtitle analysis is also helping to find interesting patterns in broadcast content. It's no surprise that in 2010 London was the most mentioned city on the BBC. Break that down by population, however, and it merited a mere 1.03 mentions per 1000, compared to 3.19 for Bath.
Evidence, perhaps, of a West Country bias?
More seriously, this sort of analysis – called Channelography by the Lab – can help give a more detailed overview of what's actually broadcast than, say, the synopses in Radio Times. Another project aims to help classify archive material based on the moods evoked by the music.
Vision On
While some of the projects are about visualising information for the internal use, or developing products and standards from which the BBC may derive some income in future, others have a very clear public service foundation, including work on the user experience and accessibility.
A small server module, whose design will be made freely available when complete, is being used by the accessibility team to enhance standard set-top boxes. The BBC's working with students from Lancaster's Beaumont College to create interfaces that can be controlled with just a single switch, for example.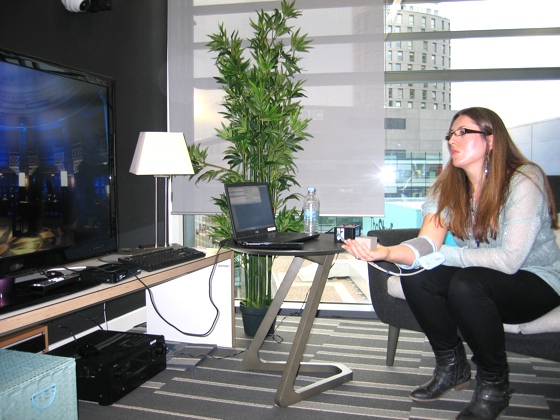 Hybrid TV developments include a pressure cuff triggered by on-screen events
The same module can also be used in reverse, triggering external devices based on the broadcast, for instance controlling a motor or blood pressure cuff – a sudden vibration in your hand is a lot more startling than an audio description when a monster appears without warning.
By sharing the design of the module, it should be possible to integrate it with a wide range of accessibility aids, rather than limiting people to a single 'special needs' set-top box.
The Lab team is working too on visual design, including fonts for television. Perhaps the end is in sight for the near-ubiquitous Tiresias.
A Question of Sport
Sport makes up a large chunk of the BBC's output, and there too the R&D Lab is creating new tools that can help enhance how it's presented – and with more than just fancy graphics for scores.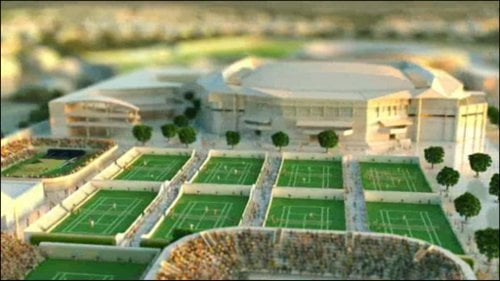 Venue Vu: CGI architecture with live tennis matches smoothly inserted into the fly-by
Venue Vu, for instance, seamlessly joins 3D rendered fly-throughs of a sports venue like Wimbledon with the action on the court. First seen at this year's tennis tournament, it's likely to get another outing for the Olympics next summer.
At an earlier stage of development is a biomechanics system that can analyse factors like the angle at which a diver enters the water, or show the centre of gravity of a jumper, giving extra opportunities for pundits to wax lyrical; the demo I saw had pretty basic graphics, but we may see a more sophisticated version at the Olympics in 2012.
Look around you
A while ago, I looked at what's coming after HD, including systems like Super Hi-Vision, with its 22.2-channel surround sound. But that's not the only way to create a more immersive sound, as the Lab team behind the 3D sound experiments explained, in a test room with a huge array of speakers.
Like the old ambisonics, 3D sound isn't fixed at a specific number of speakers. An impressive demo recording of Elbow in Manchester's cathedral used ambisonics to recreate the audience and echoes and a technique known as Vector Based Amplitude Panning, to position the performers in the soundfield.
It may be a much more immersive sound, but of course it's not practical for many living rooms. With rather a lot of folk, especially radio listeners, using headphones, binaural stereo can also create a realistic impression, and that too is an area the audio team are working on.
Both are some way from the living room – there's no mechanism yet for broadcasting 3D audio, with its lack of distinct channels, and though binaural stereo can be transmitted easily, it works best when it's tailored to the listener's own head and ears.
Of course, with programmes like Doctor Who being made in HD and 5.1 sound, there's one very obvious question to ask: why don't they make the monsters appear to be behind the sofa? The lab hasn't quite sorted that one out, but in a neat demonstration showing how the 'internet of things' can be linked with TV broadcasts, a live dalek toy bursts into life when one of his fellows appears on screen.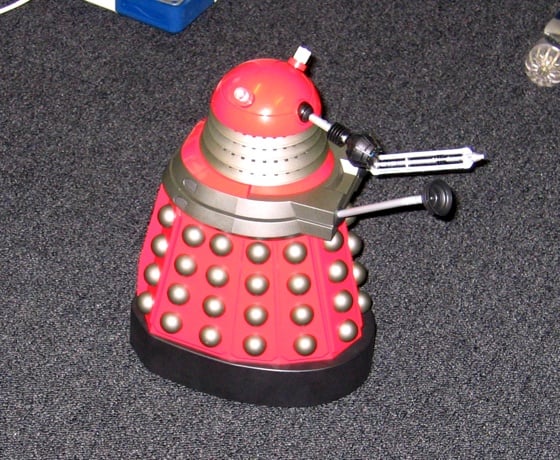 What R&D labs are really for
The Money Programme
Some may question why the BBC puts so much effort into R&D. But with around 50 active projects, and an income of around £16m, including money from the licence fee, commercial licensing – the BBC has over 160 patents – and grants, the R&D team punches well above its weight.
The modern office tower in Salford that houses R&D North Lab might not have the quirky charm of Kingswood Warren, but it certainly still seems to house the same inventiveness. ®